Paradise Lost, by 17th-century English poet John Milton, is a poetic rendition of the fall of man and his eventual eviction from the Garden of Eden. The character responsible for the entire debacle is Satan (formerly Lucifer, fairest of the angels in Heaven) who chose to rebel against his Creator with his claim to notoriety best summed up in the famous quote "Better to reign in Hell than to serve in Heaven" (sounds familiar MLQ?). The story closely parallels what we see unfolding before our very eyes in the Philippines, with the tragic loss of our tropical island paradise to the destructive force known as Filipinos, driven by a dark underlying motivating factor: self-centered greed (the new flag of R.P. bearing proof).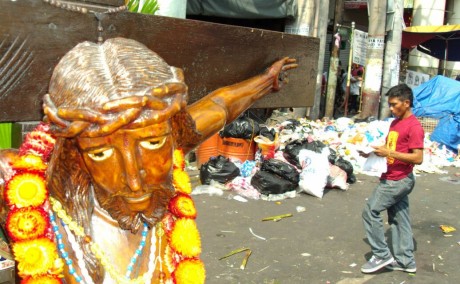 In America and other capitalist countries, greed is welcomed and considered to be good for business; and thereby beneficial for the general welfare of the entire society as it keeps the economy humming. On the flip side, greed has its damaging and destructive effects as made evident in the creeping urban sprawl, pollution and irreversible degradation of the environment, and the loss of originally rich flora and fauna.
Our Current Destructive Concept of Ownership
Greed is a selfish desire that exists in the context of the concept of ownership. It is the State that defines ownership – through titles and rights. Humans behave and treat their surrounding environment based on their perceived concept of ownership. Basically, if you own something, you have the right to freely do as you please. But for most people, owning an item brings with it an innate responsibility to care for and maintain it. If you don't own it, you generally don't give a damn.
It is a common behavior among Filipinos to litter and vandalize in public, but not in their own premises; you will notice residents dumping garbage out on the street or nearby vacant lot in order to keep their own yard within property walls clean.
Social climbers, wishing to project their aristocratic self-worth to the rest of the zombie community, desire to flash out their wealth to gain admiration and respect. Thus there is an "arms race"-like open competition among Filipinos to grab as much of the pie as they can, with hacienderos and oligarchs gobbling up more even lands and properties through their money-making machines, while the rest of the unfortunate masses scramble for the left overs.
A Healthier Perspective
Of the 90% of the population who claim to be Christians and know their text book, there is a different idea of ownership that is unveiled in the letters of Paul: "All things are yours, whether … the world or life or death or the present or the future—all are yours." (this being in the context of the Creator being one's own Father, and them being children as heirs).  It is a paradigm shift that transcends our current traditional beliefs.
Just the mere interpretation and application of this "radical concept" of ownership can work wonders. Here's how.
Why will there be a need to acquire increasingly more properties when "everything is already yours" to begin with? For some it is some kind of self-delusion to think that you own, for example, Megamall or Boracay Island. But to come to think of it, what's the difference between you and the actual owner – when both of you can actually access and enjoy it just the same? The only real difference is even an advantage on your end since you are spared of the headaches and costs of operating and maintaining the facility.
Applying the "It's All Mine" Ownership Concept
On the other hand, we can see ownership to be just a figment of human imagination. If I went to Rizal Park and said to myself: "This park is mine. All these people roaming around here – well I'm just letting them enjoy my property. And those guys tending the flower garden there – they all work for me to keep my park pretty and clean. "
Audacious as it may seem, there is a different attitude that grows out of one's bosom when you know you own an entire public park. You will voluntarily pick up any litter you see messing up your property. You will reprimand the gardener for not doing a good job. (Remember the passion Jesus had in driving out the template traders even though no one perceived him to be the property owner?) You begin to see Rizal Park in an entirely different light. You will even want to visit it more frequently because you have every right to access and enjoy it – It's all yours!
And the good thing about knowing you own everything is that it doesn't cost you a single peso – just like the air you breathe and the rain you are blessed with.  So you can just walk into the lobby of Waterfront Cebu City Hotel and claim "this is all mine" while sitting in their fine elegant lobby chairs gazing at the grandeur before you.
As Filipinos and even guests of the Philippines, try to think of it this way: This land is your land – it's all yours. So anyone messing up YOUR little P.I. paradise on earth has got to stop! Let us in unison all say with iron-willed passion now… "This has got to STOP!"
[Photo courtesy EcoWaste Coalition.]
Zealous revolutionary advocate of bringing back common sense for the common good in a land of dysfunctional and delusional zombies.