People were aflutter over Senator Bongbong Marcos' "class act" performance in the vice-presidential debate a while back. Of course, we are aware that he remains a suspect in the pilfering of billions from our nation's coffers during his father's tenure. No need to be worried, despite some cases being dismissed against them, there are still hundreds more pending; perhaps one of them will "hit." But bear in mind: as a commenter on one of our articles said, Marcos is mum about the suspected stolen wealth because it can get him cited in contempt in any of these cases (and yes, the Marcoses have been cited in the U.S., while a Makati court stopped the implementation of that in this country, although it is being challenged). Of course, he said "I will be biased," that's a given. And I would agree that others (such as my alma mater) would best be quiet and let courts do their work in "cracking the case" to restore more lost wealth. Some wealth has been recovered, but in the hands of the Yellows, you wonder if it will reach the true victims at all (and that unscrupulous parties like communist insurgent Joma Sison are trying to free ride on these cases to take a chunk of the recovered money). But I digress.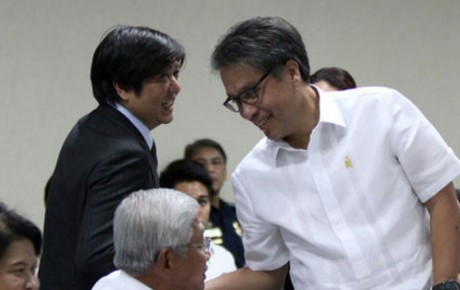 Back to the "class act" discussion. My view of Bongbong's calm demeanor in the debate is what I also said about Leni Robredo's photo-op showing her supposedly waiting for a bus: it's something that should be normal and is nothing special. And that applies to everyone, not just them.
Thus, when I see Marcos Jr. showing good breeding, I ponder: why only him? Why can't other people show the same calm and composed demeanor? Is it evil to be calm and composed in demeanor? Are you going to let the "class act" stay with the "bad guy?"
Sadly, that seems to be it. Because of Philippine culture preferring the overly emotional to the calm rational manner, there is a glorification of rudeness. This is one tragedy of Philippine society: good breeding and behavior have been associated with being evil. Thus, when Filipinos act rude and inconsiderate, they might even believe they are doing good! It's another twisting of bad into good and good into bad.
What's the value of acting classy? Is it simply a sanctimonious show? Not necessarily. It's often interpreted that acting classy and having manners shows that you have real confidence in yourself and you give off the vibe that you know what you are doing. But more than that, here's the catch: good manners is based on showing respect towards others.
In one comment, I mentioned the school called John Robert Powers. I have not gone through it, but I heard that, in simplified terms, it is like a finishing school. It teaches things like good table manners, how to have proper posture and demeanor, how to avoid boorish and displeasing behavior, and other aspects of politeness. It is likely that Marcos Jr. had gone through something like this. But other Filipinos need it more.
For example, look at the picture below of president BS Aquino III. While we can give him points for visiting the troops wounded in Basilan, others have pointed out his posture. The common interpretation is that his crossed arms and awkward stance indicate that he doesn't want to be there, and was just forced to be there. Of course, he only showed this for a moment, but even this moment when snapped sent out a strong message.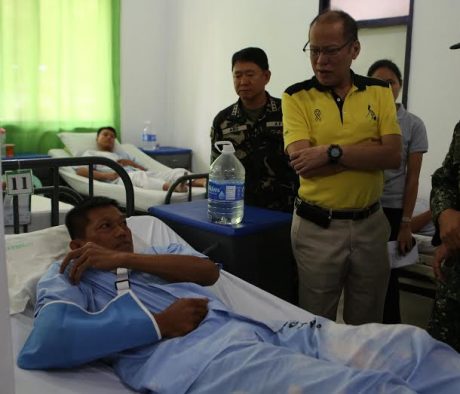 Next we have presidential candidate Rodrigo Duterte. His infamous rape joke became the recent trend in Philippine Internet circles. Some supporters defend it, some are disappointed with it, many are indignant about it. But what disturbs me about it is that even the middle class or supposedly educated people defend it – even if they admit that it is a crass joke. As I said, these Filipinos are sadly accepting crass over class.
Let's look at how Filipinos behave both here and abroad. When we disregard having classy behavior, we disregard respect for others. For example, road courtesy. We've seen a lot of road rage incidents and mishaps due to careless that could have been avoided if people on the road valued courtesy (and as that case of that blue Maserati incident shows, money can't buy class). Another is bothering others with noise; one of our own writers here noted how Filipinos have been inconsiderate when speaking loudly in public places. Same with videokes on full volume in the middle of the night. As well as Filipino sports fans insulting opposing players and their fans. And more.
Perhaps Filipinos need to be reintroduced to finishing school lessons in every day education. But not just in formal education. It's a cultural thing, something that should have been learned at home, one's social circles and in media. Learning politeness and manners comes hand-in-hand with learning respect for others. This is where we learn to let go of our me-first attitude and develop a respect for public space – including people we don't know.
While money doesn't always buy class, it's something worth investing on – not only money, but time and effort to learn. In learning good manners and right conduct, we learn how to be cooperative and productive citizens, not just for ourselves, but for society. Because when we reject class and accept crass, we develop the potential to become the bad guys ourselves.
I believe, as my cohorts here do, that what Filipinos embrace as their culture is what actually pulls the country down. And those who seem to be anti-dictators, who may also believe themselves to be "heroes," are the real dictators.