The comic depicting presidential candidate Mar Roxas in Sa Gitna ng Unos (In the Middle of a Storm) has made quite a stir in a lot of his detractors. Truth be told, it was hoped that the comic would draw more voters to the Liberal Party (LP) faction but has, in fact, drawn even more detractors as it insults the very memory of the victims of Typhoon Haiyan. As a piece of propaganda, Sa Gitna ng Unos achieved the opposite effect of what it was meant to do and not only failed to endear Filipinos to him but outright disgusted some of his own supporters away from his camp.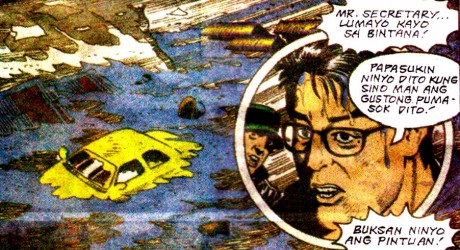 Being a staunch opponent of the LP and its antics, I'm quite pleased with this development as it shows that Mar Roxas is quite behind in terms of potential presidency. However, I am somewhat displeased with the way the artist of the comic is also catching flak to. Granted, I'm not really that much into local comics but I still think that it's not exactly fair to bash the man who drew the comic as he was merely hired by the lower echelons of the LP to create a comic that will perhaps sway people to their side. One must remember that he was only "hired" to draw the comic, it was never his choice to do so in the first place.
SUPPORT INDEPENDENT SOCIAL COMMENTARY!
Subscribe to our Substack community GRP Insider to receive by email our in-depth free weekly newsletter. Opt into a paid subscription and you'll get premium insider briefs and insights from us daily.
Subscribe to our Substack newsletter, GRP Insider!
Learn more
Sadly enough, what many of the comic artist's detractors fail to realize is that many comic artists in the Philippines never get the respect, recognition and, most importantly, revenue that they truly deserve. For instance, asides from Mars Ravelo (creator of Darna) and Carlo J. Caparas (creator of Panday), can you name any other Filipino comic artist that has earned considerable fame and fortune in the Philippines? Truth be told, I doubt there will never be many because not many Pinoys even understand the concept of "art" in the first place. Thanks to the fact that majority of Pinoys can't tell the difference between superficiality and substance, many artists (and not just comic artists either) are generally ignored in favor of actors who can't act, singers who can't sing and dancers who can't dance and just have pretty faces and friendly but fake attitudes the masses can relate to.
What's even more sad is the artist who drew Sa Gitna ng Unos probably wasn't even a permanent attachment to the LP's staff. More likely than not, he's just another comic artist struggling for some recognition and a little pay to get by. Once the election probably ends, Mar Roxas (given his rather dismissive attitude to people he doesn't know) would outright forget the artist who worked so hard to polish his image and look down on him as just another desperate employee. Truth be told, if the Philippines held good artists, no matter what their craft may be, in higher regard he would no doubt have more important things to do and better comics to draw than propaganda pieces given to him by corrupt politicians.
I HAVE RETURNED TO LAY WASTE TO OUR ENEMIES!