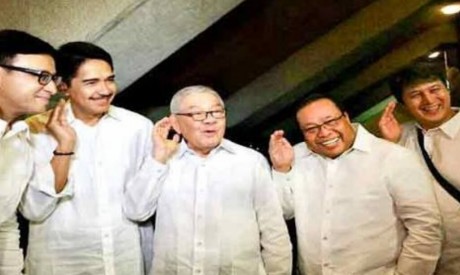 According to ancient Chinese philosopher Confucius, culture dictates or at least takes a large part in the formation of one's morals. If his words and writings are to be taken into account, having a culture centered around wisdom contributes to making one a productive part of society and, by extension, improving and strengthening a nation overall. By the same logic, a dysfunctional culture that disdains wisdom creates deeply broken individuals who, through their foolishness, contributes to the deterioration of the community they dwell in.
In the present day, with the way our country seems to be destroying itself through rampant anti-intellectualism, is it perhaps our very culture today that continues to destroy us as a nation? In her latest article, Kate Natividad describes how Tagalog has no place in a presidential debate. Over here in Add's article, he shows us that Tagalog shouldn't even be our national language. However, I for one believe that it is not our language per se that is wrong with our country today but our very culture, from the way we live to the way we see the world that waylays our attempts at making progress and destroys any chance we have of making something of ourselves as a people.
Today, we call the ever-growing anti-intellectual movement of the Philippines as "Jejemon" which perhaps began life with youths who took pleasure in misspelling words, misquoting statements, misunderstanding ideas and generally misusing their lives when texting. Today, Jejemon culture is promoted by the local media what with Vice Ganda putting a different spin to the definition of "philosophy" which is actually quite different from its original meaning. Deeply rooted in materialism and immaturity, Jejemon culture has contributed greatly to the misuse and misunderstanding of many ideas and the loss of wisdom in not just youths but most of society in general.
As I see it, Jejemon culture is simply just an extension or, perhaps more appropriately, child of "Bakya" culture just as President Benigno Simeon "BS" Aquino III is the son of former president Corazon Cojuanco-Aquino. A dysfunctional culture promoted and propagated by the local media aligned with the Aquino family which champions drama over good sense, Bakya culture was adapted by many maids and nannies who knew little about quality programming and thus passed it on to their own hapless children as well as the children they were tasked with looking after. While I have always believed in the freedom to choose one's preferences, the fact that our media has been infested with dumb and often over-dramatic teleseryes and little else has affected our culture in many subliminal ways which eventually resulted in the creation of Jejemon culture. The mistaken belief that a dumb and greedy housewife can even be called a stateswoman is what ultimately led to the idea that a juvenile, indolent and perhaps mentally disturbed loser could be a good leader.
While our chosen language and butchery thereof through misspellings and the overuse of gay lingo (which I think only mirrors our identity crisis as a people) may be a factor in the gradual but certain destruction of our country, it is our culture that really needs to change if we truly want hope for the Philippines…
I HAVE RETURNED TO LAY WASTE TO OUR ENEMIES!