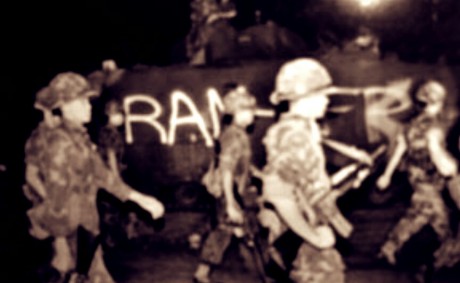 The country celebrates the 30th Anniversary of the 1986 EDSA "Revolution" under the deception that things have become better ever since the overthrow of the Marcos dictatorship. The celebrations have become so regular, so systematic, and so ingrained that the "EDSA Spirit" has become rather dogmatic.
Leading the celebrations, as expected, is President BS Aquino along with many traditional politicians who "hijacked" EDSA. Ask the common person in the street about EDSA, and they will say that it was led by Corazon Aquino, BS Aquino's late mother. It's the same thinking that got BS Aquino elected in the first place.
SUPPORT INDEPENDENT SOCIAL COMMENTARY!
Subscribe to our Substack community GRP Insider where you can opt to receive by email our more comprehensive and in-depth free weekly newsletter GRP Mail. Consider also supporting our efforts to remain an independent channel for social commentary and insight by sponsoring us through a small donation or a monthly paid subscription.
Subscribe to our Substack newsletter, GRP Insider!
Learn more
Never mind that, in the first place, EDSA was ignited by the Reform the Armed Forces Movement led by (surprise, surprise) then-Minister of National Defense Juan Ponce Enrile. If not for RAM, there would have been no EDSA in the first place. In fact, the plan was for RAM to install a revolutionary council that would govern the country, to be led by Enrile. RAM's plans got mucked up after Marcos left (or was kidnapped) and headed to Hawaii.
Instead of placing Enrile as head of a revolutionary council, Corazon Aquino grabbed the presidency and took her oath despite losing the controversial snap election weeks earlier. Enrile just stepped aside and allowed Aquino to assume power. Ironically, Enrile was fired nine months after he helped Aquino to take the presidency.
Being the turncoat that he was, Gen. Fidel Ramos pledged loyalty to Cory Aquino immediately. The soldiers (the ones who truly initiated the uprising) were ostracized and cast aside. All the glory of EDSA went to the Aquino family and their trapo followers. It is pretty sad how history has never given these soldiers credit for what they did. As much as I did not like that EDSA happened, if I were to give anyone credit for it, I would give it to the brave soldiers who dared to stand up despite being heavily outnumbered and having a disadvantage in firepower. Likewise, President Marcos deserves credit for not ordering his tropps to fire at the crowd. Marcos's impotence or perhaps his "good conscience" led to EDSA being "bloodless" unlike the Tiananmen Square Massacre in China which happened about three years later.
The actions of the Cory regime (especially the freeing of political prisoner and Maoist rebel leader Jose Maria Sison) led to the establishment of two more underground military factions besides RAM. The Cory regime pushed some military officers to form the Young Officers Union (YOU) and the Soldiers of the Filipino People (SFP) factions, both of which helped launch coup d'etats which heavily damaged the Aquino administration. Even Cory Aquino's vice president, Salvador Laurel, defected to the opposition and openly supported rebel forces in the 1989 coup d'etat.
It took just three years for the military to realize that Cory Aquino's administration was no better or maybe even worse than that of Ferdinand Marcos. Vice President Laurel left Cory Aquino's administration within a year after seeing her incompetence. As early as then, the promises of EDSA were already being shattered one-by-one. Laurel saw it. Enrile saw it. Honasan saw it. Many military officers saw it.
Thirty years, nine coup d'etats, and five presidents later, the dreams formed after EDSA remained just that, dreams. This is probably why the Marcos name has made waves once again with the candidacy of Senator Bongbong Marcos for the vice presidency. In the end, the only way to convince people that life was worse under martial law is for real progress to happen.