I'm more than a little disappointed that there are still a lot of you who failed or outright refused the point of my previous article. I find it sad that, even when I made it clear what I was talking about, some of you still assumed all kinds of things and insisted that I was defending the depravity of bad people in the Philippines and calling out Manny Pacquiao on what he seems to think is the "truth". Well then, this is a follow-up ladies and gentlemen and, this time, I hope you get what I'm trying to say because, if not, then we probably really are a nation that is utterly doomed by our own stupidity and madness.
First off though, let me do some Bible Bashing of my own. Yes, it's actually relevant to the topic at hand, so pay close attention. Also, for our non-Christian readers, not to worry, I'm going to explain it all in a minute.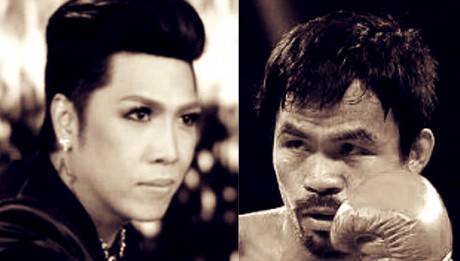 Here's three verses from the Bible I'd like everyone to think about:
"If you pay attention when you are corrected, you are wise."
~Proverbs 15: 31
"If you refuse to learn, you are hurting yourself. If you accept correction, you will become wiser."
~Proverbs 15: 32
"If you let a fool deliver a message, you might as well cut off your own feet; you are asking for trouble."
~Proverbs 26: 6
"Praising someone who is stupid makes as much sense as tying a stone in a sling."
~Proverbs 26: 8
"Better to correct someone openly than to let him think you don't care for him at all."
~Proverbs 29: 5
There, for our readers who adhere to Christian beliefs, kindly read those quotes I've put up and carefully consider the words contained in them.
Okay, so I now have a lot of people asking me who's side am I on, Manny Pacquiao or Vice Ganda? Well, to answer your question, I will have to say neither because both are tactless and tasteless when it comes to what they're supposed to be doing.
Let's start with Vice Ganda, shall we? Truth be told Vice Ganda is a media icon. Millions of Filipinos watch his shows on a daily basis because they find him funny and entertaining. Unfortunately, truth be told, I find him detestable for his all too often cruel sens of humor and immoral behavior on live TV no less! People embrace him as the go-to for comedy even when he doesn't even compare to legends like Dolphy, Babalu or Redford White. What's worse is that, according to Ms. Ilda's recent article here, he is a terrible disgrace for gays everywhere and should be sanctioned by MTRCB because of the unwholesome entertainment he espouses on local media.
Now let's go over to Manny Pacquiao. Truth be told, I still see him as a better person than Vice Ganda. After all, his legacy as a boxer has made him a living legend for Filipinos and is lauded throughout the world for being such an astounding athlete. I am also deeply impressed by his philanthropy and his willingness to help the poor. Unfortunately, none of these translate into being a good politician, namely a congressman. Congress is about making laws, ladies and gentlemen, and is crucial for the continued function of our nation. What's sad is that Manny Pacquiao doesn't seem to care one bit about his duties and responsibilities as a congressman and has apparently attended four sessions out of all the assemblies that were called. And now, the guy wants to be a senator…
All I have to ask now is: "How? How did my beloved country come to this? Why, whatever did we do to deserve this?"
Well, the answer to that is pretty simple: The stupidity of the Pinoys who worship said individuals.
Truth be told, whenever I criticize something in the local media, people are quick to tell me: "But they have a right to do that!" Followed quickly by: "Who are you to judge?"
Well, the truth of the matter is that were it not for the approval of stupid Pinoys, Vice Ganda wouldn't be a vaunted celebrity and Manny Pacquiao wouldn't be a congressman and an aspiring senator. It all boils down to the point of another of my articles which tackles "idol worship" in our society. If we just had more taste and critical thinking, Vice Ganda and his crassness would remain in the confines of gay bars and not live television and Manny Pacquiao could just focus on his boxing, religion and philanthropy. But no, you guys had to go and put these two on high pedestals and worship them as living gods whom you think are more important than the invention of electricity and the automobile. A lot of you seem to think that just because they're rich, famous and talented in their own respective field, they are qualified to run a country and become the leaders of an already blind and beleaguered nation.
What makes all this worse is that there are those who have made Vice Ganda and Manny Pacquiao untouchable to criticism. I'm betting that when Vice Ganda wanted to bring his immorality on live TV, no one was willing to oppose him because they found him entertaining and not because they thought his shows were wholesome or informative to those who may be watching. Also, when Manny Pacquiao wanted to become congressman, no one in his circle ever discouraged him and told him that the duties of a congressman involves making laws and generally making economic improvements for the country.
Again, I clarify my point to you all:
The biggest problem in our country is our tendency to worship celebrities and think of them as perfect and untouchable. We rarely, if ever, consider the possibility that they are not qualified to be where they are like nationwide TV or politics and simply stick to what they know best. Indeed, I have come to believe that it is the aristocratic mindset or the lord-and-peasant relationship prevalent in our society today that has indeed doomed us and the generations that will follow.
In all honesty, I wouldn't be in the least bit surprised if the AlDub couple dabbled in politics and actually succeeded…
I HAVE RETURNED TO LAY WASTE TO OUR ENEMIES!