All the big events seem to have come together on this day, the 25th January. It's the birth anniversary of the late Corazon 'Cory' Aquino, mother of current President Benigno Simeon 'BS' Aquino III. On this day also, exactly 12 months ago, 44 elite police officers of the Philippine National Police (PNP) Special Action Force (SAF) were massacred by members of the terrorist Moro Islamic Liberation Front in Mamasapano.
Today is also the much-anticipated homecoming of newly-crowned Miss Universe Pia Wurtzbach who ended a 42-year title drought since Margie Moran won the crown in 1973. An interesting theory making the rounds in social media is that the Philippine government had something to do with the timing of Wurtzbach's triumphant return to the Philippines. Theorists speculate that today was specifically chosen to schedule her arrival to distract Filipinos from the Mamasapano incident which, to this day, the Aquino government is still to convincingly address head-on. As if confirming this conspiracy theory, Senate President Franklin Drilon, during a courtesy call paid by Wurtzbach to the Senate reportedly quipped, "Your presence here has generated more interest than the Mamasapano hearing…"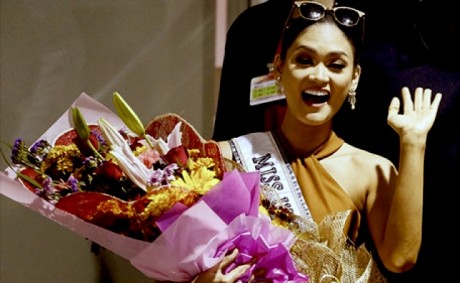 SUPPORT INDEPENDENT SOCIAL COMMENTARY!
Subscribe to our Substack community GRP Insider where you can opt to receive by email our more comprehensive and in-depth free weekly newsletter GRP Mail. Consider also supporting our efforts to remain an independent channel for social commentary and insight by sponsoring us through a small donation or a monthly paid subscription.
Subscribe to our Substack newsletter, GRP Insider!
Learn more
Indeed, there is much that Filipinos need to be distracted from. The Aquino government needs to distance itself from Mamasapano even as it struggles in vain to desperately wash the murdered 44 SAF officers' blood off its hands. At stake is the candidacy of the ruling Liberal Party bet (and Aquino minion) Mar Roxas who as Department of Interior and Local Government Secretary at the time of the massacre himself also has a lot to answer for.
Wurtzbach also publicly supports United States military presence in the Philippines under the Enhanced Defense Cooperation Agreement (EDCA) recently upheld by the Philippines' Supreme Court.
"I think that the United States and the Philippines have always had a good relationship with each other. We were colonized by the Americans and we have their culture and our traditions even up to this day and I think that we're very welcoming with the Americans. And I don't see any problem with that at all," she said during the top 5 contestant's question-and-answer portion of the pageant which she eventually won.
Obviously, Miss Universe's immense star power lends credibility to these words, so much so that no less than a Philippine Senator Miriam Defensor-Santiago herself (a staunch critic of the EDCA and related military agreements with the US) has expressed an interest to discuss the matter with Wurtzbach.
If indeed Wurtzbach had succeeded at overshadowing Mamasapano and Cory Aquino's birthday today, there is irony in that achievement considering that she is, as the other two were, once again pitched by the country's noted opinion shapers as the quintessential Filipino "hero".
Unfortunately, the substance beneath what being a "hero" is really all about routinely flies over Filipinos' heads. The important common denominators — the gruelling training that earns SAF troopers their special place in the police and armed forces, the "sacrifice" of Cory Aquino that propelled her to the presidency in 1986, and the hard work in Wurtzbach's long journey to the top — are all key to how Filipinos should be regarding their heroes. When Filipinos begin to understand the true essence of what it means to be a "hero" to a people, the aspiration to emulate these heroes becomes a bit more realistic and even practical — and the hollow idolatry ends.
Perhaps then it is fitting that the Philippines' third Miss Universe share this important day with the 44 fallen SAF troopers and former President Cory Aquino as one to commemorate every year. Collectively, they are perfectly aligned to highlighting the juxtaposition of rare beauty, preventable tragedy, and emo politics that are constant features of the bewildered character of Philippine society.
[Photo courtesy Emirates247.com.]
benign0 is the Webmaster of GetRealPhilippines.com.