Another Christmas has just passed, and here we go again on another cycle of facing a new year which will later build up in excitement and anticipation on the supposedly colder "ber" months leading towards that long awaited Christmas Eve. To many who have lived in a land where the closest thing to winter is their halo-halo or household freezer, it was indeed a treat for them to visit one of Baguio's coolest attractions: Christmas Village at Baguio Country Club, complete with falling "snowflakes", snowmen, and snow-capped medieval houses.
Yes, even for once, our less fortunate fellow Filipinos wish to get a taste of what those Christmas songs like "Dreaming of a White Christmas" or "Winter Wonderland" are all about.
A Korean friend of mine once mentioned the fact that most of the richest key/capital cities of the world congregate around roughly the same latitude (about 30~60 degrees above the Equator) on the northern hemisphere of this planet – prosperous wealth centers like Paris, London, Berlin, New York, Beijing, Seoul, and Tokyo.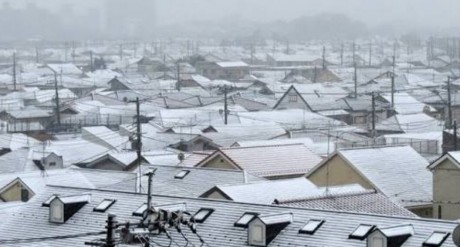 What is the secret as to why these cities/countries/civilizations are so wealthy and great? The simple answer: SNOW.
Snow Makes People Rich
If a group of people want to become rich, they should choose a place where there is snow. Now that is not just a deduction based on mere observations about first-world countries, it has a very sound logical basis. So what is it in snow that turns people into such great generators of wealth?
Hard work/discipline – To survive in an environment where you can freeze to death if you don't make necessary preparations (stocked food, good shelter, heating systems), people are forced to work hard – bringing about a culture of discipline.
Natural selection – Those who fail to work hard die off during the winter, leaving behind only the strong and the fit. Through generations, only a tough breed of relatively wealthy industrious survivors makes up the demography of a society living in cold places. In contrast, a Filipino squatter can pretty much live all year round under a bridge, staring like a tambay zombie most of the day.
Conducive working environment – Where are you able to think, focus, and work more efficiently: in a hot and humid oven, or in an air-conditioned room? People naturally become better at working and thinking in cooler places. That is why most innovations spring out from these nations which are blessed with snow.
Fewer pests – You will notice that cockroaches, termites and rats breed and thrive in hot and humid environments. It is similar to the squatter colonies that breed in Metro Manila. You will rarely find these ugly eyesores dotting cold freezing areas of the world. Fewer pests make for a better and safer environment. Which would be better use of time: spending it designing a product or chasing after roaches? No wonder the Philippines keeps falling behind – moving two or three steps forward, only to take one step back.
More/better products – Do you see any Filipinos in our tropical country wearing fur coats? Well that's because they can live on just wearing a sando, shorts and a pair of slippers. Freezing countries, on the other hand, are forced to produce a wide array of high-quality products loaded with features. They end up having more class. European cars would need heaters, antifog lights, defrosting windshields, etc. North Asians need jackets, snow boots, ski wear, etc. Why would Filipinos need to manufacture all these when they can thrive with their "pwede na ang pwede na" local products.
I heard that some decades ago, it used to sometimes rain hail in Baguio. Maybe due to the current bad air situation in the city, we can no longer expect this to happen. But there are other options for Pinoys to experience and live in a place where there is snow/winter.
No, I'm not talking about making a Snow City, Singapore's permanent indoor snow center. I'm talking about giving Filipinos an open opportunity to live in a place with real snowflakes.
Mongolia – the Filipino's Promised Land
One of the least featured places on the planet is a vast yet quite country up in the northern hemisphere called Mongolia. I had a Mongolian friend who described his country to be as wide open grassy plains as far as the eye could see. Let me give you a quick wiki-based comparison:
Mongolia (2015): Population 3 million, GDP (PPP) $36.6 billion, Per capita $11,024, Land area 1,566,000 km2 (19th).
The Philippines (2015): Population 103 million, GDP (nominal) $330.259 billion, $3,256, 300,000 km2 (73rd)
The average temperature in most of Mongolia is below zero from November to March and close to it in April and October. Not that's snow – lots of it. The country has a land area roughly five times larger than the Philippines with a population (3M) that's just a fraction of Metro Manila's 12M (15M during daytime).
Four seasons, snow, plenty of space, and abounding in natural resources, Mongolia is a place just waiting to be tapped. If Filipinos are looking for new adventures and opportunities, and are tired of this oligarchy-protecting economy that cannot offer jobs for its people (note: removing 60/40 ownership protectionism may take ages, unless a military-backed coup de ta takes place), then they should just take matters into your their own hands and find greener pastures.
Better yet, Manila and Ulaanbaatar should come up with a program or agreement that will at least allow for better bilateral opportunities for exchange between both countries – like our labor for their land.
One's national identity, being Filipino, does not mean you need to confine yourself to living in P.I. at the expense of your quality of life and having to endure the heat. You do not have to remain as a poor jobless squatter or sun-scorched farmer in the Philippines when there are more logically better places for Filipinos to thrive and excel.
You need not settle for halo-halo or scraping the sides of your freezer for a taste of winter; go to a place where there's real snow. Trust me, being forced to become disciplined, hard working, and innovative will be good for you and your children.
Zealous revolutionary advocate of bringing back common sense for the common good in a land of dysfunctional and delusional zombies.