Construction of a high-speed train line allowing travel between Jakarta and Bandung at speeds of up to 350 kilometres per hour has started. The USD 5.6 billion project is a key component of a long-overdue programme to upgrade decrepit infrastructure being spurred by Indonesian President Joko Widodo.
Indonesia lacks a mass-transport system, forcing its increasingly affluent 250 million people to rely heavily on private transport, resulting in grinding traffic in the biggest cities.

Mr Joko said he hoped the high-speed railway would spur demand for future public transport alternatives in other parts of Indonesia, as well as speed up the movement of people and goods between cities, helping economic growth.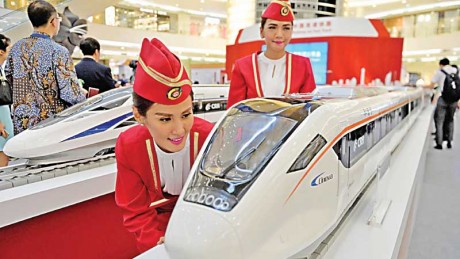 The contract was awarded to China after a fierce bidding war with Japan. China has emerged as a global leader in rail transport technology and now sports the world's largest high-speed rail network. It also supplies trains to the Philippines and, most recently, is providing rolling stock as part of an effort to upgrade Manila's dysfunctional Metro Rail Transit (MRT) network.
The MRT as well as other modern transport facilities in Metro Manila have seen their service levels suffer as a result of neglect and mismanagement under the government of President Benigno Simeon 'BS' Aquino III and, specifically, during the watches of successive Department of Transportation and Communications Secretaries Mar Roxas and Jun Abaya.
benign0 is the Webmaster of GetRealPhilippines.com.