Filipinos had "the power to make Pia Wurtzbach win." It's true, because that's according to the Inquirer.net which asserted in an 18th Decembmer report, Filipinos "can cast their votes for their favorite delegates during each series of competition in the live telecast. The worldwide scores will help determine which girl will be crowned the next Miss Universe." Alex Vergara, the author of that report makes his message clear, capping his report with the call to action: "Pia Alonso Wurztbach is counting on you to help her become the Philippines' third Miss Universe. Don't let her down!"
How can we? The Philippines showbiz and media gods are behind her. For one, Rappler.com, God's gift to Philippine journalism relays an important message to what arguably is the Philippine's most massive voting bloc at present. Pia Wurtzbach asks #AlDub fans: Support me, and, yeah, flashes the pabebe salute now traditionally used to rally the AlDub troops.
In the caption of her [Instagram] post [where she uploaded a photo of her doing the pabebe wave], Pia wrote that she needs the AlDub tandem's fanbase to vote for her during the Miss Universe finals live telecast
Maine Mendoza and Alden Richards make up the AlDub celebrity pair both of whom, of late, have captured a massive Filipino television audience capable of breaking world Twitter retweet records thanks to their heartwarming on-screen "reality" romance series.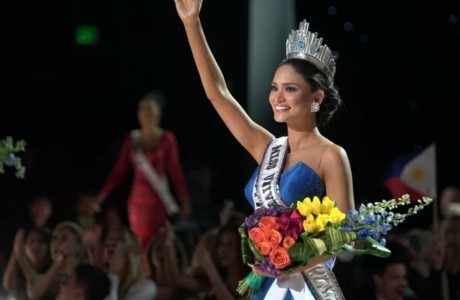 This is the first time in its 64-year history that the Miss Universe franchise gave one of five judge's seats to the outcome of an on-line vote. And winning contests determined by on-line votes is something Filipinos excel at. Filipinos are legendary for gaming online voting systems and count as "achievements" in this field of endeavour catapulting Efren Penaflorida onto the top of the pile of candidates bidding for the CNN Heroes title in 2009 and getting Palawan's Underground River included in Bernard Weber's dubious list of the world's "New Seven Wonders".
In the earlier article on Penaflorida's CNN Heroes title, my colleague Gogs observed…
We take the meaningful like CNN Heroes which is infinitely more substantive than American Idol and get irrationally exuberant not because of the substance that is present but because it has the element of international pansin. We just fake interest in the true spirit of CNN Heroes. Because we never have interest in substance. We will not look for it in a CNN Heroes edition that does not have that carrot of pansin. If there is no pinoy participation then CNN Heroes may as well be the Life and Times of Al Sharpton as far as the typical pinoy is concerned.
…and on the latter matter of our Underwater River's place amongst the "New Seven Wonders", my other colleague MidwayHaven noted:
The "New 7 Wonders" initiative is based entirely on global electronic voting, be it online or through mobile communication. Sadly, the vast majority of Filipinos have always used their thinking skills on what is popular, or "uso" in the local term, so it was no wonder (pardon the pun) that virtually any Filipino who had access to a TV, a mobile phone and the internet would vote for the river, totally ignoring the fact that there were other, far more awe-inspiring wonders beyond the Philippines that deserved to be in the seven slots. In fact, looking at the provisional list, I cringe in frustration why in the world places such as Ayers Rock (Australia), Mount Fuji (Japan), Meteor Crater (United States) or even the Great Barrier Reef (Australia) weren't on it.
Winning, of course, is a good thing. But the way a game is played also matters. A game played with grace and honour, makes winning it even sweeter. Pia Wurtzbach worked hard to become a beauty queen. At 26 years old she is a veteran of several attempts to break into the pageant big leagues and this win is undoubtedly one she deserves, a reward for her hard work and perseverance unfortunately marred by circumstances beyond her control.
Thankfully for Wurtzbach, the popular vote only accounted for 20% of the contest outcome with the other four judges accounting for 20% each. The irony is in the nature of the "universe" that this Miss Universe pageant playes out. This is, after all, the 21st Century. It is a world where the sorts of things beauty pageant contestants are supposed to excel at — displaying themselves in various types of attire, looking pretty, and making quaint political statements — are the very things that quintessentially 21st Century technology, social media, has provided a game field universally-accessible to all. Anyone with a device hooked to the Net can now be beauty pageant contestants and publish content about themselves to judged on the basis of how many likes, shares, and retweets it attracts.
Unlike the very untalented Ms Maine Mendoza, a pure product of social media popularity, it can be argued that Wurtzbach won on the basis of a solid vote from a panel of qualified judges with the popularity factor only accounting for a small percentage of that outcome. In that sense, Pia is a true Miss Universe.
[Photo courtesy @GNAwed on Twitter.]
benign0 is the Webmaster of GetRealPhilippines.com.