A few days ago, news outfit Rappler ran a story which highlighted how Liberal Party (LP) presidential candidate Mar Roxas responded to questions about the ongoing laglag-bala scheme in the Ninoy Aquino International Airport (NAIA):
Former interior secretary and now Liberal Party (LP) standard-bearer for 2016 Manuel Roxas II defended the Aquino administration over the laglag-bala (bullet-planting) controversy at the Ninoy Aquino International Airport, saying the passengers have to take responsibility when they get caught with bullets.

When asked who has to take responsibility over discoveries of bullets in luggage at the airport, Roxas said, "Kung nagpasok ka ng contraband sa airport, paano naging problema ng gobyerno 'yun?" (If you enter the airport with contraband, then how does that become the government's problem?)

[NB: Emphasis by author]
Apparently, there was some sort of commotion in which Rappler was perceived as taking Mar Roxas' comments out of context. The reaction to it was also strong enough that Rappler issued a public apology.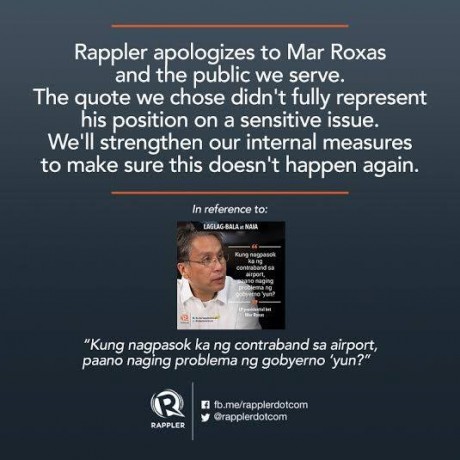 All well and good, case closed, right?
Unfortunately, for Rappler, their apology raises a lot more questions than it does answers.
There are certain comments on social media which contend that Mar Roxas was not taken out of context; rather, he just gave a really bad answer to an otherwise straightforward question. And even if one contends "taken out of context", Mar should have known the context of the question: that the bullets are seemingly more often than not planted, allegedly by airport personnel, and not brought in by the passengers themselves.
Perhaps because Mar, and the Aquino administration he is associated with, are in what is perceived to be blame-deflect and hugas-kamay (wash hands, of accountability) mode, they see things in a way that is not aligned with how the public sees them.
Certain people are asking, what is the logic with which Rappler came to a conclusion that it must apologize to Mar Roxas?
Other comments on social media noted that Rappler apologized to Mar Roxas, but it has not apologized to other news subjects that it has cast, either unwittingly or willfully, doesn't really matter, in a bad light to its readers. Examples include Grace Poe, Miriam Santiago, and oh yes, impeached former chief justice Renato Corona.
So comes another question: why apologize to Mar Roxas, and not to the other news subjects on whom there was "erroneous reporting", or reporting made that cast them in an undesirable light?
Here's yet another question, one that is probably very uncomfortable for a lot of people:
What sort of pressure was applied on Rappler that made them apologize?
One of Rappler's reporters, Natashya Gutierrez, posted on Twitter a reaction of sorts towards some of the public's reaction to Rappler's "apology":
One can never please the public. When a news outlet apologizes because it honors accountability, public says it was paid to make correction.

It takes a lot of courage to admit mistakes, no? Even personally. Few media outlets display that humility. Public should encourage it.

In reality, correction was made because we listen to the crowd, respect readers & accountability. But after apology, public cries foul. Hmm.
The underlying issue here is consistency. People are questioning Rappler's apology because this is one of the rare times (maybe even the first) that they've apologized for "erroneous reporting" which they've done more than once. And yet for those other times, like outing the details of Renato Corona's bank accounts for example, they've said nothing.
When consistency is questionable, then it is only logical that an entity's integrity and ethical orientation be questioned as well. Seemingly selective, so to speak.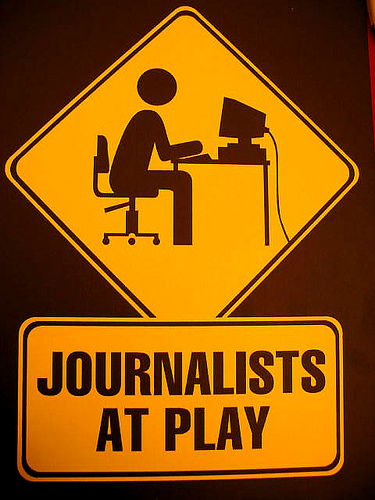 Rappler is not the only media outfit in the Philippines that has stumbled on this. ABS-CBN still has not apologized to this day to Vice President Jejomar Binay for the errors in their reporting of the forum in the University of the Philippines Los Banos. The Philippine Daily Inquirer never apologized to Demetrio Vicente himself in public for the unflattering job they did with their pictures of him during the Corona impeachment trial.
I guess it is an unspoken reality, here in the Philippines, that if you and the media outfit that reports on you have different political colors, you should not expect an apology if they paint you with the wrong one.
If it's all about honoring accountability, then we must ask: accountability to whom, exactly? And what kind? Is it the kind that reminds you to not bite the hand that feeds you?
Let me just say, in conclusion, that journalism here in the Philippines already has a bad reputation. Such issues and questionable actions on the media's part will play no part in improving it.
А вы, друзья, как ни садитесь, все в музыканты не годитесь. – But you, my friends, however you sit, not all as musicians fit.