According to a certain Twitter user who goes by the handle @MGVtrb (formerly using the user ID "@mgviterbo" (now defunct)), journalists should refrain from tweeting their opinions on Twitter and should only tweet "news". This was in a tweet she issued today…
To reporters who use their accounts to tweet news, please be ethical enough not to tweet personal opinions. People follow you for news.
Does that sound right?
Interestingly enough, Ms Viterbo uses the following disclaimer on her personal profile:
My tweets are my PERSONAL views. I DO NOT represent any other person nor any institution. If you have problems with my tweets, please address me directly.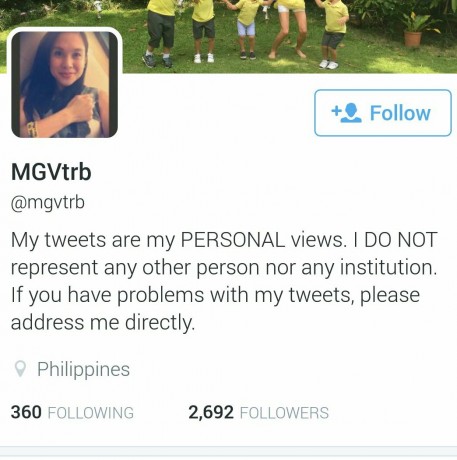 And so we come to the pertinent question of global importance:
Do journalists have the right to issue opinions on their personal social media accounts?
For that matter, are people who follow journalists on social media only interested in "news"?
Funny indeed how, in the age of the much talked up "free market of ideas" that social media technology has made available to ordinary people, we see people who presume to hold an authority on what others should or should not express in public. There are of course limitations to free speech. But those limitations are in line with ethical behaviour one (would think) will have learned back in kindergarten.
Grownups who need to remind the other grownups they hang out with about manners, on the other hand, probably need to find themselves a new set of friends. On social media, specially amongst the clique of people who debate and exchange ideas about politics, the understanding (most likely not known to some) is that this space is a
self-correcting community
where one soars or falls on the merit of one's
ideas
and one gains reputation on the back of one's
consistency
.
People choose to follow journalists (or "reporters" as some people prefer to call them) on the basis of this self-correcting mechanism that is inherent to the social media community.
People who start presuming to be an authority on the content of other people's tweets should get a grip. Social media people are presumed accountable for the content of the statements they publish on social media. If they fly, they must be doing something right. If they sink, well, they certainly must have done something wrong. But, like most systems where the exercise of certain personal liberties is encouraged, the social media "free market of ideas" will take care of itself.
benign0 is the Webmaster of GetRealPhilippines.com.