Before going through the couple hundred words on what Digong Duterte could teach Mar Roxas about being a Presidential candidate, I feel I have to ground the discussion on the words of David Deida from his book "The Way Of The Superior Man":
"Without a conscious life-purpose a man is totally lost, drifting, adapting to events rather than creating events.

"If you know your purpose, your deepest desire, then the secret of your success is to discipline your life so that you support your deepest purpose and minimize distractions and detours."

"…when you know your true purpose, which is your core desire in life, each moment can becomea full expression of your core desire. Every instant of career, every instant of intimacy, is filled with the power of your heart purpose."
The thing with Mar Roxas, and I've mentioned this previously, is that it's hard to get a handle of what he is really about.
Was he really about free market and entrepreneurship during his Mr. Palengke days more than a decade ago? Perhaps, but I am not really sure though.
Was he really about faster transportation and better communications when he was appointed Secretary of Transport and Communications? News of his appointment to the post was said to be heralded by Roxas singing a couple of lines of Dionne Warwick's Trains, Boats, and Airplanes. But the thing with that is that now there's a long list of things that were supposed to get off the ground as far as transportation and communications.
Was he really about peace and order as well as local governance when he was appointed Secretary of Interior and Local Government? Funny, but just recently the PDEA said that 92 percent of barangays around the country are plagued with illegal drugs. In my own neck of the woods here in Sampaloc, Manila all one has to do to come across people buying and selling drugs is to go out of one's front door or walk a couple of meters anywhere.
If there were any thing that could go as a way of a defining accomplishment in any of these executive posts, I guess they're so weak and flaccid that I can't even summon one up about his stint at DILG with Google.
Gee.. And his communication team has been ordered to bolster his image as a candidate with COMPETENCE and INTEGRITY? Good luck with that!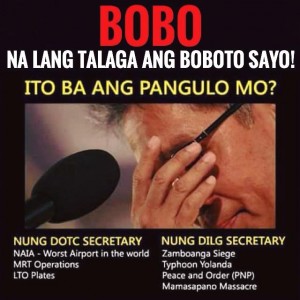 So, what is other things  that Duterte can teach Roxas about being a presidential candidate?
If you proceed with life knowing your true life-purpose and have built all your strengths around that purpose, you will live a life knowing your self-worth and that is not something you will easily or readily concede under any circumstance.
In the run-up to announcing his decision to run as president in the 2016 polls, there was a lot of drama about being anointed by President Benigno Aquino III and that was weird for a number of reasons. First of all, it's not at all like Aquino was Elijah and Roxas was Elisha or maybe it was in the sick, perverted minds of Yellow-philiacs. Second, if Roxas really had the conviction of that HE alone could lead the country after Aquino, his intention to run with or without Aquino's blessing would be evident in his actions.  That kind of conviction can only proceed from knowing what you are worth.
Then, after that, there was this whole fiasco about finding a running mate. Can you imagine the standard bearer of what is presumably the most potent political party shopping himself around and offering the Veep position much like a little boy asking girls to be his valentine? Yes, it happened and it was excruciating to watch.
Compare Digong Duterte's behavior to Roxas' and you'll see a man who seemed to be deliberately ambiguous about his position on talks of his running for the presidency. He'd hint at it and next thing you know, he'd say that he wasn't interested. It was an obvious push-pull ploy meant to keep people talking, but people bought into the ploy because it seemed consistent with Duterte's image as a man who stood on his own two feet and met the world on his terms.
As for having a Veep? Well, it seemed people were pairing him up with Senators Bongbong Marcos, Miriam Defensor Santiago, and Alan Peter Cayetano.
Roxas was described as a reluctant president and that kind of thing doesn't speak of humility, but indecision and unworthiness.
Duterte could be described as indifferent to the lure of the presidency and it would seem that if ever he does decide to make a run for it, it is something that he will do on his own terms and not under the terms of an anointer or benefactor.
I guess the main difference between Roxas and Duterte is the level of masculinity with which they've presented themselves as candidates.
As I've presented it, Duterte acted like a man throughout the whole thing and Roxas was pretty much acted like an approval seeking little boy.