Tim Tayag and a journalist friend on Facebook received what appears to be a sponsored text message from a telco service provider — the kind that usually alerts you to promos or gives you service notifications.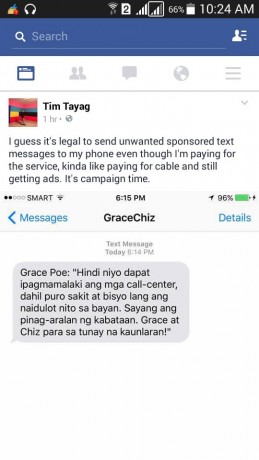 Unlike text blast messages, sponsored text messages don't display the cellphone number of the receiver. What you get with a sponsored text message is a name, like what usually happens when someone in your phonebook texts or calls you.
The message received by Tim Tayag was made to LOOK LIKE it came from GraceChiz, an obvious reference to Grace Poe and Chiz Escudero who are — at least in a few surveys — the leading contenders for the presidency and vice presidency respectively.
The message reads, "Hindi niyo dapat ipagmalaki ang mga call-center, dahil puro sakit at bisyo lang ang naidulot nito sa bayan. Sayang ang pinag-aralan ng kabataan. Grace at Chiz para sa tunay na kaunlaran."
Thing is, this may actually a very sly bit of election black propaganda which intends to do a number of things:
Make it appear that Poe and Escudero contracted the services of a telco to send the text messages and such a service could be described as some form of electoral campaign advertising which some say could be illegal outside this point because the official campaign period is still next year.
The message alludes to Mar Roxas (who is claimed to be the father of the BPO industry) and intends to anger people working in the BPO industry — describing the BPO working environment as vice ridden and unhealthy as well as a poor use of the talents of educated Filipino youth.
This text message, I assume, made its rounds today as news of another disqualification case was filed against Poe at the Comelec.
In his 14-page petition, Antonio Contreras, a political science professor at De La Salle University, asked the Comelec to cancel the certificate of candidacy (COC) for President that Poe filed on Oct. 15.

Unlike the first two petitions brought by former Department of Justice Prosecutor Estrella Elamparo on Oct. 16 and by former Sen. Francisco Tatad on Monday, Contreras' petition does not tackle the question of Poe's citizenship, but only her supposed failure to meet the 10-year residency required of presidential candidates.
It may be that these two things are completely unrelated, but both seem to put across the same message and it is that Poe is "illegal" or "illegitimate" — an attempt to eat away at her credibility as a candidate.
I have to admit, if this were a messaging campaign, I would be thoroughly impressed with its execution — quite sophisticated actually.
Something, perhaps, that one could expect from techie lawyer Atty. Yves Gonzlaes whom I heard has joined Roxas' campaign team. If you don't remember who Yves is, well, let me remind you about that Twitter account PCOS Machine and also point out that he was the guy behind MMDA's traffic app.
(Note: Yves Gonzales aka @doblezeta on Twitter told me that he is not with the Mar-Leni campaign team and that he is not in anyway part of the SMS black ops.)
But of course, Yves isn't the only sly and sophisticated operator in Mar's camp because there is also Caloocan Congressman Egay Erice.
Back in September, there was this big buzz about Grace Poe allegedly responding to a text message from Erice saying, "May I ask who is this?".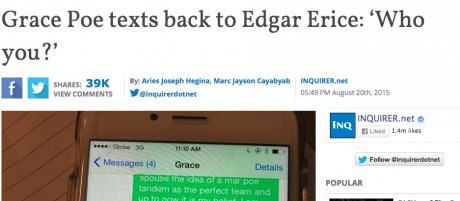 Here are a few things to note about the story:
The picture of the phone screen belongs to Erice, not Grace Poe and this means that it was Erice's side the released the story.
The way the story is headlined appears to convey that Poe doesn't know who Erice is and tends to portray Poe as such a political neophyte that she doesn't know who is who in the world of Philippine politics.
Erice apparently first attempts to dispel any notion that he is behind the black propaganda against Poe by saying, ""Sen. Grace ma'am. May I respectfully seek an audience so I can personally assure you that I am not part of those who question your being a Filipino, as being maliciously peddled in the social media." (But why is it that I have a tendency to believe that when politicians say something, the opposite of that statement is truer?)
The kicker in Erice's message is this line, "I am sorry but it is my opinion that you are not yet ready for the presidency but I will respect whatever will be your opinion and decisions. After all we are accountable for whatever we say or do as public officials."
I am not saying that either Gonzales or Erice were behind the text message from GraceChiz. Not at all!
Nevertheless, I sent a screen cap of Tim Tayag's status update to Comelec spokesman James Jimenez via Twitter and he promised to look into it with the help of the NTC.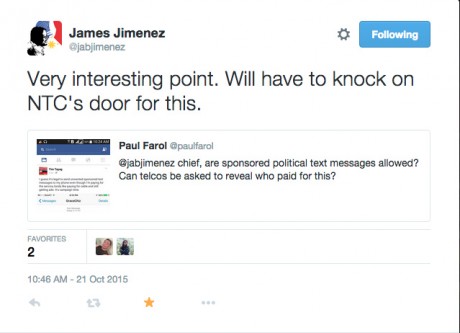 Interesting… very interesting indeed!