Filipinos are understandably aghast over the cover feature of chi-chi lifestyle magazine Philippine Tatler. A glam Imee Marcos is exhibited in its October 2015 edition in a "crimson" dress striking a pose showing legs even a 20-year-old would be envious of.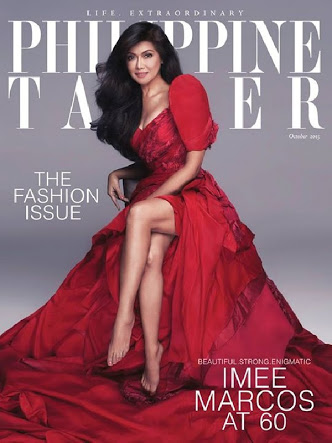 To be fair to those who've thrown an epic tantrum over this spectacle, Imee Marcos is the daughter of the late former Philippine President Ferdinand Marcos who allegedly stole billions and killed and tortured thousands during his rule over the country in the 1970s. So it is quite understandable to be a a bit upset seeing one of the Marcoses all dolled up like this on a high-society magazine — as if all of what allegedly happened in the past could simply be literally glossed over.
The only problem with the sort of "indignation" over this spread flying around all over the Net is that it is the wrong kind. The real outrage here is over why — if the Marcoses were indeed guilty of all the "crimes" they are accused of — Philippine society still embraces their graces; enough of an embrace, as a matter of fact, for the most exclusive society gossip magazine in the country to feature one of them this way.
What this latest outrage fad really highlights is how Filipinos fail to build a society where justice is delivered in a consistent and transparent manner.
One wonders, for example, why two Aquino governments have failed to put any of the Marcoses in jail. That confronting fact makes any of the lip service Philippine President Benigno Simeon 'BS' Aquino III pays to the "sacrifice" of his father (whose "martyrdom" in 1983 the Marcoses allegedly perpetrated) and that of his mother (who was a "heroic" widow since then until her death in 2009) ring hollow.
How can a prominent and much-revered family such as the Aquinos who were among the direct alleged victims of the Marcos regime occupy the most powerful office in the land not once but twice and still fail to put any of the Marcoses in prison?
The irony seems to routinely fly over the heads of Aquino supporters who dish out emo tantrums over the continued presence of the Marcoses in Philippine politics and society:
Whenever Aquinoists raise girly fits over the "impunity" of the Marcoses, what they are really doing is pointing the spotlight on the complete failure of the Aquinos in delivering on their promise of "justice" to the victims of the alleged crimes of the Marcos regime.
That's the trouble with emotive activism. It does not deliver results, only noise.
benign0 is the Webmaster of GetRealPhilippines.com.