I guess it has already been said that it's really a bad idea for Mar Roxas to campaign on the premise of continuing the Aquino administration's Daang Matuwid.
People are wondering, isn't he his own man yet?
Last night, a heavy down pour late in the afternoon or early evening (depending on where you were) caused traffic on EDSA to seize up. Looking at my Facebook newsfeed, it seemed quite a good number of my friends were stuck in EDSA for two to five hours.
It's pretty clear now that the administration's stop-gap traffic management solution, which was the deployment of the Highway Patrol Group, couldn't help the situation. Someone on my Facebook friend's list even remarked, "Where is the Highway Patrol Group? Where is the MMDA?"
To be fair, I don't think these guys could have helped as some attributed last night's monster traffic jam to flooding.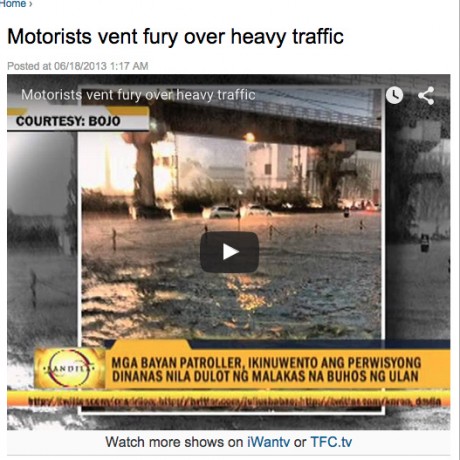 It wasn't the Iglesia Ni Cristo rallying on EDSA this time folks. Just a heavy down pour, not even a storm or low intensity typhoon.
Among the many problems the country faced during former President Gloria Macapagal Arroyo's time was the perennial flooding and resulting traffic in Metro Manila. At the start of President Noynoy Aquino's term, his administration axed an ambitious flood mitigation project and this resulted in floods getting worse over the next few years of his term.
Thing is, even if there are no floods, traffic on EDSA on any regular weekday at rush hour is so slow that I could probably walk faster than most cars there (I reach about 7 – 8 kph just brisk walking).
One solution that could really help ease traffic on EDSA is a public mass transport system and guess what? That didn't happen and the service of the MRT on EDSA has deteriorated to such a low point that people actually expect it to breakdown once a week — on a good week.
Guess whose action caused the deterioration of the MRT 3? This news item from the Manila Times should give you a clue.
INTERIOR Secretary Manuel "Mar" Roxas 2nd should be made to answer for the problems now besetting the Metro Rail Transit (MRT) 3because it was during his time as Transportation secretary when negotiations for various procurement contracts were done.

"[Now Transportation Secretary Joseph Emilio] Abaya is just Mar's 'yes' man," a former official of the Department of Transportation and Communications (DOTC) who left the agency for a better job in the private sector told The Manila Times.

(Read more here: http://www.manilatimes.net/roxas-abaya-equally-liable-for-mrt-mess/198185/)
Thing is, another favorite under-the-radar political analyst friend of mine claims that the reason why these projects and others were axed or scuttled was mainly because of Roxas.
My friend said that, "Kapag alam nilang hindi sa grupo nila mapupunta, hindi na lang nila tinutuloy ang project." (Translation: "If they figure out that the project isn't going to go to their group, they just don't go through with the project.")
A meme I found recently puts it this way, "How many kilometers of road were built in the PH from 2010 to 2015? 4 KM under PPP. How many cars were sold in the PH in 2014? 269,492."
Yes, the economy is booming all right… …for some.