The country is host to thousands of foreign multinational corporations. For the most part, these multi million and multi billion dollar businesses operate quietly and their activities rarely make it to the pages of newspapers. Sure, once in a while you will read about one foreign corporation or another posting enormous profits and then at other times, you'll read of another corporation's project benefitting a community.
There are only a few times that foreign corporations do make it to the front page of newspapers and top bills the first gaps of TV news. Those are the times when foreign companies figures in crime stories either as the locale of where the crime happened or when its officials are accused of being involved in a crime. Then there are those times when an accident happens in the facility of a foreign company which results in the death of employees and there is suspicion that it was caused by some kind of negligence on the part of the company's officials.
For the most part, foreign companies operating in the Philippines appear to be more stringent when it comes to adhering to the country's laws. Especially in the case of publicly listed companies who fear being de-listed or kept from having its stocks publicly traded.
When it comes to foreign companies that have landed on the front page of newspapers for some manner of crime or untoward incident, the more easily recognizable would be that of Frapport and the NAIA 3 Terminal, Inekon and the alleged bribery charge to secure the bid for MRT coaches, and Hanjin and the accidents in its shipyard.
Although not as prominent as the examples cited above, the Atlas Fertilizer Company in Toledo, Cebu has raised some interest because of an alleged fuel pilferage incident involving about 4,000 liters of diesel that allegedly happened within its premises a month or two ago.
The Atlas Fertilizer Company (AFC) is owned by Japanese firm Sojitz which has an office in Makati and whose mother company is based in Japan. Established in 2003 out of the union of Nichimen Corporation and Nissho Iwai Corporation, Sojitz is a general trading company engaged in a wide range of businesses globally, including buying, selling, importing, and exporting goods, manufacturing and selling products, providing services, and planning and coordinating projects, in Japan and overseas.
AFC is under the Sojitz Food and Agriculture Business Division and part of its operations involve operating a private port in Toledo City, Cebu that services the AFC's ships. 
According to my source's narrative and PNP CIDG documents given, AFC had contracted a firm to supply diesel for one of its ships and all would have been well had not one of AFC's security guards discovered that one of the trucks did not fully unload the fuel it was carrying. According to the guard's own estimate, the volume of unloaded fuel was around 4,000 liters. This was not supposed to happen as the truck was supposed to fully unload all the fuel it was carrying onto the ship it was supplying the fuel to.
According to PNP-CIDG investigation report, despite having caught the alleged pilferage of fuel, the guards apparently did not compel the truck driver to unload the rest of the fuel to the ship it was supplying and neither did they detain the crew of the truck or report the incident to the police.
The truck with the unloaded fuel was allowed to leave AFC.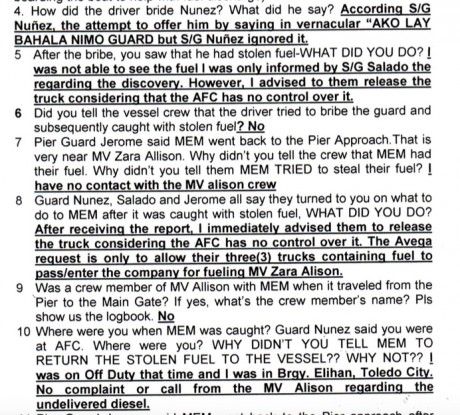 My source suspects that the pilfered fuel would be sold to the fuel black market or as they call it in Cebu, the "paihi" vendors which illegally retails the fuel to the public.
To sell gasoline and diesel, companies need to obtain permits and licenses as well as operate according to a set of specific and detailed rules. It would be illegal to sell fuel without the proper permits and licenses.
Local government units, the Bureau of Fire Protection, the Department of Energy, and the Philippine National Police have cracked-down on the illegal sale of fuel for a number of years now.
Despite these crackdowns, the illegal sale of fuel continues in Cebu as well as in other urban centers around the country. In fact, just last week, a friend spotted people illegally selling diesel in plastic PET bottles along C-5 as well as near the Quiapo bridge.
Last year, in Angeles City, Pampangga, 510 liters of gasoline and several containers of diesel were seized from illegal fuel retailers. In 2013, Koronadal city also launched a crackdown on illegal fuel retailers which netted dozens of liters of gasoline and diesel.
At the very least, the illegal retail of fuel is a potential fire hazard. Can you imagine the pandemonium that would breakout if one of these illegal fuel vending stalls suddenly caught fire during a traffic gridlock on C-5 or EDSA?
At its worst, the illegal retailing of fuel could be part of fuel dumping operations or a revenue generating activity of criminal syndicates.
In both the Angeles City and Koronadal City crackdowns, the seizures netted just a couple dozen to a couple hundred liters of gasoline. But in the case of AFC, it is said that the truck driver that pilfered fuel did not unload around 4,000 liters of fuel.
Could this be the first instance of such a thing happening? Can you imagine the repercussions of having thousands of liters of diesel being stolen and sold every month?
According to my source, the illegal retail sale of fuel is something that is still common in Cebu despite a crackdown on the activity in 2013. The Department of Energy back then, at least according to the cited news report, seem to suspect gas stations of being the source for the illegally retailed fuel and thus ordered the stricter calibration of fuel pumps.
However, considering the volume of fuel in the fuel pilferage at AFC amounting to thousands of liters, it would take too long to make money off the pilfered fuel if it were sold by small vendors by the liter. For such a volume, it would be more likely that it would be sold to a gas station which disposes a larger volume in a shorter time period.
Just this year, a reporter friend of mine at Manila Times published a story on Petron charging 8 dealers for fuel dumping. Here is an excerpt from that story:
OIL firm Petron Corp. has filed criminal charges against eight of its former station dealers for illegal "dumping."

Petron said it has evidence that these dealers were getting fuel from illegal sources and then passing them off to unwitting consumers as Petron products.

This practice, also called dumping, is a form of unfair competition punishable under the Intellectual Property Code of the Philippines or R.A. 8293.

"Let this serve as a warning to those unscrupulous businessmen. We will not tolerate dumping in Petron stations," the oil firm said.

… ….

Dumping is a direct result of oil smuggling, which dupes consumers into buying cheaper and inferior fuel products. Smuggling also results in an uneven playing field in the oil industry as smugglers can easily peddle fuels several pesos cheaper than legitimate players.

Industry estimates showed the country loses at least P30 billion to P40 billion annually in foregone taxes because of the said illegal activity.

If found guilty, each respondent faces imprisonment of up to five years and a fine of up to P200,000 for violating Sections 168.2 and 168.3 of the Intellectual Property Code of the Philippines.

(See full story here http://www.manilatimes.net/petron-files-charges-vs-8-dealers-for-dumping/167350/)
In an effort to get a clearer understanding of this incident at AFC, we contacted the office of Sojitz here in the Philippines and sent them interview questions. Here are excerpts from the interview questions that were answered by Sojitz:
Question: What is the official policy of Sojitz when it comes to possible crimes happening within the Atlas Fertilizer corporation compound?

Answer: First, Atlas Fertilizer Corporation (AFC) is a juridical entity separate and distinct from Sojitz. However, both companies maintains a similar policy of zero-tolerance for crimes committed on its premises and non-interference on police matters, especially those that are currently being investigated by appropriate government authorities, such as the PNP CIDG.
But strangely though this answer seemingly goes against the answer to another question inquiring into why Sojitz Philippines did not conduct an investigation of its own personnel regarding the alleged pilferage incident:
…As a fertilizer manufacturing company, AFC is not in a position to investigate crimes or clear any persons of any alleged crimes, whether employees or not.
At this juncture, it seems odd that a firm who claims to have "zero tolerance for crimes committed on its premises" would also say it "is not in a position to investigate crimes or clear any persons of any alleged crimes, whether employees or not."
(To be continued.)