Iglesia ni Cristo (INC) has just issued an apology for the epic traffic that was a result of their mass action in EDSA in the last three days.  They are claiming it was never intended.  EDSA was never in their plan.  INC Spokesman Edwil Zabala said in a radio interview that prior to their move to EDSA. while they were still in Padre Faura, their members were receiving confusing SMS messages urging them to proceed to the EDSA Shrine, to Shaw, to Guadalupe, and some asking them to stay put.  By the time they realized the SMS messages were a "disinformation" campaign (which they later surmised was meant to disperse their crowd) a good number of their members were already on EDSA.  It was this that triggered them to decide that they may as well all proceed to EDSA to keep the crowd intact and counter the disinformation.  
I told myself that Zabala better tell this to the Marines, but that won't be kind to the Marines, so we might as well give INC the benefit of the doubt.  Top Gear Philippines labelled the traffic "Carmaggedon".  It was indeed an Armaggedon of a traffic jam, and if there is karma to be delivered out of it, let it fall on whoever deliberately caused it, if it was deliberately caused.  Bahala na si Madam Karma sa kanila.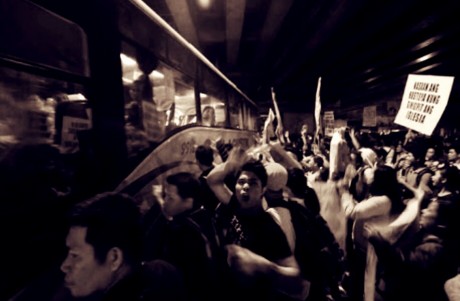 Do we accept the apology, people?  What can we do?  Even if we ask that they be fined for the damages the mass action inflicted on the economy, who is going to implement it?  We have confirmed by now that the administration of President Benigno Simeon "BS" Aquino pisses on its pants when INC demands something.  I understand now why Pinoys love to call him PNoy and not a Balut.  Of course, that does not make any difference.  Penoy and balut are both unhatched, and any would still be descriptive of an administration that never got near being hatched even if they have been warmly incubating in their chairs for the last five years. 
Let us accept the apology as quickly as we can.  That is before something worse happens.  Because, come to think of it, PNoy (and now, Mar Roxas) said that traffic is a sign of progress.  If we don't watch it, PNoy, instead of imposing a fine, might be thanking INC profusely for the epic progress the Carmageddon brought, and before we know it, some more millions of DAP might have been dispensed to this group founded by Kapatid Felix Manalo.  Probably, that could explain why they win in the end — Kita nyo, kami ay nanalo, nun ang EDSA ay halo-halo.
Lee Kuan Yew said that what is wrong with Filipinos is that we are a very forgiving people.  What he means is that because we don't have principles and convictions, forgiveness becomes an easy thing to do.  Indeed, the Singaporean leader is a very observant statesman.  Where he falls short is in observing that a good half of our people do not often have enough food in their table.  Some don't even bother to have a table for there is no food to begin with.  They will always be in a quandary on whether principle and conviction are good substitutes food; more likely, food for the mind will be farthest from their minds.  Food for the mind comes first, certainly, but when we have a society where the powers-that-be want to have more of those who have no food for the stomach, which comes first will always be a debate. 
Profound as that may be, what we have since 2010 is a desert of apologies from our leaders.  When they are needed most, and when they matter, such apologies don't come.  So, the apology of INC looks like an oasis in this desert.  It proves that they are, after all, more decent, and normal human beings than PNoy.
We, of course, will never know who won in this scuffle between PNoy and INC.  Both sides have been eerily quiet on what transpired in the backroom maneuvering.  What was compromised, and who gave in, nobody wants to talk.  We don't even know if the INC negotiators were irritated by the supercilious smile ever present in the face of PNoy while they sat across him.  Maybe, the Cabinet asked PNoy not to be present less there again be a failure of negotiations, and eight Hong Kong tourists will again die in a bus parked in Luneta. 
For a while, actually, I was worried PNoy might send Senator Antonio Trillanes to negotiate.  He sent the senator to China to negotiate the dispute on the West Philippine Sea.  A month after, China started building a base on the Spratlys, and we couldn't do anything about it.  Trillanes negotiating with the INC, oh gosh, could result in INC building a temple right in the middle of the intersection of EDSA and Shaw.  Imagine, protest today, a month after, meron na silang temple sa intersection mismo?  Well, what can we say?  When stupidity rains, it pours.
All we know at this point is that INC has decided to end their protest.  Ay, salamat naman.  When this was announced, witnesses saw the rally participants jumping and running with joy.  What?  Did they feel released from an overbearing duty?
Whatever, there is also the likelihood that nobody won in this latest adventure.  For sure, it was us who lost.  There must have been several flights missed; business opportunities gone.  There must also have been perishable goods that had to be thrown away because they didn't arrive on time.  Just imagine all that fuel wasted.  We can only hope that there were no deaths because ambulances were delayed.  Of course, we will never be able to comprehend the individual anguish of those caught in it.  Oh, and all those bladders wanting to burst?  Gosh, it must have been like heaven when they could finally be relieved.
This is the beauty of social media that netizens could force two opposing parties to sit down and talk.   At one point, #EDSA, #IglesiaNiCristo, and #DeLimaBringTheTruth were alternating trending topics worldwide.  INC must have underestimated the backlash.  They probably didn't even anticipate that instead of making a heel out of Secretary De Lima, they made a hero out her even if only for several hours.  Sec. De Lima was the admired feisty human rights lawyer, but the student council mentality of the inner circle of PNoy, everyone calls as the KKK, must have been too much for her.  The virus of the KKK seems virulent, and soon, she became one of them and then the chief implementer of selective justice, and the old, admired De Lima went to Antartica, probably never to come back.
Even then, netizens are netizens, and they could see through the smokescreen that INC had set up.  INC was not fighting for anything except to protect eight members of their Sanggunian who are at risk of being charged with the unbailable offense of illegal detention of Isias Samson and his family.  They were not fighting for religious freedom, the separation of church and state, or anything noble, and it was a strategic mistake on their part.  People could spot from a mile away a noble cause worth fighting for.  If INC had this, they would probably have gotten the support of even many non-INC people.  Unfortunately, there was nothing noble about their mass action, and netizens saw that they were more evil than Sec De Lima, and thus #DeLimaBringTheTruth was very much a trending topic.
We could count on several collateral damages by the big mis-steps on both sides.  Apart from the reputation of INC that will now take time for them to repair, Grace Poe must have been the one hardest hit.  She came out early in support INC giving the impression, rightly or wrongly, that she was against de Lima.  Today, her PR people were all over media trying to correct things. They said that Poe never said that the case of Isias Samson should not be heard by DOJ.  Poe added that that would be totally against justice if somebody stops the case.  Unfortunately, first impression last, and Poe is no longer seen as a neophyte, but a TraPo (traditional politician), or TraPoe.  All other presidentiables were also hurt.  But, how can you inflict more damage on those whose reputations are already damaged in the first place?
Additionally, it just confirmed once again what we already know.  The President, who they claim is the best President the Republic ever had, disappears whenever there is a crisis. 
There must be some bat cave near Malacañang where he sneaks off to hide when the going gets rough.  The THEY who claim PNoy is the best must be the bats, for we know normal people consider him to be the worst.  Total absence of leadership will definitely be his legacy.
All is now quiet on all fronts.  #SAF44 happened when there was nobody looking.   Right now, Isias Samson, his wife and child are scared for their life.  Let us not have anymore heartbreaking incident please.  SAF44 was already too much, we can't afford anymore an #INC3.
GRP Featured Comment hall-of-famer. Former executive of the Far East Regional Office of a US-based multinational company living out of a suitcase covering the market from Tokyo to Mumbai to Melbourne, and all the countries within that triangle. Got tired after logging 300k air miles per year. Now, I just have a little trading biz on specialty chemicals.