Just now, I came across an article from www.gmanews.tv which a friend of mine says carries a misleading headline because he says it may give the impression that Senate Electoral Tribunal Chair Supreme Court Associate Justice Antonio Carpio had rendered a decision regarding the citizenship of Grace Poe.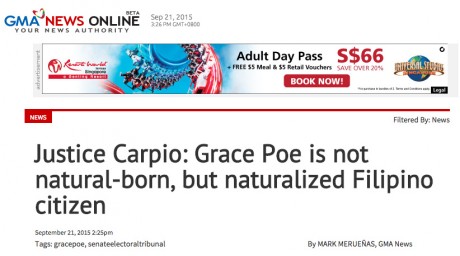 In the body of the article it reads:
"So if right now, there is no law promulgated by Congress that foundlings can be deemed citizens of the Philippines, customary international law can supply that gap?," Carpio asked David's lawyer Manuelito Luna, who answered in the affirmative.

"If there is a customary international law saying foundlings can be deemed citizens of the country where they were found, we apply that under the principle of incorporation. It is deemed as municipal law," Carpio said.

The senior magistrate, however, quickly added: "But you are still a naturalized citizen, not natural born. Because if customary international law says a foundling  is natural born, it will violate our Constitution and we cannot apply it here."

"If tomorrow you happen to find out by DNA matching that your parent is Filipino, you can still prove that you are natural-born," said the magistrate.

"So we have solved the problem counsel? You will agree with me that Senator Poe [is] at least a citizen of the Philippines," Carpio asked Luna, who answered, "Yes."

Carpio, however, added that any decision on citizenship is never final.
(Read the rest of the article here)
Rather than stating a decision or what could be a decision on Poe's citizenship, it can be clearly seen that Carpio was throwing out questions and possible interpretations of various laws. 
Still on the citizenship issue, another friend of mine says:
If parents are known, then he/she is not a foundling anymore but an "abandoned child" meaning a child abandoned by her (known) parents.

A naturalized person is someone who obtained citizenship by court decree or by an act of congress. A foundling did not and cannot have done either. If she does not fall under either, then she is a natural born because there are only two types of citizen, natural born or naturalized.

Under our constitution, a natural born citizen is a citizen from birth without having to perform any act to acquire or perfect citizenship. Following the conventions cited by Justice Carpio, GP is a citizen "without having to perform any act to acquire or perfect it.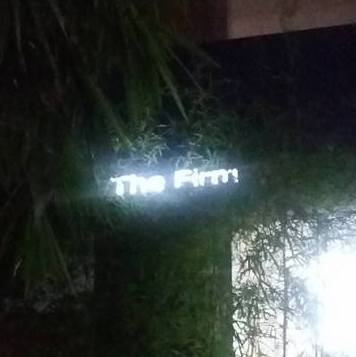 Never mind that my favorite source of political intrigue told me, "Carpio is with Roxas. His partners Cruz and Marcelo are in the inner circle of Roxas. This is the breakaway of The Firm. The other half of which is with Binay."
Thing is, Ilda and I agree that the only way for Roxas and Binay to win over Grace Poe is to make sure she doesn't run for president. And I guess, that was pretty much the reason that both candidates were trying to convince her to be their running mate.
This objective now seems ever more paramount as the latest SWS survey (regardless of how screwy it seems) puts Poe, yet again, on top of the heap.
Fellow GRP writer and Manila Times columnist Ben Kritz  hopes Poe "will be ready for the sh*train that's headed her way. But I bet she has not the vaguest understanding of it. This is going to be fun to watch."
While I am NOT ROOTING for Senator Grace Poe, this thing about her bid for the presidency seems to have all the elements of a good TV political/legal drama series — at least, for me.
Perhaps Ben would liken it to one of those Youtube videos where mice are dropped into a tank with a hungry piranha.
First there was the bit where two other presidential candidates were trying to get her as a running mate, with Roxas and Binay going about it like typical mafiosos. Then there was that long wait for her to announce her decision on whether or not she would run for president. And then, now, we have this citizenship issue hanging over her bid for the presidency.
I wonder what will happen next. Will Grace Poe be able to run for President? Let's wait and see.