Who does not love the word: serendipity (Kate Natividad's Alden Richards and Maine Mendoza rock!)?  It sounds like our Tagalog word: 'suwerte'.  Who wouldn't want luck coming one's way?  I will be grateful to take it anytime.  We should be grateful that from time to time we are afforded the opportunity to meet serendipity.  I guess we couldn't say hello to it all the time, or life might be boring.  Yes, life is a bitch most of the time, and that might as well be where the excitement comes from, but if there is serendipity, then life could also be something beautiful in its totality.
Good for Eat Bulaga, and its many fans, if finally there is something wholesome to be found in it, whether it was found by accident, or by design.  Still, I am not sure what is going on.  I am one of those who have to earn a living and don't have time to watch noon time shows.  But, I just came back from a trip to Seoul, and one of my Korean hosts was curious about Aldub since it has been trending worldwide on Twitter.  He was puzzled when I said I knew nothing about it.  "How could you not know what is happening in your own backyard?"  Thus, I had to do a little research that night in order to satisfy the curiosity of my host the next day.  Still, I think I disappointed him for the best I could do was to point him to Wikipedia.  "Looks cheesy and cheap, and it is trending?", he queried.  I asked him to read Kate's article.  His reply: "You, Filipinos, are a mysterious lot."  Mysterious? Funny that.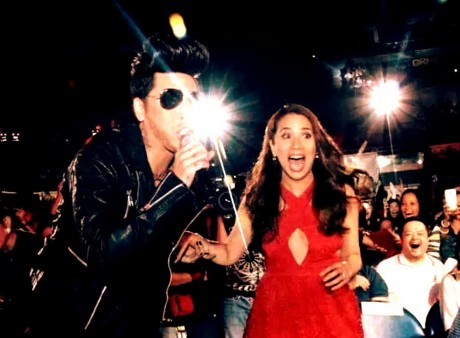 I hid from him Grimwald's article (Philippine Media And The Masses: A Cycle Of Stupidity And Madness).  I wanted my Korean host to retain in his mind our mysteriousness.  (It's more fun in the Philippines)  Grim touched some raw nerves, and I wasn't in the mood of exporting to Seoul and explaining the hornet's nest stirred.  I was there for business, and the comments to Grim's piece might have been the quickest way to shoo away serendipity if I expanded the topic.
Thing is, I am not about to break a house rule me and my wife set a long time ago just because something is trending.  Noon time shows, Wowowee, showbiz tsismis talk shows, and Tagalog drama series are banned from the house, especially when the children are around.  Call us some derogatory names as being elitists, or whatever, but I don't want my children making heroes out of Tito, Vic, and Joey, or the repulsive Vice-Ganda, or that arrogant guy who is alleged to beat his wives — what's his name, again? 
Said personalities and many in showbiz have too much of colorful lives for our taste.  There are already too much moral and ethical challenges in our ordinary lives, why add some more?  Yes, we enjoy good movies, and if they are really good, why bother us with the private lives of the actors and actresses?  Good movies, if they are good, should stand on their own merits.  PR campaigns and promo blitzes that try to include something that is private and controversial about actors and actresses, even If they are widely practiced in the industry, does not take away from the fact that they are still of poor taste, if not desperate gimmicks.
Noon time shows in the Philippines are a genre of their own.  They are, at their base, advertisers' paradises.  If consumerism is the main objective, we can understand why they can't be blatant about this. Thus, they mask such by labeling them as variety shows or game shows.  I heard that they have further justified these shows by now including segments for public service.  Hope these are not about continuing and amplifying the promotion of mendicant mentality.  It is really the shows' condescension of the poor which has characterized them from the beginning.  So, my cynical self could only surmise that these must be public service offerings with large strings attached.
In any case, if the shows are still selling, why not?  Ours is a market economy; so, let the networks and everyone involved earn their money.  Who are we to stop the networks and the market if the market continues to get entertained by the shows, even if we can see the market is taking it gladly from behind, bent over?  But, what a way to take advantage of the gullibility, the naivete, the depressing conditions of the poor and the hopeless.  Obviously, they ain't selling me these shows.  Even if I know we are just a few, we still prefer to be discriminating. 
For sure, I am no longer a good judge of the contents of these shows for it has really been ages since I watched any of them.  But, I still have a recollection of how they disrespected their audience.  What was the purpose of all those skimpily dressed girls who were ever present in the stage?  I was sure those girls won't be able to walk the streets even for five minutes without having to go back and change.  So, where was the decorum?  Were they promoting impoliteness in a society where impoliteness already rules?
Sure, sex sells.  But, that means all the other contents of the shows are about vacuousness.  Were they thinking that the audience should be interested in what are being shown in honky-tonk places?  If I am feeling animalistic, then I would go to the nude beaches in France, but then I won't take along my children.  If I feel like going to the honky-tonkies, then I wouldn't go noon time, much less with children.  And yet, they rate them as General Patronage (GP) shows???   (Who remembers Pepsi Paloma?  Were Tito, Vic and Joey involved?)  Still, I would be very glad to hear these shows have changed.
* * *
For instance, all we can infer from primitive legend, and all  we know of barbaric life, supports a certain moral and even mystical idea of which the commonest symbol is clothes. For clothes are very literally vestments and man wears them because  he is a priest (of the created world). It is true that even as an animal he is here different from the  animals.  Nakedness is not nature to him; it is not his life but rather his death; even in the vulgar sense of his death  of cold.  But clothes are worn for dignity or decency or decoration where they are not in any way wanted for warmth.  It would sometimes appear that they are valued  for ornament before they are valued for use.  It would almost  always appear that they are felt to have some connection with decorum.  Conventions of this sort vary a great deal with various times and places; and there are some who cannot get over this reflection, and for whom it seems a sufficient argument for letting all conventions slide.  They  never tire of repeating, with simple wonder, that dress is different in the Cannibal Islands and in Camden Town;  they cannot get any further and throw up the whole idea of decency in despair.  They might as well say that because  there have been hats of a good many different shapes, and some rather eccentric shapes, therefore hats do not matter or do not exist.  They would probably add that there is nosuch thing as sunstroke or going bald.  Men have felt everywhere that certain norms were necessary to fence off  and protect certain private things from contempt or coarse  misunderstanding; and the keeping of those forms, whatever they were, made for dignity and mutual respect. The fact that they mostly refer, more or less remotely, to the relations of the sexes illustrates the two facts that must be put at the very beginning of the record of the race.
— "The Everlasting Man" by Chesterton
* * *
A good many say: why bother?  It is one of those things that the Philippines tries to import from Hollywood?
….Moreso why we should be bothered.  Yes, Hollywood remains the standard for quality films, but Hollywood is also very much about money, and it is profit by hook or by crook, and anything in between that that promotes hedonism, and not just fantasies.  And, the Philippines importing these things?  Philippines, as is wont, wouldn't know if it is importing form or substance, or just a semblance of any of these.
I have American friends who buy showbiz magazines.  But, the thing about Americans is that when they encounter juicy gossip, it is more like about schadenfreude being triggered.  They feel that even if they are not making a mountain of money as those in Hollywood, they are happy they are not living such disturbed lives as those of the famous stars. 
Not so in the Philippines.  Most Filipinos, more often than not, would idolize the famous, the moneyed, and the mestizo, talented or not, competent or not, nitwit or not, degenerate or not.  Thus, in this Third World, the showbiz industry and the media still make billions because they have become experts with ease on when and how to switch on and off the bandwagon effect.  And the fans?  They can't even earn ten dollars in a day when they work.  They are like herds being led to a slaughter.
US Ambassador Harry Thomas caught flak from our leaders when he said that the Philippines has only honky-tonk places and prostitution to offer as far as tourism is concerned.  One lawmaker had to ask if Thomas thinks we are a nation of perverts.  Maybe, this is the reason that Grim got a barrage of comments, because he talked in part of perversion.  It may be his article, or the picture of Aldub?  Either way, it does not look good.  If it is the picture, then, here we go again.  Once again, it is a demonstration of the personality cult ever present in the culture.  Don't they realize that this is what is bringing the country into trouble?  (Hope they read some of the articles of Ilda, FallenAngel, and ChinoF on why Filipinos are ignoramuses.)
Well, if it is about Grim's article, I have not seen in the commentary a comment refuting his assertion that we are a nation of perverts.  Maybe, it is difficult, for we pervert the law; we pervert the culture; we pervert religion; we pervert politics; we pervert anything we touch.  And as Ambassador Thomas hinted, we pervert sex, and thus, our very being as humans and persons.  There was a time when no one would ever want to be called a pervert.  But, pornography has now become a multi-billion industry, and the words pervert and perversion, among others, have somewhat been euphemized.  Still, it is worth noting that there are statistics saying that there are ten million crazies in the USA urgently needing medical help.  I wonder how many there are in the Philippines?
But, parody seems to be the only way to get a message across in the Philippines.  And, if Aldub is really now penetrating the Filipino minds, then there is every reason that it should be wholesome; otherwise, imagine its adverse impact.  Sincerely, or should I say patriotically, I do pray it is wholesome — it's been a long time the archipelago has not seen serendipity.
GRP Featured Comment hall-of-famer. Former executive of the Far East Regional Office of a US-based multinational company living out of a suitcase covering the market from Tokyo to Mumbai to Melbourne, and all the countries within that triangle. Got tired after logging 300k air miles per year. Now, I just have a little trading biz on specialty chemicals.