In the wake of Vice President Jejomar Binay's own "SONA", I can't help but speak out considering the kind of attention both Binay and his rival Mar Roxas gets from the common people. As both Ilda and Fallen Angel tries to point out to us, these two aren't the only candidates out there and, even if Grace Poe proves to be equally corrupt, there are still a lot of viable choices out there like Senator Miriam Defensor Santiago. Unfortunately, with the media firmly focused on just Binay and Roxas, people may lose sight of good candidates in the upcoming presidential elections and simply be forced to choose between the lesser of two evils.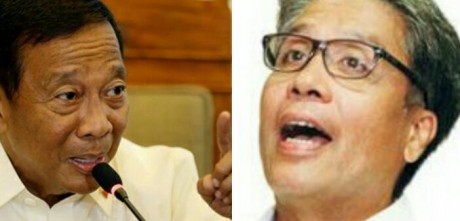 Before I continue though, let me tell you that I am not taking any side in the Roxas vs. Binay debacle and no, I am also every bit suspicious of Grace Poe as well considering that she was a former member of the MTRCB and helped ruin local TV with dumb teleseryes. I think that the "lesser evil" is still evil and is most certainly not a viable option when there are still some "good" options to be had. So no, neither Roxas nor Binay look like good candidates to me (and that goes for Poe as well, mind you) no matter how the media seems to paint them.
Roxas: "The Clown In Shining Armor"
The title above is a word I use to describe people who try to make themselves look like "Knights in Shining Armor" but are anything but. He is only wearing shining armor which he could've bought or gotten anywhere. At the end of the day, he's just a guy with delusions of grandeur and a deranged sense of self-entitlement.
Sure, he may turn up at devastated places and directs traffic or delivers goods on a pedicab but c'mon, we know who he really is. Why does he bother with all these publicity stunts when he should be elsewhere focusing on more crucial tasks such as properly directing the delivery of relief goods to disaster victims and working to improve the train systems of Manila to solve the traffic issues swamping the capital?
He may have President Aquino's endorsement, but a fool's endorsement is just that: a fool's endorsement.
Binay: "The Ignoble Demon"
Much like Roxas above, Binay seems to be trying with all his might to place himself in a positive light. That's why he keeps giving away freebies and why his children are trying so hard to learn new dances that they can present during their campaign.
During his own "SONA", he did mention the SAF 44, but remember that he mentioned them simply because President Aquino failed to acknowledge them. When you stop to think about it, they were just something he could use to brighten his already very dark image (no pun intended). At the end of the day, he is just another deeply corrupt politician seeking to make himself look like a hero even when he clearly he isn't.
Just like his rival, he may try to appear to do good things but these "good deeds" are, in the end, just his desperate attempt to gain the people's approval.
***
Remember people, Binay, Roxas and Poe aren't the only presidential candidates out there. Don't let the media fool you like they always do. There are much more qualified candidates that we can choose in 2016.
I HAVE RETURNED TO LAY WASTE TO OUR ENEMIES!