If at all true, this may be an indication that Malacanang is tightening the screws on Senator Grace Poe and I could be right all along when I wrote a post that Senator Grace Poe was being made an offer she can't refuse.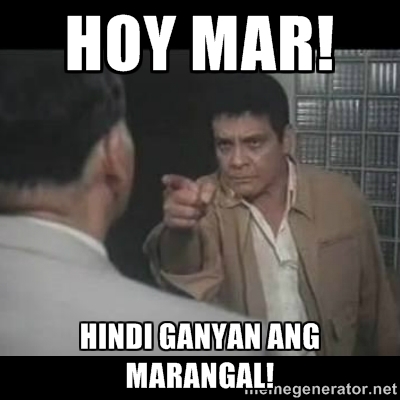 One of my regular sources for political rumors says that word has it that prominent Mar Roxas ally Cong. Egay Erice gave defeated senatorial candidate Rizalito David the P1 million needed to file a case before the Electoral Tribunal to unseat Senator Grace Poe on the basis of questions allegedly failing to meet the residency and citizenship requirements of her office.
My source claims that the tactical operation was dubbed "Atake Hila" or attack and pull-down. My source says that the objective of this maneuver is to attack and bring down Senator Poe's popularity ratings if she doesn't agree to be Roxas' running mate.
"It's like a date rapist slipping a roofie in girl's drink. They'll get her dizzy and have their way with her, or get her out of the way," said my source.
Of course, the reason why I like my source so much is that he was the most interesting political conspiracy theories and a firm believer, despite the lack of evidence, that Jose Rizal is the father of Adolf Hitler.
He's great to have around when you want to take your mind off things while drinking beer and as much as I want to, I don't take him seriously all the time.
But here is the thing though, I remember that Erice's name came up when the redundantly named United Nationalist Alliance accused Malacanang of masterminding Oplan Nognog.
Bautista said the third aim was to launch a "massive media offensive" against Binay in a bid to "destroy his image and reputation and lessen his chances of winning the presidency."

He said the content of the operation was disclosed to UNA by unimpeachable sources who had information about it and who were sympathetic to Binay.

He said the helicopter was owned by a known associate and a financier of Roxas, billionaire Buddy Zamora, who is in the mining business. It is co-owned by Eric Gutierrez, who is a mining business partner of Caloocan Rep. Edgar Erice. Erice is an LP member known for speaking out against the Binays.

"Erice is in mining. His partner is Eric Gutierrez. Eric Gutierrez and Buddy Zamora are the owners of the chopper. They paid for this flight. Buddy Zamora is a financier of Mar Roxas," Bautista said.

Read more: http://newsinfo.inquirer.net/644590/vps-camp-hits-oplan-stop-nognog-in-2016#ixzz3iOogeREJ
Of course, we can expect Erice and whoever else to deny this political rumor. I hope he does it convincingly for Roxas' sake, because someone claiming to be MARANGAL (translated as HONORABLE) should have nothing to do with dirty thug tactics.