Former President Joseph 'Erap' Estrada may not be the most credible politician in the Philippines, but at least he had this one right saying his decision to support politicians vying for the presidency in 2016 will depend on their platforms…
"Kung sino ang nakikita kong maganda ang plataporma, 'yun ang susuportahan ko sa huli. I owe it to the people of the Philippines. Hindi dahil sa kumpare o inaanak ko [ay] susuportahan na agad. Kung sino ang makapagbibigay ng makabubuti sa bayan, doon ako pupunta," he added.

The former President said he will support the candidate whose platform is similar to his. "Kung katulad ko ang programa nila 'yun ang susuportahan ko," he said.
[English translation of Tagalog text: "The person whose platform I consider acceptable to me will be the person I will support in the end. I owe it to the people of the Philippines. My support will not depend on friendship or family ties. I will go to whoever shows what good he/she does for the country."]
It's a good example Filipino voters should follow. The political "debate" with regard to the 2016 election is noisy and led by a who's who of bozos and charlatans. In order to rise above that noise, take the political high road, and behave like truly intelligent voters, Filipinos need to get behind the only real challenge they should be issuing to Filipino politicians: Show us your platform. Please.
Everything else about this election — who is allied with who, what "party" is backing who, who is honest or not, who is darker skinned than what race, and what nationality is who — ALL do not pass the So What? Test as far as real modern political debate is concerned. Yet the Philippines' foremost "thought leaders" focus on nothing beyond these moronic topics. In short, the country's self-described "intelligentsia" continue to FAIL Filipinos.
It is time ordinary Filipinos take back the political discourse and set it on a course aligned to their real concerns — the future of their country, where it is currently headed, and what they aspire for it.
Next time a politician or her minions come to you to talk about her "candidacy", start the conversation with this simple challenge.
Show us your platform.
It's not hard. Best of all, it will avoid conversations that waste your time.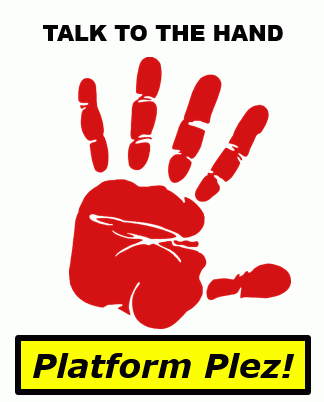 If we are serious about any initiative to elevate the moribund quality of the Philippines' political debate, using platforms as the sole currency for evaluating politicians is the one and ONLY first step in the right direction. The alternative has proven to be totally unworkable — allowing ourselves to be hopelessly confused by the noise put forth by the nation's mainstream media and the so-called political "experts" that infest them.
It's simple, really.
Politics isn't a complicated topic. Don't let anyone make you believe it is so. There are only a small handful of relevant arguments surrounding elections in the Philippines. In fact, there are only four:
(1) What is the platform?
(2) What are the national goals articulated in said platform?
(3) What is the strategy to achieving those goals?
(4) What is the plan to execute that strategy?
Stay focused on these arguments and the national "debate" will sound a bit less noisy, irrelevant, and intelligence-insulting.
Platform Plez!
benign0 is the Webmaster of GetRealPhilippines.com.