Hello again everyone, this is a public service announcement from your favorite socio-politico-cultural commentary website. We don't normally do this, at least as far as I know, but since it's quite obvious that we're in for plenty of rain and other weather anomalies this rainy season, I think that you need to read some of this. Well, considering how the weather seems to have gone completely nuts in the past few years, I think it's really important that we find ways to mitigate at least some of the problems that may arise along with rain water that will be pouring on our streets and houses.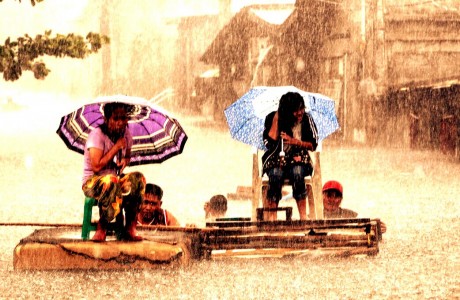 Since its quite obvious that we can't even rely on our own government to help us with what may very well happen with the less-than-pleasant climate we now have in the Philippines, I think we the common citizens should make a move towards ensuring our own safety. So lean in now and listen to some tips from Uncle Grimwald on what you can do now that rainy (or should I say storm) season is upon us. You never know, it might just save you a lot of trouble and perhaps even save your life or the lives of your loved ones.
Tune In To The News And Public Announcements
Please listen to the news and listen to their announcements carefully. I know, I know, they can be unreliable sometimes and even I'm not exactly a big fan of the local media. However, I can still say that most of what they say is sound advice during times of disaster and, if they tell you that you might not be safe, better think it over carefully.
I'm not saying that you have to obey what they say immediately. You can still stay and take your chances if you want to. However, I have always believed in the idea that it is better to be safe than sorry.
Dispose Of Your Trash Properly
Again, for the thousandth or millionth time, please throw your garbage where you should. I know it seems trivial and that it can be troublesome but let me remind you that if you refuse to care about this, then you could be contributing to the endangerment of the lives of others as well as your own.
Even if one piece of trash seems small, if enough people litter with abandon, they can clog drainage systems and result in flooding. Also note that harmful chemicals or pathogens can be found in garbage and floodwaters make for an easy vector for said harmful chemicals or pathogens to reach you and your loved ones.
Put Up Low Lying Extension Cords And Other Electronic Devices
The thing is, flash floods tend to come out of nowhere. There's no real way to prepare for some of them so it's best to expect the unexpected. Usually, the power goes off just before it starts really flooding but hey, like I said, better safe than sorry.
You don't want to leave any active extension cords lying on the floor once it starts flooding, trust me on that. Once, when it began to flood in my own area, I decided to turn off the power in my own home before the waters could reach our electric outlets. That turned out to be a good decision as the floodwaters reached them well before the local power company decided to turn off the power.
Get Rid Of Stagnant Water
Well, we all know that floodwater is a great vector for various diseases. You guys remember the outbreak of Leptospirosis, right? Well, that's not the only thing you should worry about though.
As you all know, stagnant water is one of the favorite places mosquitoes like to breed in. This includes mosquitoes who are known carriers of diseases like malaria and dengue fever. I would also like to note that like the pieces of trash mentioned in one of the earlier parts of this article, mosquitoes may seem tiny and insignificant. However, the sheer deadliness of some of the diseases they carry can certainly ruin your day and possibly the rest of your life.
Don't Buy Street Foods
Look, I'll admit that I'm a big fan of street foods. It's one of the major traits that mark me as a true Filipino. However, I can tell you, based on my own experiences even, that eating street food during rainy season might not be the best of ideas. With the open air and the fact that there's stagnant, dirty and possibly contaminated water lying out in the open, it's not a stretch of the imagination for flies, another fairly common carrier of diseases, to reach food and infect them. Just so you know, some of the most common diseases during rainy season are cholera and typhus which are waterborne diseases and can spread easily thanks to water being splashed around everywhere and flies being everywhere as well.
I know it's tempting. I've been there. I remember resisting the urge to buy another ten pesos worth of fishballs and failing miserably. However, the very next day, I contracted a case of diarrhea which, while minor, was very unpleasant and made me very unhappy for the next few days. I was lucky (or unlucky, depending on how you see the situation) that it was nothing more than loose bowel movement at the time. Imagine if it had been cholera or worse.
***
Anyway, we here at GRP certainly hope that you follow some of this advice and stay safe for the duration of this year's rainy season or should I say storm season what with one typhoon following another. As I've said before both on this article and a lot of other articles before it, we can't really rely that much on government assistance so we common citizens need to stick together and find our own way out of the mess we're currently caught in. So wherever you are dear reader, always mind yourself and remember to keep your mind both open and critical.
I HAVE RETURNED TO LAY WASTE TO OUR ENEMIES!