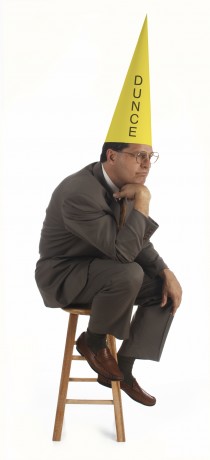 Apart from being incessantly butthurt about the past, as GRP webmaster benign0 has pointed out, Filipinos seem to be endlessly stuck in it.
To be fair, it's perfectly natural to recall the past. In fact, humans do it for a number of reasons. We may want to reminisce over what we once had that is no longer there, or no longer exists. We may want to scrutinize further an event that happened in the past: why it happened, what was the outcome, etc. But for the purpose of planning for the future, we recall the past specifically to take pointers on what worked, what didn't work, and how to adjust to anticipated challenges. More importantly, we would want to set a baseline against which all future performance and outcomes will be measured.
Critics of current Philippine president Benigno Simeon "BS" Aquino had gotten used to his penchant for bringing up the past at every possible opportunity. His last State of the Nation Address was no different. He once again blamed his predecessor for the "mess" he was supposedly left with, yet he continues to use some of the policies that were started before his term. Add to that the fact that he and his administration take credit for them.
It would be easy to highlight BS Aquino as the ultimate manifestation of this "stuck in past" trait of Filipinos. After all, he won the elections in 2010 on the back of outpouring of sympathy for his mother, Cory Aquino, who died in 2009.
What should actually be given more attention is how little has actually changed within Filipino society in six (6) years, and how the prospects for any change in thinking anytime soon are bleak.
Filipinos supposedly want change, but don't want to change.
Unfortunately, one of the most pressing things they need to change is how they regard their politicians and government officials. Instead of focusing on platforms and visions for the future, they focus on personalities and idle gossip and show business tidbits. Filipinos keep bringing up past events and issues that, frankly, they missed the boat on.
I find it rather amusing that for all the gung-ho that certain Filipinos show about not wanting another "dictator" back in the presidency, they allowed to sit another one who acts like it. BS Aquino does not like criticism; he thinks that only his way is right, and that if you're not with him, you're against him. His yellow horde will ostracize you and paint you as a villain if you criticize him. This almost feels like an informal lese-majeste law; in fact, such ostracism feels worse than being sent to prison.
Continuing with the Filipino fixation on the past, we find that there is a sort of deaf ear to all future generations of the Marcoses. Senator Bongbong Marcos will always be known as "the son of the dictator" and nothing else. Despite his sensible actions on the BBL, Filipinos will never regard him as anything more than "just a Marcos". They will not give him a chance to show that he is his own man, or listen to anything that he has to say. He will always be asked to account for his father's crimes up to this very day. And they aren't about to let it go with Bongbong's son Sandro Marcos either.
This is nothing short of amusing, because one simply has to ask: what do Filipinos have to show after a 30-year window to hold the Marcoses and their cronies accountable? How many cases have there been, and how many actually led to convictions? Yes, rather than accept the fact that after such a long time, they've still got not much to show for it, they would rather stew in the past and blame the people they couldn't hold accountable.
Where does it change from a question of "another person's fault" to "what have we done about it moving forward" and "what have we been doing wrong"? For Filipinos, this change of mindset has never occurred; they are stuck at the blaming part.
In this regard, I find the prevailing discussion and "debate" over who the best president rather empty and pointless. Filipinos would rather talk about the "good old days" than talk about the steps they need to do to make days good again.
One would also think that for all the bravado Filipinos have for asking "is there no one else", regarding prospective candidates for government positions, that they would be more open-minded or more proactive than ever about creating choices other than the usual names or dynasties showing interest. But, alas, every time a new face with good ideas or someone with a less known name but with a good track record comes up, they say the same old thing: "Di mananalo, di kasi kilala eh. (That person will not win, he/she is not well known)". It's like they are resigned to whoever decides to run, instead of carving out their own options for whom they want to.
It's what fellow GRP writer Paul Farol describes as the Karinderya Democracy where people would rather just choose only from the options that are presented in front of them. Whether it's out of laziness, or convenience, or avoidance of being associated with a perceived losing bet, it is a pattern that has persisted for years – one that will not change anytime soon.
And then, there's the victim card. Filipinos will always be a victim of injustice perpetrated by other entities towards them. They will never think in terms of "what can be done to keep this from happening again", but keep thinking in terms of "blaming entities other than myself for the situation we are in".
Why do Filipinos dwell on the past? Because anything else is too hard. Accepting the reality of the present is too hard. Planning for the future is too hard. Analyzing what went wrong is not only too hard, it also goes against the victim mentality. The Filipino never makes mistakes; he is merely a victim of circumstance, or was cheated.
Dwell on the past, and you lose one eye. Forget the past, and you lose both eyes. Filipino society has been described as one of "the blind leading the blind". Unfortunately, the Filipinos do not seem keen on taking and remembering lessons from past mistakes anytime soon.
А вы, друзья, как ни садитесь, все в музыканты не годитесь. – But you, my friends, however you sit, not all as musicians fit.