Filipinos are still at a loss as to what really is going on with the Iglesia Ni Cristo. Reports of abductions and hostage situations had reached the public mainly via news media and even via videos posted on YouTube. The reports are centred around handwritten signs seen by reporters displayed on an INC building last Thursday. In short, there really is not much information to work with to piece together a coherent enough picture as of yet.
Like most incidents in the Philippines with strong top-level political angles, a lot of the information surrounding this INC drama is brokered by news media businesses that publish "scoops" about the latest every now and then. But, to be fair to the police, no formal complaint had been submitted by any aggrieved party. Thus only limited action can be taken by law enforcement agencies and there is very little basis for any court to issue a search warrant on any INC facility.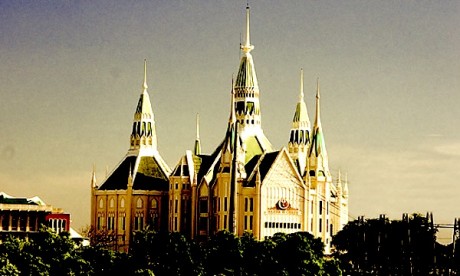 SUPPORT INDEPENDENT SOCIAL COMMENTARY!
Subscribe to our Substack community GRP Insider where you can opt to receive by email our more comprehensive and in-depth free weekly newsletter GRP Mail. Consider also supporting our efforts to remain an independent channel for social commentary and insight by sponsoring us through a small donation or a monthly paid subscription.
Subscribe to our Substack newsletter, GRP Insider!
Learn more
Even then, so effective is the INC's hold on the Philippine media, the country's various law enforcement authorities, and its government executives that the details of the scandal rocking the halls of its temples remains shrouded in mystery. Indeed, it is common knowledge that the INC had long ago successfully infiltrated the officer ranks of the Philippine police and government officials within the Philippines' executive branches who influence and even directly effect appointment of these officials. No less than presidents and senators are cowed by the voting might of the INC's multi-million-strong flock of bloc voters.
Is it a spiritual organisation or is it a business? Is its mission to serve its adherents? Or is it to serve a political agenda? The thing with religions is that they have bags full of logical contradictions in their dogma yet have nonetheless for centuries successfully conscripted human minds into the service of empire-building. Recent history in the Philippines alone already attests to the continued power of the influence of organised religion. No less than the Philippines' premiere kingmaker, the Roman Catholic Church had successfully mobilised millions of its faithful to unseat two presidents in 1986 and 2001.
The INC itself is unabashedly a political lobbying force. Its track record of setting its multitudes behind its preferred political personalities is legendary as historical evidence reveals…
1986: The INC supports President Ferdinand Marcos over then leader of the "Opposition" Corazon Aquino (Noynoy Aquino's mother).
1998: The INC supports Joseph "Erap" Estrada's successful bid for the presidency.
2004: The INC endorses Gloria Macapagal Arroyo in her campaign for President of the Philippines.
2010: The INC endorses Noynoy Aquino and Mar Roxas as future President and Vice President of the Philippines.
Of the awesome political power of the INC, Malou Mangahas wrote in her 2002 article Church at the Crossroads…
The political clout of the INC stems from the doctrine of the inviolability of the word of the all-powerful, infallible executive minister and the 17 executive officers under him. Together they compose the Church Council, which issues tagubilin or circulars that cover matters ranging from personal behavior to candidates to vote for in elections.

The tagubilin have the force of law on all the Iglesia faithful. Members who violate them, as well as other Iglesia policies against marrying non-INC members or drinking liquor and taking drugs, face suspension or expulsion from the church. This explains why INC members vote as a bloc.
And like any politically-interested group of consequence in the Philippines, the INC is serious about concerns over the security of its vast assets and business interests at stake whenever political power changes hands. Thus it protects its ability to exercise absolute control over its congregation and is known to mount spectacularly grand shows-of-force every now and then to remind the powers-that-be who they need to deal with whenever political exercises like elections loom in the horizon.
One such spectacle was organised early in 2014 following the Haiyan disaster that devastated the Philippines' central islands in November 2013. Hundreds of thousands of INC members bought shirts for Php250 (about USD5.00) and took to Roxas Boulevard, Manila's iconic waterfront thoroughfare supposedly for the benefit of the hundreds of thousands of residents of Leyte and other central-Philippine provinces hit by that super-typhoon. The event snarled traffic all over Metro Manila. Estimates of the cost in lost productivity to the Philippine economy caused by the city's infamous routinely turtle-paced traffic amount to the billions. If a proper accounting of the fiscal contribution of this event vis-à-vis its negative impact to the value of commercial activity on a Saturday in Metro Manila, the result would very likely be in the red.
The notion that such a disruptive event would be launched for the sole purpose of raising funds was suspect. INC members are obligated to fork over a certain percentage of their personal income in the form of tithes. And it is likely that INC officials can quite easily exact additional tithes from its members on top of this for "special projects" without having to resort to organising stunts like this. Indeed, the 2014 event made headline news on account of it possibly setting a Guinness World Record for "the most number of participants in a charity walk."
That the INC possesses immense wealth is a no-brainer. Its temples' towering spires loom over many parts of the Philippines, perhaps as a reminder to all of its vast power to influence Filipinos' lives. With vast sums of money coming in and out of the INC and swirling within it, it is no surprise that in-fighting will have been prevalent. This latest abduction drama is a treat to ordinary Filipinos who now enjoy the benefit of front-row seats in an astounding show airing the INC's dirty laundry for all to gawk at.
benign0 is the Webmaster of GetRealPhilippines.com.