So Kris Aquino wants to move to the US. She says she wants her son Bimby to experience life there — presumably life without maids and drivers. That's nice. At least she recognizes something about the weird way kids grow up here in the Philippines nowadays.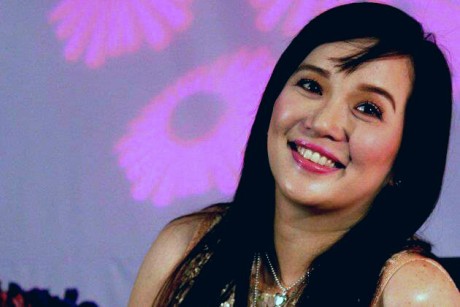 I notice the trend. Many Pinoy kids are so bondying — plump and pampered. Sort of like the way Bimby looks. Maybe that's what she meant, that experiencing living in America could allow Bimby to grow up with character.
It's all speculative, I guess. But it's very telling that Kris would remark that her years growing up in the US constitute the "happiest" times of her life. Let's think about that for a moment… Why would a megastar like Kris say that after making her fame and fortune in the Philippines?
Could it be that what Kris describes as those happy times has more to do with how life generally seemed a lot simpler when we were young and spending most of our days just toddling around with our siblings? In that sense, maybe whether one grows up in the Philippines or America is really not the point to focus on. Maybe Kris does not realize that whatever way Bimby would be raised in the US, to some degree, can also be done in the Philippines.
I mean, to be fair, I may have gone overboard generalizing kids who grew up in the Philippines as being "bondying" and "pampered". But I also know some equally well-to-do people in the Philippines who managed to raise kids of strong character and constitution who are definitely not the lampa sorts I described earlier. In Bimby's case, lampa na nga, showbiz pa. Did Kris suddenly wake up to the reality that she just simply needs to remove Bimby from the toxic environment of Pinoy showbiz?
I do notice that for most Filipinos comparing life in America and the Philippines, the pivotal issue is access to servants. More often than not, Filipinos in America will lament the situation they find themselves in of having to do all the washing, cleaning, and cooking themselves. It is regarded as a novel and, at the same time, major tradeoff of life in the US.
But America, as I imagine, is not all about just that — not an option that can simply be reduced to the cost-benefit analysis of foregoing servants and Pinoy showbiz lifestyles. People like Kris who view a stint in America as just some sort of immersion course for her soft little boy, don't get it; and neither will Filipinos who only see America and the other First World countries that host them as just a cow to be milked of mullah to remit back to the homeland.
I would hope that Filipinos see a move to America as an opportunity to develop a better version of themselves, one that they, to add a caveat to that first statement, can also consider to be achievable if they choose to remain in the Philippines. After all, we bring our personal potential anywhere we go. So if you cannot imagine yourself being a success in the Philippines, you might need to reconsider the assumptions about yourself that you take with you to America.
Frustrated artist doing geek for a living.