The Dark Knight, the second film in The Dark Knight trilogy by Christopher Nolan is probably one of my favorite superhero movies. Of course, the film has indeed gained considerable popularity thanks to the performances of its actors like Christian Bale, Aaron Eckhart, Michael Caine, Maggie Gyllenhaal, Morgan Freeman and, of course, the late Heath Ledger. However, while the actors' performances were quite magnificent, for me, it has always gone deeper than that. Past all the costumes and nifty gadgets, The Dark Knight has stood out for me in a way I can barely describe in words because of its theme and overall feel.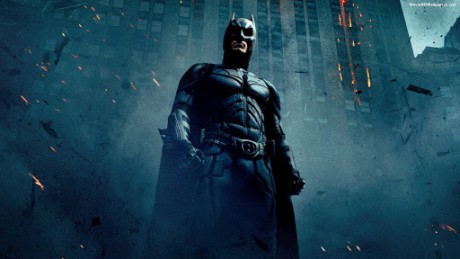 In case you didn't know, The Dark Knight is a film about DC Comics superhero Batman. There have been many Batman films before but I think The Dark Knight is probably the most meaningful one, at least, for me anyway. In this film he faces off with The Joker portrayed by none other than the late Heath Ledger. This was perhaps the film that launched Ledger's popularity to an awesome height and it was lamented that had he lived, the third film of The Dark Knight trilogy would've focused on him.
Now look, this isn't about Batman. Sure, I like the guy, but I'm more of a Marvel Comics fan than DC. It isn't about vigilantism and its appeal although I must say that things in the Philippines are grinding down to the point that vigilantism just might become the country's only hope of progress. Of course, the themes kind of change with Batman Begins being more focused with adventure and mysticism and The Dark Knight Rises being about confronting one's obsessions and overcoming them. But those will be topics to be discussed for another day. For now, let's talk about The Dark Knight and why I think its themes are relevant points of discussion in our country's current situation.
"Burning" The Forest
In Batman and Commissioner Gordon's desperation to capture the Joker, Batman designs a machine that hacks into every cellphone in Gotham City in order to track the Joker's whereabouts. Lucius Fox, played by Morgan Freeman, calls out Batman's plan as both immoral and illegal. I mean, after all, this device openly violates people's privacy. You wouldn't want some (possibly insane) black-clad vigilante hacking into your smartphone for his own purposes, would you? However, considering the kind of danger the Joker poses for the people of Gotham, Batman goes through with it, cementing him as a kind of "anti-hero" instead of a full-on "hero" like Superman.
So why is this relevant? Well, I'd like to point out the kind of trouble we're having with people like De Lima and Ferrer who keep insisting that criminals and terrorists have rights too. A lot of you may hate me after I say this but I still think the Moro Islamic Liberation Front are a terrorist organization that needs to be captured in order for there to be good and proper justice for the Fallen 44. As the Moro Islamic Liberation Front continue to shove the BBL in our faces in order to give them jurisdiction over some areas in Mindanao, I cannot help but wonder why we're even negotiating with them in the first place.
The Moro Islamic Liberation Front has time and time again proven that they are well aware of their rights and are willing to take advantage of them in order to hoodwink our government into giving into their demands. What I am essentially saying is that, while it may sound harsh, there may come a time when we may need to disregard their "rights" in order for justice to truly win the day. On another note, while the Moro Islamic Liberation Front are certainly aware of their rights, when was the last time we saw them consider the rights of others like what happened to the SAF 44 or their many other victims.
Choosing Ideals Over A Person
At the end of the film, Batman chooses to be painted as a bad guy in order for the good guys to win.
MAJOR SPOILERS AHEAD!
Harvey Dent, played by Aaron Eckhart, is a good-natured lawyer and whom even Batman sees as Gotham's firs real "hero". Unfortunately due to tragedies that take place later in the film, Harvey Dent becomes Two-Face (actually a no-brainer for actual Batman fans) a murderous madman seeking revenge for his losses. However, even when he becomes a villain, Batman still sees what the man stood for and is willing to sacrifice his own reputation so that Harvey Dent and his example would continue to be lauded by the citizens of Gotham.
END OF SPOILERS…
As Benign0 here states, common Pinoys are more about personality than platform or ideas. Again, I would like to mention that the Marcos regime did have plenty of flaws. However, the next administration as well as the people that supported them saw the Marcoses as demons and demonized everything they achieved. This included many of their projects that would otherwise have been quite beneficial to the country as a whole.
Even if Marcos did turn out to be a tyrant, there is no question that not all of his actions were evil or selfish. Some of them were indeed for the people and I think that the demonization was just a way for the current administration to rub it in their faces.
The Real Heroes Will Always Be The Common People
Near the end of the film, one of the most memorable scenes is perhaps the one where people aboard two ferries are given the chance to destroy each other. One ferry is loaded with convicted criminals while the other is full of common civilians and their families. Surprisingly however, the ferry filled with convicts chooses the right thing to do and throws their detonator into the waters below, denying them the chance to destroy the other ferry. The ferry filled with civilians also follow suit, proving that the Joker was wrong all along about his assumption about people.
Take note that either party could've played the victim card and destroyed the other. However, at the end of the day, they show that just because you're a victim doesn't make doing the wrong thing right. Also, just because someone has done something bad in their lives makes them bad people for the rest of their lives. At that moment, at least for me, the people on both ferries prove that they're heroes in their own small way just as much as Batman.
I think that the real problem of the Filipino people is their constant search for "heroes" who will save them from their predicament. Few even realize that they themselves can become their own heroes should they choose to be so. Instead of looking to others to solve their their problems for them and playing the victim card, I think it's time we all looked inside ourselves for the heroes that we can be. Let's choose what's right over what seems simple, easy or convenient.
***
Oh yeah, as a closing remark, Superman vs. Batman: Dawn of Justice is coming for all you DC Comics fans out there.
See you guys at the movies!
I HAVE RETURNED TO LAY WASTE TO OUR ENEMIES!