One of the most fervent wishes of some Filipinos is that their country becomes a great country. Or, since the country was supposedly great years before, it should return to greatness. Of course, that's a "great" thing isn't it, if it happens? However, this idea of greatness for the country is very convoluted and even hyped. It's perhaps because of the myths and misconceptions many Filipinos hold that I will attempt to demystify.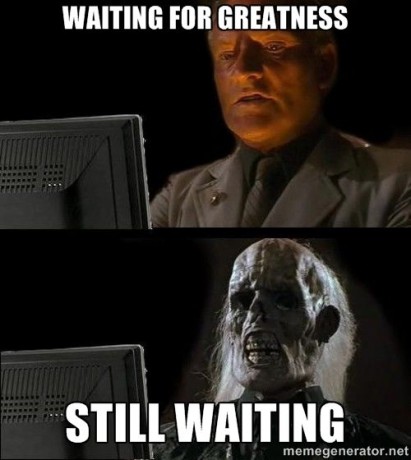 Some Filipinos reminisce the Philippines once being great. That somehow, we were once equal to the United States, or that we we were once greater than our Southeast Asian neighbors, including Singapore and Malaysia, even Japan. However, I feel that this idea of greatness is actually an illusion. I say give two reasons for this.
1. As columnist Rigoberto Tiglao said in a commentary on Philippine history, the Philippines was always poor. To phrase it in another way: it was never a "great" country. We have may have had some opportunity to become great one time or another, but this was not yet greatness. We have yet to reach a point where we can consider our country a great one.
2. Our "greatness" during the 1950s was because of American aid. For example, some Filipinos like to boast our military equipment of yesteryears and recently, such as the F-86 Sabres, F-8 Crusaders, F-5 Freedom Fighters, M41 Bulldogs, LVT-5s, Hummvees, Huey choppers and more (not to mention the General Purpose or GP – the jeep – that inspired our jeepney). They mostly came as American aid. And even our latest acquisitions still have an aid aspect to them. This is the kind of stuff we love to boast as "greatness." But some call it being a tool of the U.S. Others call it being beggars when we shouldn't be. I agree it certainly isn't "great."
First, there's one question to ponder on: how do we define a great nation? If one looks at many definitions of great, one thing is sure to pop up in Filipino's minds: we should be ruling others. One may remember a fanciful map circulated on the Internet before of China supposedly being taken over by the Philippines. How ironic that we who detest other countries for trying to take over our territory also dream of taking them over in a classic demonstration of hypocrisy. So it seems Filipino conceptions of greatness are twisted, filled with misconceptions, and sorely need correction.
Most of us GRP bloggers say Filipinos really don't know how to be great. The esteemed and brilliant owner of this website, Benign0, for example says, in effect, true greatness is achieved when Filipinos become recognized for collective solid achievements, rather than empty boasts based on the achievements of only a few individuals. For example, the United States is considered a great country because its society provides greater chances for social mobility and providing a living wage for its citizens and inhabitants. In comparison, the Philippines does is for a large part significantly mired in poverty and is plagued by high crime. Or just look at Asian neighbors like Japan and Singapore. While the standard of living (i.e. cost) is high, you get security and respect for your person no matter who you are. In the Philippines, life is cheap.
Of course, there is the case of riding on the achievements of others. Filipinos just believe they are great for just being the society where Lea Salonga, Manny Pacquiao, Arnel Pineda and Charice Pempengco came from. Never mind that everyone else tends to be lazy free riders. They are full of empty boasts that have no greatness whatsoever.
Really, there is almost nothing that provides incentive for calling Filipinos great. OFWs? What makes OFWism great, when it separates family members and makes us a nation of servants?
So we move to the question I really want to ask: Is greatness really the right goal for Filipinos? Is wanting to be a great nation really the right thing to wish for?
For me, it isn't. We lack many of the things to really become truly great. What we need more of is decency. The kind of decency where people respect the rules, avoid making useless boasts for empty reasons, use intellectuality correctly, have respect for the public and be truly productive citizens. Because before becoming great, one first needs to be decent.
As of this point, we are not yet a decent nation. We have rampant corruption, both in the government and among the ordinary people; our culture is known to be continually backward, anti-intellectual and primitive; people habitually refuse to follow rules, whether at home or abroad; many Filipinos like to get high on pride for nothing; we have massive poverty; habitual lying and plagiarism; and there is little respect for public space. All of these and more are obstacles to true greatness that we have yet to overcome.
The defensive Filipinos will hold that most Filipinos are already decent. However that is not the basis for other societies' evaluation of us. Erring Filipinos, even as a minority, number significantly enough to create the impression that they define the national character. They're just too noisy and many to not notice (and the noisiest sample tends to be the stereotype).
Sadly, it is likely that Filipinos will prefer being "great" over being decent. This is because of the Filipino cultural appreciation of form over substance, and the need to boost one's ego to make up for a feeling of emptiness because of the many problems besetting Filipino society. The search for greatness seems to be part of the effort of hiding with a facade of "happiness." But as the reverse psychology dynamic goes, the more "happiness" or "greatness" one tries to project, the more their actual sadness or self-loathing is revealed. One also may recall a teenager, who in the heat of his or her hormones, declares that he or she is great, but does something foolish, showing their immaturity. Thus, Grimwald's "grow up" slogan fits. And this also perhaps explains FallenAngel's description of a forlorn country looking for attention from the world.
Unless we learn to be decent, collectively, and not as just "pockets of resistance" trying to be decent, we will never become a great country.
I believe, as my cohorts here do, that what Filipinos embrace as their culture is what actually pulls the country down. And those who seem to be anti-dictators, who may also believe themselves to be "heroes," are the real dictators.