What was otherwise a joyful event was turned into another Philippine circus. Filipinos rejoiced this week after Mary Jane Veloso who languished in an Indonesian prison for five years on charges of drug trafficking and was scheduled for execution last Tuesday was granted a reprieve. However, this show of rare unity in joy was short-lived. Soon after the announcement that the Indonesian government had granted a last-minute postponement of Veloso's execution, the scramble to grab credit for this "win" started in the Philippines.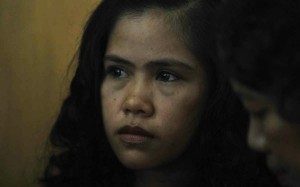 Quick off the mark was the administration of Philippine President Benigno Simeon 'BS' Aquino III, pitching itself as one that moved heaven and earth — even breaking diplomatic protocol when Aquino supposedly made representations directly with Indonesia's foreign minister — to save Veloso's life. Unfortunately for Malacanang, no less than Veloso's mother Celia was not amused by BS Aquino's self-crowning as national miracle worker…
In an apparent reference to Aquino, she said: "He is telling the whole world that he helped save my daughter's life. That is not true. Get ready, we are here to charge you. We will fight you."

[…]

"Had the government not been remiss, my sister would not have been in trouble," she said.
The cornerstone of the position Malacanang is taking to defend itself against allegations of negligence in the early days of Veloso's plight is that as early as 2011, Aquino had already requested then Indonesian President Susilio Bambang Yudhoyono that clemency be granted Veloso. But reports have revealed that the actual services provided Veloso on the ground were not consistent with these high-level representations. Over the most part of her ordeal in Indonesia, she reportedly "had no counsel when her initial testimonies were recorded, and was assisted during trial by an unlicensed translator."
Senator Miriam Santiago echoed the sentiment held by many Filipinos that not enough timely effort had been applied by the Philippine government in the early days…
"Must we always resort to last-minute remedies? Must we wait for Filipinos to be put behind foreign bars or sentenced to death before we act?" Santiago said in a press statement.
Bizarrely, many Filipinos are now criticising Veloso's family for failing to appreciate President BS Aquino's efforts to support their cause — efforts, they say, that ultimately contributed significantly to saving her life. The trouble with Aquino's legions of apologists is that their awareness of the Veloso case likely does not extend further back than the time it first started "trending" in social media just a couple of months ago. Veloso's family, on the other hand, was in it from the beginning likely dealing with the Philippines' famously indifferent and foot-dragging foreign department bureaucracy and enjoying no support from a Filipino public that was largely apathetic to their plight at the time.
From weak support from both government and public for more than four and a half years to a sudden swelling of attention at the eleventh hour when Veloso's execution was just weeks away; suffice to say, it would not at all sit well with anyone to be left to fend for themself for years then see their ordeal suddenly made into a circus towards the end game — both by their government and their compatriots.
The bottom line here is that the way things turned out for Veloso was really just an outcome of many things coming together at the right time. President BS Aquino, rather than crown himself knight in shining armour, should, instead, have recognised his humble place as just one of many contributors in a collective effort to save Mary Jane Veloso.
[Photo coutesy Sky News.]
benign0 is the Webmaster of GetRealPhilippines.com.