My friends and countrymen, on May 2, 2015, I prepared my drink to either propose a toast to Pacquiao's defeat or to consume in lamentation of his win (just as I did after the election of BS Aquino III). To my great delight, I drank in celebration due to Pacquiao's loss, because his loss could actually be a win for the Filipino people. It just depends on whether or not they can realize that Pacquiao is not the entire Philippines, and that his significant impact is generally restricted to the arena of boxing and sports. Thus, he can scarcely be regarded as a great hero, especially in comparison to others (e.g., members of the Armed Forces of the Philippines, who daily risk their lives to keep our country safe, teachers who educate our youth in order to be productive members of society, and single parents who fulfill both roles of mother and father in order to sustain the livelihood of themselves and their children).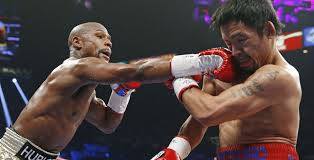 While many of his critics often focus on his shallow-minded fanatics, who elevate him close to deity status (creating the drunken stupor of Pacquiao-mania), I focus mostly on Pacquiao himself, his conduct, and its unintended consequences. It must be understood that in no way do I intend to diminish his role, achievements, or capability as a boxing champ. On the contrary, I intend to point out (as a concerned citizen) why his irresponsibility, poor work ethic, and dishonesty disqualify him from being a good citizen or role model for our public servants and countrymen.
First, I wish to point out how irresponsible Pacquiao has been as a congressman, due to his record for having the lowest attendance. In his first term (2010-2013), he was present for 98 out of 168 session days. Last year (2014), he was only present on four session days. Of course, this is all due to the requirements of his other job, namely boxing. Still, is this not a dereliction of duty in his role as a public servant? Even Pampangan Rep. Joseller "Yeng" Guiao (coach for Rain or Shine in the PBA) attended 65 out of 69 session days as of October of 2014.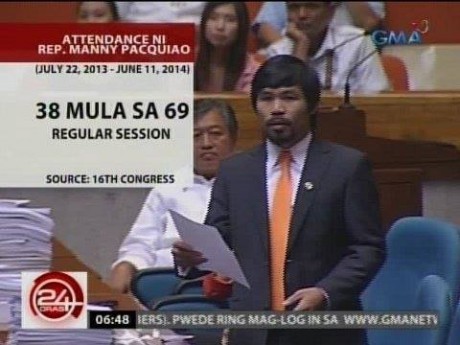 Such frequent absences have stifled important legislation, including the P2.6 trillion national budget for 2015. More recently, a House committee vote occurred on the passage of the controversial BBL (Bangsamoro Basic Law) in which Pacquiao approved its preamble. However, his presence for less than an hour prevented him from voting on the other provisions, nor was he present on the final voting day. As a result, Rep. Carol Lopez (Pacquiao's close friend) claims he has decided to oppose the bill at the House plenary, upon his discovery that his district of Sarangani faces the prospect of becoming part of the Bangsamoro region at a later date.
Why couldn't Pacquiao remain and fully participate in the voting of such a historical piece of legislation, which may or may not resolve the decades of war in Mindanao? Could Pacquiao's low priority of public service be why our government is not taken seriously and has even been made a mockery? Where is the just compensation to taxpayers, who pay Pacquiao's salary even when he is absent from Congress? Why not give his congressional seat to someone else who is actually dedicated to public service?
Apparently, I am not alone in my sentiments. Former Sen. Rene Saguisag suggested Pacquiao be suspended for his excessive absences. Public administration professor Prospero de Vera stated that Pacquiao was undermining his representation to his constituency. Even the third highest-ranking government official Speaker Feliciano Belmonte, Jr. approved Pacquiao's wins, but stated in an interview, "I wish he'd be more involved [in the House of Representatives]." Hence, the adage that one cannot serve two masters, much less five (public service, boxing, acting, singing, and basketball coaching) rings true. Such an abysmal record of public service would surely jeopardize his prospects for higher office (such as the presidency) in the future, at least if informed voters can help it.
Second, ever since Pacquiao attributed his loss to his injured shoulder, it was revealed that he falsified one of his answers on a pre-fight medical questionnaire, indicating he did not have any injuries. As a result, more than 30 lawsuits have been filed in various states (including Nevada, California, Florida, Maryland, New Jersey, New York, Illinois, Texas) on behalf of disgruntled people who purchased tickets to the "Fight of the Century" and purchased the pay-per-view event (roughly US $100).
Such dishonesty also infuriated gamblers who placed their bets on Pacquiao (millions of American dollars' worth. "Who would have bet on Pacquiao," asked Attorney Thomas Zimmerman (plaintiff), "if they knew he was injured?" The suits could amount to more than U.S. $5 million. Liable parties involved are Pacquiao, his trainer (Freddie Roach), his manager (Michael Koncz), his promotional company (Top Rank), Top Rank's executives (Bob Arum and Todd Duboef), Floyd Mayweather, Mayweather Productions, fight producers (HBO and Showtime), and pay-per-view providers (AT & T, Comcast, and DirecTV)—a dilemma which could have been prevented had Pacquiao been sincere and considerate to all stakeholders.
Third, either Pacquiao is greedy or lacks a sense of priority in his career. Perhaps Pacquiao is an opportunist and will accept as many roles and jobs as possible at the expense of the others, as if to say, "Hey, look at me! I'm the great 'Pac-Man'! I can do anything!" If that is the case, then his lack of focus may have cost Pacquiao the last match. Attorney and boxing analyst Ed Tolentino pointed out on Headstart:
His attention span right now is so diversified. In fact, had he focused solely on boxing, not with his extra-curricular activities, I thought he could have beaten Floyd Mayweather. I saw the Manny Pacquiao who had his attention focused solely on boxing. I also saw the Manny Pacquiao whose attention was diversified. I compared the two, and believe me; it's Jekyll and Hyde!
More important is Pacquiao's neglect of public service in Congress, which holds wider ramifications for the entire country. Aside from his dereliction of duty and stifling of significant legislation, he is establishing an unfavorable precedent for other public servants to emulate. Such neglect may even enhance the general public's pre-existing apathy or distrust towards the institution of government and the rule of law.
During the 2012 American presidential elections, the multi-billionaire business tycoon Donald Trump joined the race. However, he shortly dropped out upon realizing his commitment to his ongoing TV show The Apprentice. Ronald Reagan and Arnold Schwarzenegger both renounced their acting careers in order to serve their terms as governor of California. The former eventually became one of America's greatest presidents, while the latter resumed his acting career after his gubernatorial term expired. If those renowned personalities can transfer their dedication from one career to another, why can't Pacquiao?
If it is not about dedication, then could it be that he is just hungry for political power or greedy to expand the Pacquiao dynasty? After all, Rogelio Pacquiao (Manny's brother) is chairman of Barangay Apopong, while another brother (Bobby) is a councilor in Barangay Labangal. Lorelei (Bobby's wife) serves as chairperson of that barangay, and Manny's wife (Jinkee) is vice-governor of Sarangani, the same district represented by Manny. To be fair to the Pacquiaos, I do not oppose dynasties, insofar as their members are fairly and democratically elected and serve the interests of their constituents. However, when they are self-serving or hold power only for namesake, I oppose them and any office holder—dynasty clan or not.
Now that I have expressed my grievances, here are some practical alternatives. At his current age of 36, he could retire from boxing and continue his political career in Congress. As he establishes more political credibility, he could then pursue the Senate, followed by the presidency in 2022 (when he will be of legal age). If he chooses to renounce his political career for boxing, he can still have a positive impact in his charity as he currently does. Even former American presidentiable Mitt Romney has fought former heavyweight boxing champion Evander Holyfield in a charity boxing match on May 15, 2015.
However, if Pacquiao is equally passionate about fighting and public service, he can join the NBI (National Bureau of Investigation), PNP (Philippine National Police), or he could make full use of his rank as lieutenant colonel in the AFP (Armed Forces of the Philippines). They certainly could use such an agile warrior to combat and capture members of terrorist groups like Abu Sayyaf and the New People's Army. Or if he gets weary of boxing, he can acquire new combat skills in mixed martial arts and join the UFC (Ultimate Fighting Championship). That would probably work to his economic advantage, since disgruntled boxing fans may no longer desire to view his matches.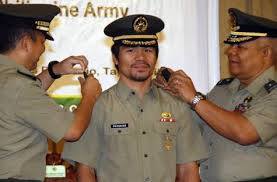 Furthermore, let me return to the main issue of Pacquiao's loss being a potential win for the country. Each of his defeats and the consequent prolonged depression or dismay of his fans are analogous to a shabu addict's defeat to a caring colleague in a battle for his jeepney keys. Each time the intoxicated driver picks passengers up and continues driving, he puts the safety and well-being of them, himself, and the public at great risk. By Pacquiao's excessive absence and lack of participation in the legislative process, he puts the safety and general welfare of our country at risk.
The difference is that Pacquiao and his cult of fanatics are comparable to the single, intoxicated jeepney driver, since such fanatics are the ones who elected Pacquiao into Congress, thus subjecting him to his perpetual neglect of public service. Rather than our countrymen choosing to face the hardships of their daily life and improve their personal and social conditions (e.g., mental and moral laziness, lack of discipline, poverty, unemployment, political apathy), they choose to escape reality into a temporary, euphoric world of fantasy, in which their well-being and "Pinoy pride" depend largely on the victory of one Filipino in a boxing ring.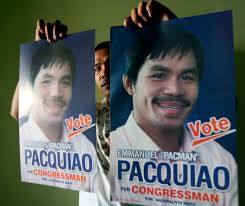 Hence, a defeat of Pacquiao in the ring could be a sobering turning point, just like with the jeepney driving shabu addict, whose defeat may have saved many lives. That is precisely why I will continue to rejoice in each one of Pacquiao's losses, until both he and his cult of fanatics awaken from their drunken stupor of Pacquiao-mania. That would, indeed, be a big win for our country for which we may rightfully claim "Pinoy pride," and the "Fight of the Century" could also be known as the "Philippine Win of the Century."
Cheers!
I seek to make the Philippines a better place by keeping our kababayans informed and inspired.
Mabuhay ang Pilipinas!