Clearly, the approval of the Bangsamoro Basic Law by the House Ad Hoc Committee was a case of railroading. The committee, for starters, was padded with Malacanang allies. And, not surprisingly, the "investment" paid off. CNN Philippines reports…
Malacañan allies in the House of Representatives comprised the majority of the 48 votes favoring the BBL. Eighteen were against while one abstained in what Ad Hoc panel chairman and Cagayan de Oro Rep. Rufus Rodriguez, Jr. described as "unprecedented" in the history of the Lower House that saw a piece of legislation undergo at least 50 hearings and participated in by almost a hundred lawmakers.
The 50 who voted to approve what is now called the "Basic Law for the Bangsamoro Autonomous Region" are as follows:
– Cagayan De Oro Rep. Rufus Rodriguez
– Basilan Rep. Jim Hataman-Salliman
– Sulu Rep. Tupay Loong
– Misamis Occidental Rep. Henry Oaminal
– Maguindanao & Cotabato City Rep. Bai Sandra Sema
– North Cotabato Rep. Jesus Sacdalan
– Antipolo Rep. Romeo Acop
– TUCP Rep. Raymond Democrito Mendoza
– Bukidnon Rep. Ma. Lourdes Acosta-Alba
– Lanao Del Sur Rep. Ansaruddin Adiong
– Misamis Occidental Rep. Jorge Almonte
– Zamboanga Del Norte Rep. Isagani Amatong
– Compostela Valley Rep. Rommel Amatong
– Sulu Rep. Maryam Napii Arbison
– Dinagat Islands Rep. Kaka Bag-ao
– Cavite Rep. Elpidio Barzaga
– Muntinlupa Rep. Rodoflo Biazon
– Zamboanga Sibugay Rep. Belma Cabilao
– Ilocos Norte Rep. Rodolfo Fariñas
– Surigao Del Sur Rep. Florencio Garay
– Davao City Rep. Mylene Garcia-Albano
– Zamboanga Sibugay Rep. Ann Hofer
– Zamboanga Del Norte Rep. Rosendo Labadlabad
– Davao Del Norte Rep. Antonio Lagdameo
– Maguindanao Rep. Zajid Mangudadatu
– 1 CARE Rep. Edgar Masongsong
– Surigao Del Norte Rep. Franscisco Matugas
– A TEACHER Rep. Mariano Piamonte
– Lanao Del Norte Rep. Imelda Quibranza-Dimaporo
– Marikina City Rep. Miro Quimbo
– ABAMIN Rep. Maximo Rodoriguez, Jr.
– Camiguin Rep. XJ Romualdo
– Surigao Del Norte Rep. Guillermo Romarate, Jr.
– Tawi-Tawi Rep. Ruby Sahali
– Sultan Kudarat Rep. Raden Sakaluran
– Western Samar Rep. Mel Senen Sarmiento
– Iloilo Rep. Niel Tupas, Jr.
– AMIN Rep. Sitti Djalia Turabin-Jataman
– Davao City Rep. Isidro Ungab
– Misamis Oriental Rep. Juliette Uy
– Batanes Rep. Henedina Abad
– Lanao Del Sur Rep. Pangalian Balindong
– Mandaluyong City Rep. Neptali Gonzales II
– Quezon City Rep. Jorge Banal
– Quezon City Rep. Kit Belmonte
– Marikina City Rep. Marcelino Teodoro
– AKBAYAN Rep. Rep. Ibarra Gutierrez
– Camarines Sur Rep. Leni Robredo
– Masbate Rep. Angelina Katoh
– Batangas Rep. Eileen Ermita-Buhain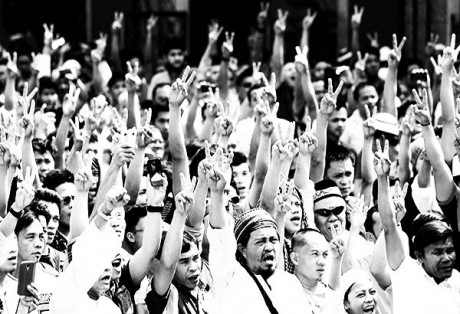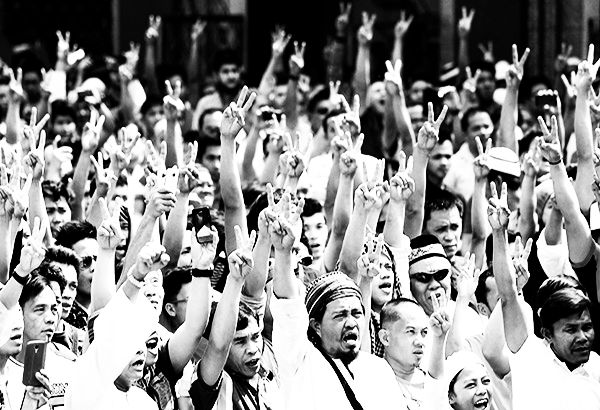 The same CNN Philippines report cites statements coming from Bayan Muna Rep. Neri Colmenares and House Minority Leader Ronnie Zamora that "they have heard reports that members of the Majority received Malacañan funds to support BBL," a view many observers subscribe to considering the track record the government of Philippine President Benigno Simeon 'BS' Aquino III has exhibited using public funds to bribe Philippine legislators into "cooperating" with its agenda. These multi-million-peso carrots were not only dangled before the gaping mouths of Filipino congressmen and senators. They were virtually shoved down their throats.
Indeed, Rep. Rodriguez is wrong in his assertion that this sort of abominable conduct in Philippine Congress is "unprecedented". In 2011, an impeachment complaint against then Chief Justice Renato Corona was similarly railroaded through the House of Representatives spurred by a "furious" (and, presumably, cashed-up) President BS Aquino.
[House Speaker Feliciano] Belmonte and another Liberal Party stalwart, Cavite Representative Joseph E.A. Abaya, revealed that a "furious" President Aquino wanted a "fast" impeachment against Corona after he and seven other Arroyo appointees had issued a temporary restraining order (TRO) to block the travel ban against Arroyo.
So effective was the Malacanang locomotive pork barelling its way through Congress that House Representatives seemingly cowering in fear (or salivating over the millions they stand to gain) admitted that they cast their votes despite being not allowed to read the actual contents of the complaint…
Bayan Muna Representative Teodoro Casiño said the majority of the 188 members who signed the impeachment case were clueless of the eight articles used as the basis to kick out Corona when they entered the majority caucus at 2:30 pm Monday.

Casiño admitted that they were not allowed to read the 57-page document, which they signed on as both complainant and endorser.
Filipinos are now officially
twice foooled
by their
popularly-elected
"representatives" in their esteemed legislature — a government body aptly described as
the biggest criminal syndicate in the Philippines
. Calling the Filipino "twice fooled", in fact, is being too kind. When the members of a body of popularly-elected representatives collectively act like crooks, that says something about the society that chose them and
continues to tolerated them
.
Zamora maintains that the BBL version approved by the House committee was "clearly a Malacañang version." Disturbing, considering that the BBL in its original form is, according to former Cabinet Secretary Rafael Alunan III, more akin to a surrender document rather than a peace agreement. In Alunan's appeal to Congress to re-think the so-called "merits" of this proposed law, he cited the the key argument against it, that it is designed around the agenda of a secessionist terrorist group, the Moro Islamic Liberation Front, which, to this day, "has not publicly renounced its links to Al Qaeda, the global terror organization causing so much insecurity, death and destruction around the world – Middle East, Africa, South Asia, Europe, the U.S, Australia and the Philippines." The group, Alunan further asserts, is "not a sincere peace partner" because it "threatens war to obtain what it wants, in this case, the BBL version it wants which means keeping in there language that is unconstitutional, illegal and sets it up for future secession." And most disturbing of all…
It is an organization which by its consistent acts show their allegiance to Malaysia which has been funding their struggle for secession for the past 4 decades. Its founder, Hashim Salalmat, described the Moro Islamic Liberation Front members as Moros, not Filipinos; and that its aim was to establish an independent Islamic state which is aligned with the goal of Al Qaeda to establish a globalized Islamic State under a caliphate, hence, the insistence for Sharia Law.
The extent to which Filipinos have so many times stood back and watched as their "representatives" in Congress sold the nation to Islamic terrorists, collected their loot, and laughed all the way to their Cayman Island bank accounts is nothing short of appalling. Unless they prove otherwise, Filipinos definitely deserve their leaders. This could otherwise be considered a standing joke on the Filipino people — that the crooks they routinely whine about are actually the very people they voted into office with glee. But the laughing will likely end soon once the long-term effects of the banal idiocy with which Filipinos and their leaders wielded their precious "democracy" sink in.
benign0 is the Webmaster of GetRealPhilippines.com.