In 2009, I was pretty sure that if anyone should win in the 2010 national elections, it should be (then) Senator Dick Gordon and being in the middle of so many activities aimed at securing his victory, I couldn't help but buy into the campaign propaganda we had crafted during those many long nights at Gordon's private office.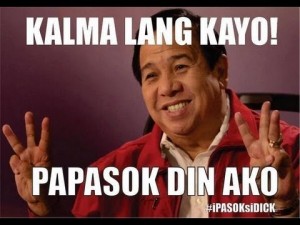 On election day, about 500,000 people voted for him and the only thing felt good about it was the fact that the preliminary results of the elections were announced in a matter of hours instead of the weeks it usually took.
Now, about five years after the 2010 Gordon for President campaign, here I am again thinking about why good guys like Gordon rarely win the Presidency and hoping that if I figure it out, I could probably help steer the course of the coming 2016 national elections.
But the thing is, I haven't the foggiest notion about what it takes to win a Philippine presidency and that's kinda funny for someone like me, who, at one time or another, brandished the claim of being a "political communications expert".
Big news, I've been faking it for 12 years now and I guess people have already caught on to my ruse. It was fun while it lasted, though — it was infinitely more fun than being a palamunin food blogger, ugly beauty expert, or this-and-that social media "advocate"/"brand champion".
But seriously, the truth is that no one really knows how to win a presidential election especially in the Philippines and that is statement that only very few experts on politics will openly agree to.
And, furthermore, I guess no one can really predict with certainty who will win an presidential election until the results are already pretty obvious.
So, if you are a newbie candidate interviewing someone who could be your campaign manager, hearing them say that they know how to make you win and that they can predict the results of a Philippine election at this point, you better have one of your people hustle you out of that interview quickly. Those are pretty big red flags.
Saying it more plainly, this time, the truth is that there are no sure wins and no one can predict the future.
Another big mistake you can make as a candidate, probably, is to believe that there is any kind of rationality that guides voting behavior.
In 2009, we in Team Gordon, had a pretty extensive discussion with the senator about "rational voting behavior". One kind of figuring put on the table was that if we knew what the people wanted in a presidential candidate, then it would be a matter of showing that our candidate possessed all the qualities they wanted and given enough exposure, our candidate would emerge as a clear winner.
Although this wasn't the guiding idea for much of Gordon's campaign, there were those of us who stuck with this thinking and it really didn't pan out well for those of us who did.
It should have been obvious to us why such a tack wouldn't convince most people and really, if you are any good as a communicator, you'd know that people absolutely hate being told that you've got a better idea of what's good for them.
Really, if you want to start a fight, just try telling another person that you know what's best for him or her. So, guess what happens when you tell an entire country that a candidate knows what is best for each and everyone of them.
Voting behavior, if you boil it down, is hardly rational and most people will not be able to explain why they like one candidate over another using logic as well as correct facts. Most of the times, Filipinos like certain candidates based on mere notions about them and I have validated this observation many times over in the course of 12 years being involved in political campaigns or doing political communications.
If I were to make a guess about what makes people like one candidate more than another, the answer perhaps would be that what they like isn't the candidate himself/herself but rather how much of themselves they see in the candidate and that is really a basis of establishing rapport.
And no, guys, most poor people I know don't vote for a person because they got a freebie or money for their vote. Most of these people actually vote because the candidate took time to listen to them and responded genuinely to whatever their concern they brought to him.
Which now brings me to the last thing I want to say about this topic of why good guys rarely win Philippine elections… it's because people who claim to be good guys are usually full of themselves and THAT JUST TURNS PEOPLE OFF.
And if you want a good short read on what building rapport is all about, check out this article in Time called "Top 10 FBI Behavioral Unit Techniques for Building Rapport With Anyone" and the part that hit home with me is this:
Individuals practicing good ego suspension would continue to encourage the other individual to talk about his or her story, neglecting their own need to share what they think is a great story…Those individuals who allow others to continue talking without taking their own turn are generally regarded as the best conversationalists. These individuals are also sought after when friends or family need someone to listen without judgment. They are the best at building quick and lasting rapport.
In ending this, here's something for you to think about: Would you more likely support a candidate who heard you out about your concerns or one who told you what to think?