This is literally the eleventh hour. Does dead woman walking Filipina Mary Jane Veloso stand a chance of living to see the dawn of the 29th of April 2015? We don't know at this point. As netizens covered by my personal radar have been tweeting over the last couple of days, as long as there is life, there is hope.
But do Filipinos really care? The thing with being immersed in social media is we sometimes forget how small our network is in the scheme of things. The good thing about modern technology, however, is that it is easy to take stock of the bigger picture. The image below is a data representation of that bigger picture.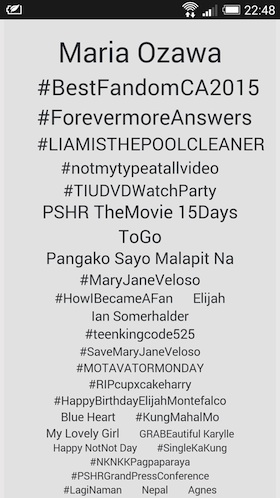 That confronting picture — a stocktake of "trending" topics as of the 11th hour of Mary Jane Veloso's countdown to lights out — pretty much answers that earlier question.
So, though my timelines on some of the social networking apps I use may be flooded with Mary Jane Veloso stuff, other Filipinos' timelines are likely filled with things more "relevant" to their daily lives (and nightly fantasies).
We can't judge them, of course. After all, even the who's-who of social media "activists" churning out motherhood statements about Veloso tonight were, themselves, just as oblivious to Veloso's plight when it most mattered — over the several years she was detained in an Indonesian prison on charges of drug trafficking.
To be fair to Philippine President Benigno Simeon 'BS' Aquino III, he had made several high-level appeals on behalf of Veloso's life starting as far back as 2011. As someone who closely monitors public responses to every public movement exhibited and every public statement issued by the president, it is quite notable that I don't recall much of a social media buzz from the clique of characters I follow in the wake of those presidential appeals at the time.
To repeat what I earlier tweeted, it is hard to be impressed by a society that consistently protests injustice loudly only at the 11th hour.
The interesting thing about the Mary Jane Veloso case is that it is merely the most recent of many many cases where Filipinos suddenly gave a shit with much fanfare — like the way they routinely go about stomping their feet about the bad traffic on their highways and the crooked politicians they had subjected themselves to as if they had rudely awakened to their wretchedness after having been sound asleep over the many many years that the problems they "suddenly" face today slowly festered.
Indeed, as the eminent Teddy Casino say, perhaps it is "better to protest injustice even at the 11th hour than not protest at all."
Sure. But it is better to anticipate what could be foreseen on the first hour than habitually see and not act.
Godspeed Ms Mary Jane Veloso. You are the quintessential Filipino woman.
benign0 is the Webmaster of GetRealPhilippines.com.