A certain Frank Hoefsmit, a Belgian from Antwerp residing in Manila, Philippine (according to his Facebook profile information) posted an aerial photo of Boracay Island on Facebook the other day showing the extent to which Boracay has been "developed" to attract even more tourists.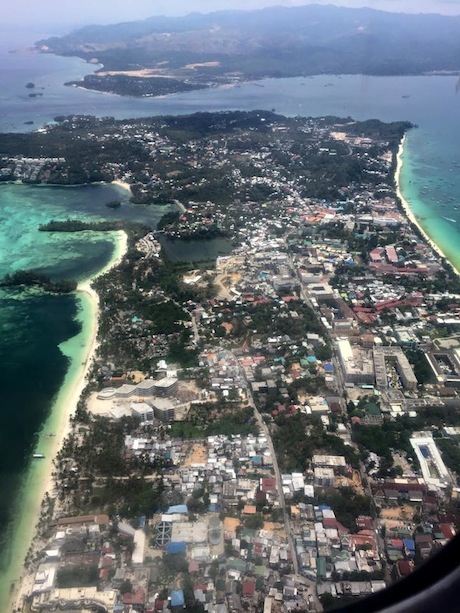 Boracay is a small island in the Philippines located approximately 315 km (196 mi) south of Manila and 2 km off the northwest tip of Panay Island in the Western Visayas region of the Philippines. Boracay Island and its beaches have received awards from numerous travel publications and agencies. The island comprises the barangays of Manoc-Manoc, Balabag, and Yapak in the municipality of Malay, in Aklan Province. The island is administered by the Philippine Tourism Authority and the provincial government of Aklan. Apart from its white sand beaches, Boracay is also famous for being one of the world's top destinations for relaxation. It is also emerging among the top destinations for tranquility and nightlife.
SUPPORT INDEPENDENT SOCIAL COMMENTARY!
Subscribe to our Substack community GRP Insider to receive by email our in-depth free weekly newsletter. Opt into a paid subscription and you'll get premium insider briefs and insights from us daily.
Subscribe to our Substack newsletter, GRP Insider!
Learn more
White Beach, the main tourism beach, is about four kilometers long and is lined with resorts, hotels, lodging houses, restaurants, and other tourism-related businesses. In the central portion, for about two kilometers, there is a footpath known as the Beachfront Path separating the beach itself from the establishments located along it. North and south of the Beachfront Path, beachfront establishments do literally front along the beach itself. Several roads and paths connect the Beachfront Path with Boracay's Main Road, a vehicular road which runs the length of the island. At the extreme northern end of White Beach, a footpath runs around the headland there and connects White Beach with Diniwid Beach.
Once a pristine island, Boracay is now noted for overcrowding and over-development and may be on the way towards suffering the same fate as Baguio City, the other "summer capital" of the Philippines. Despite a 2006 ruling declaring Boracay state owned until 2016 to protect it from further degeneration and a 2012 moratorium issued by the Philippine government on building construction in its forested areas, no further progress around its preservation has been observed.
In 2013 a call was made by Sandiwa Heritage Foundation managing director Ricardo Ramos to President Benigno Simeon 'BS' Aquino III to do something before the Supreme Court ruling expires in 2016…
"The province of Aklan has progressed as can be seen in Kalibo and other towns. However, the inordinate construction of… establishments and the uncontrolled haphazard developments have led to the wanton deterioration of what was once a pristine paradise," Ramos said, who suggests creating a presidential task force (composed of the DILG, DENR, DOH, DPWH and DOTC) to address problems confronting the Boracay Island Tourist Zone.

In any case, there are three more years before the state's ownership of Boracay lapses – and the President can make it his lasting legacy to save Boracay from further degeneration by making it his priority to address sustainable development problems that threaten to turn the famed island into just one more overcrowded, overpopulated and polluted beach resort.
This was two years ago. It seems unlikely given the number of "distractions" President BS Aquino now faces that any further work on preserving the "World's Best Beach" will materialise.
[NB: Parts of this article were lifted off Wikipedia.org and used in accordance with that site's Creative Commons Attribution-Share Alike License consistent with the same license applied by Get Real Post to its content.]
benign0 is the Webmaster of GetRealPhilippines.com.