"In the beginning of a change the patriot is a scarce man, and brave, and hated and scorned. When his cause succeeds, the timid join him, for then it costs nothing to be a patriot."
~Mark Twain
So what is a patriot in this day and age and what does it mean to be one? Is it the people who fight for their country against threats to peace both within and without? Could they be those wise folk who try to steer the masses into the correct path to progress? Would you call the common but righteous worker who works hard to feed his family and enrich his community a patriot as well? Or could you call all of them patriots? These are questions we need to ask ourselves if we really want to find a way to save our country from the downward spiral of poverty and violence it is trapped in.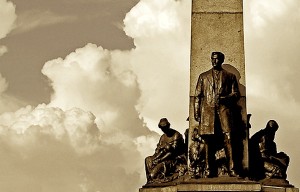 Back in the day, being a "patriot" was always a hard business. As Mark Twain says up there, these kinds of people are few and far between. After all, it's dangerous to be a patriot. If you're a patriot, there will be people out there who won't understand you and will probably hate you for all your worth.
This is because, deep inside, the masses (especially the really unintelligent ones), are driven by fear and little else. Of course, in our country, it may not seem that obvious. But one fear that I know that continues to drive people in this day and age is fear of the truth. That's right, one of the greatest fears the Filipino people have is fear of the truth; fear of accepting the harsh realities around them. That's why we leave everything to corrupt government officials who continue to deprive the people much needed aid and resources, continue to worship celebrities whom we treat like royalties and divinities and pretend that terrorists, bandits and government-sponsored crimes against the people don't happen.
Here are the three major fears that patriots of today need to overcome if they want to unify and strengthen this country into a strong and healthy community:
Fear of Responsibility
Most people are afraid of responsibility. I can vouch for that as I myself am not to keen on priorities but we, as a people, need to learn the meaning and value of accountability. We need to learn to live with the choices we make and be able to own up to the mistakes that we've committed. Unfortunately, most Filipinos are too irresponsible to realize that most of their own troubles are caused by their own carelessness.
We suffer from floods on an annual basis and at an alarming rate. People and their homes have been known to be swept away by powerful currents from overflowing drainage pipes. The cause: garbage. Tons of garbage are dumped by careless citizens into canals or anywhere else where they are swept up by currents of water during rainy season. They accumulate in almost unbelievable quantities (I've actually seen them form miniature islands every now and again during floods) and clog drainage pipes that are supposed to prevent or control floods. This is all because the people can't discipline themselves into throwing their garbage in the right place. None of them ever stop to think: "Oh, I better throw my litter in the trash can so the canals will be clear when it rains."
Littering may seem small compared to the greater acts of irresponsibility out there such as abandoning one's own children or electing officials who pay for votes, but it is a strong sign of the self-defeating principles that affect the Filipino people. According to C.S. Lewis and J.R.R. Tolkien, it is all too often the "little evils" we commit on a regular basis that doom us because we often ignore them and pass them off as small things when, should they be allowed to accumulate, may eventually cause our downfall. The same can certainly be said with the way many Filipinos tend to think nothing of the "little evils" they do (i.e.: taking bribes, causing scenes or hassles and, of course, littering) but scream bloody murder when the consequences come back to bite them in the ass.
When everything's said and done, they will even go on to blame the government which is probably their favorite tactic. Unfortunately, it seems that a lot of them forget the simple fact it was they who put those people in the government for a measly amount of money. People are also constantly demanding "government assistance" even when solutions are often in easy reach and are simply too lazy to take it upon themselves to act on behalf of their own community. People are always looking for a "them" to blame, hate, criticize and differentiate themselves from so they can appear superior and gain a perceived moral high ground.
Fear of Reality
Here is another huge hurdle that patriots have to face. Well, let's face it, life is hard. Good things are almost never easy. When they are, one should be cautious, very cautious.
Unfortunately, majority of Filipinos tend to hold on to their fantasies in order to deny or at least downplay the harshness of their lives. Now, there's nothing wrong with fantasies and the fantasy genre. I myself am a huge fan of J.R.R. Tolkien, C.S. Lewis, H.P. Lovecraft, Charles Stross, Jim Butcher and are an avid D&D and WH40k fanatic. However, it pains me to admit that Pinoys are often caught up in fantasies in the wrong sense.
J.R.R. Tolkien once said that fantasy storytelling is good as it allows people to create new ideas and face the harshness of reality in a different light. For instance, in Tolkien's Lord of the Rings epic, Tolkien makes it clear that the moment you stoop down to the level of your enemies when facing them, you become no better than they are. In Jim Butcher's Dresden Files, you learn that being a hero isn't always a good thing and that sometimes, doing the right thing can be a lot harder than you know but you have to go through with it.
However, instead of the wisdom found in some of the works above, Filipinos cling to the "fairy tale" type of story. Kate Natividad's latest articles about Marian Rivera and how her "champions" rush to defend her is a sign of this misguided belief. Instead of using stories to better understand and face the problems of real life as good fantasy writers intended , a lot of people in the Philippines use them as a blindfold to prevent them from seeing the problems in our country.
In Dresden Files, the life of detective/wizard Harry Blackstone Copperfield Dresden shows us that when you stand up for what's right, you have to be prepared to confront the people who stand up for what's wrong. You have to be prepared for overwhelming odds that you may have to face. You have to be prepared to make sacrifices (and painful ones at that) if you really want to succeed. You have to be prepared for strong resistance every step of the way and you better be ready to be beaten and broken multiple times before you even get to where you need to go. These are the things I learned from this wonderful and somewhat funny series.
I think what our friend Kate was trying to say was that Marian Rivera has created a Cinderella image for herself among the masses, which is actually very different from what she is in real life. She might not say it in real life but what she is trying to imply is: "I'm a princess but you have to love me because I talk just like you. I'm beautiful, rich and very famous but see, I sound and think just like you. So please, worship me as your goddess. Worship me as the patron goddess of poor and ignorant people like yourself because I am your representative among the 'gods' that rule your country!" The worst part? People do exactly as she implies…
Fear of Criticism
Let's face it, foreigners know this better than we do. Filipinos are afraid of criticism. Just look at the way we react when a foreigner criticizes the Philippines for its inadequacy and twisted ideals.
This goes hand in hand with the points mentioned above as no one wants to be "them" in a argument. They will always look for and find someone to lay their blame on instead of accept their own faults as the cause of their problems. And, when they can't find anyone to turn their hate towards, they retreat to their fantasy and play the victim card and pretend that they're the protagonists of the teleseryes that they love so much.
If we cannot acknowledge the roots of our problems, then I promise you that we will never find a solution for them. Until we're willing to consider the idea that we've made mistakes and need to correct them, we will continue to commit mishap after mishap after mishap.
Criticisms can be painful but any great artist can admit that it was through harsh criticisms that they managed to improve their arts. Criticisms hurt but they are what will ultimately lead us to making better decisions in the future. Unfortunately, common Pinoys view "criticism" as something negative and always try to cover it up with their useless "Pinoy Pride" and go on watching their favorite neuron-annihilating teleseryes.
Now, let me ask you:
Are YOU a patriot?
I HAVE RETURNED TO LAY WASTE TO OUR ENEMIES!