Back when Benign0 posted his article that the main purpose of sex (as in, copulation) was reproduction and not pleasure, a lot of reactions came that tried to dispute this. Some said that pleasure is a function of humanity above animals, and that humans are entitled to pleasure. But that's exactly what Benign0 was trying to prove wrong. Believing that sex is mainly for pleasure is the start of many problems. It's evident from these reactions that people either don't get the point, or they're stubborn, preferring to stick to their wrong beliefs despite knowing the consequences.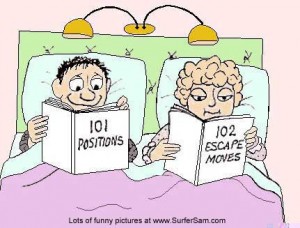 Let's start with the observation some people have of the Philippine family: that there are couples who just crank out child after child even if they can't afford it. This is acknowledged to be a major problem in our society. And thus, the solution many support is the RH Law; put out the condoms and contraceptives while letting "love" flow in the air, because the latter is part of "freedom." Yet there are many others who say that it may not work. Benign0 touched on the very reason this is so: Filipinos, in believing sex is for pleasure, forget that it is also for reproduction. So, when Filipinos get together for fun, they "accidentally" have a child, that they soon find themselves in massive debt and scrambling all over the place for support. Among the worst things they can do is abort or abandon the child.
So, following the saying "an ounce of prevention is worth more than a pound of cure," isn't the better solution just to not copulate? Is that really hard? Because that's the crux of the problem. People insist on copulation, saying it's their "right," despite the consequences. But like I said in my article about flaunting wealth, not everything permissible is beneficial; just because you can do something doesn't make it right.
So let's address the idea that humans are a touch above animals because they feel pleasure from sex. No, that's wrong; even animals feel pleasure from sex! So this is not what separates humans from animals. As I repeat from my comment on Benign0's article, what separates humans from animals is the ability to question their own actions and reflect on whether what they're doing is right or wrong. And from this comes the ability to practice self-restraint, the ability to say no even when the balls say go. It is this that makes people truly human, and thus creatures of reason. If people say, "don't fight it, go with the flow," then they are shirking human reason.
Perhaps there are methods of having sex that avoid penetration or impregnation. But that's the problem; most Filipinos want to do the "normal thing." Do it another way, you're a deviant or abnormal (like the stuff you'll see in 50 Shades of Grey). Some parts of society even encourage the moronic idea that unchecked copulation should be accepted in society. TV, movies and other mass media promote this. When people have a kid, they're called stupid, it's not part of the plan. But it is part of the plan!
Thus, the problem is not just education, but miseducation, the teaching of wrong attitudes and wrong beliefs that lead to wrong actions. What's scary about all this is that I'm hearing the miseducated principles not only from the ordinary people or poor, but the middle class, the supposedly educated and may-kaya who are able to post comments in English on this site. Truly, if you can miseducate the middle class, you can effectively disable society.
So you may advise the person to use a condom, but they may eschew it. Why? This may be explained in the concept of putting in one's seed in the sex partner. Anyone read about the story of Seth and Horus in Egyptian mythology? The concept behind Seth sodomizing Horus was that putting one's seed in another person is a sign of dominance. That seems the attitude of many men today; putting in one's seed is a mark of dominance, similar to how dogs mark territory with their pee. This attitude will probably make men want no condoms in the sex act and insist on the copulative act that leads to reproduction. They certainly won't be the one to buy or give the contraceptive stuff, because all they want is the pleasure! And because, in our social context, sex is dominance (50 Shades of Grey again). After all, isn't asserting class dominance the main compunction of the Filipino?
I wonder if this also explains the Filipino fixation on "love" songs. Perhaps this fixation is a manifestation of Filipinos wanting wanton sex all the time, and thus may be a symbol of our societal dysfunction. When will Filipinos understand that sex isn't true love?
So believing sex is for pleasure than for reproduction leads to cranking out children they can't afford to raise, and perhaps the overpopulation or overcrowding some people claim. It would be an example of Benign0's definition of poverty: a habitual entering into commitments one is inherently incapable of honouring.
And the idea of sex as mainly pleasure is also a demonstration of yet another bad attitude: sense of entitlement. When Filipinos believe themselves entitled to pleasure, they shirk responsibility. They believe they deserve the pleasure they want, and are willing to suffer the consequences for it. Then, then they suffer the consequences, they cry "ang hirap ng buhay" (how hard life is). Or, to get what they want, they are willing to make others suffer – namely the children who come out of a careless copulation encounter. This applies not only to the poor, but even the middle and upper classes.
As Benign0 had observed, modern society tries to make us believe sex is for pleasure. It even tells us it's a "liberating" thing. But it's not. It's a marketing ploy. It's simply because sex sells. Business is out to sell products to you. It wants the money in your wallet, not for you to be free. So you're hoodwinked to just buy products to make sex "pleasurable" when you could just simply avoid doing it.
While I'm not against others using condoms and contraceptives, I still advise looking at the purpose of what you're doing. If it's just for pleasure, you better remember that you're human, and you must think and consider the consequences of what you do. And, if you realize what you're doing is wrong, you'd better NOT do it. Really, among the best solutions for Filipinos in solving their problems is just to stop doing something, because, simply, they're doing the wrong things.
If you still want to defend "Sex is for pleasure," go ahead. You will open your eyes to the consequences later on, and will need to grow up.
And is sex the only thing that brings pleasure?
(Feb 19, 2015 addendum) Let's take it from Aldous Huxley: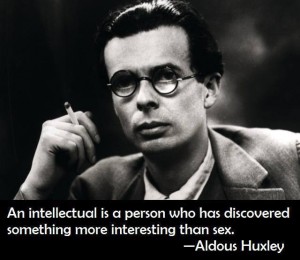 I believe, as my cohorts here do, that what Filipinos embrace as their culture is what actually pulls the country down. And those who seem to be anti-dictators, who may also believe themselves to be "heroes," are the real dictators.