Okay, before we continue (if you even bother to read this at all), I'd like to make one thing clear: I do NOT hate you. I have nothing against you or your family. You have every right to live on this country as do I and my family. We are cousins after all, are we not? You too are a descendant of Father Abraham, or "Ibrahim" as you call him in your Qu'ran, just as we Christians are and so are the Jews. Oh, alright, I guess my beliefs in Gnosticism does make me a "black sheep" of sorts to my Christian family but that's beside the point.
Anyway, if you've even bothered to read this far and not condemn this article as hate speech, I want to say that I'm not going to bash you or your beliefs. What I want is to have just a quiet little chat, if that's at all possible. Just a good talk between cousins to square things out between the two of us.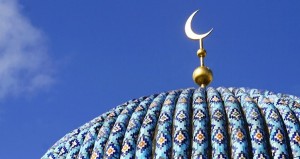 Look, there's a lot of crap going on down south but relax, I'm not condemning you. You probably aren't part of that just as I'm not one of the Philippine government's goons. What I will say is that the people causing trouble down there are related, through their religion, to you. Well, you can also say that Cardinal Torquemada is also related to me because he was once a Cardinal in my Church, but then again a lot of my fellow Christians (at least the ones who are familiar with the name, anyway) are also horrified by the acts of the Spanish Inquisition and let's not forget that Hitler himself was Catholic or at least raised as one anyway.
Besides, the unpleasantness down south aren't the only things that's gotten everybody riled up. There was the bombing in Australia and then there were those cartoonists in France. Look, I know that you're going to say that you're not like those people and maybe I'll believe you. The fact remains though that a lot of my fellow Christians (and non-Christians for that matter) are suspicious of you. It's because all the crap that's being thrown around right now is usually thrown by your fellows who are constantly screaming your Prophet's Name.
There's nothing wrong with your religion, mind you. I know a bit about your religious lore and I find it every bit as beautiful as my own. However, with the way your rowdy and violent siblings are doing, my brothers and sisters can't help but be cautious about you and your activities.
We know that you have a problem with our government. I mean heck, we do too. This country is going to the birds and they're all behaving like European teens at a rave, I tell you (hey, at least some of those teens are cute). Anyway, we know that you don't like them very much but letting your siblings attack our troops isn't going to sit well with the rest of us. Many of us already hate you. They label you "rebel" or "terrorist" the moment they see you but I won't judge you.
I've met some of you who aren't bad but that doesn't change the fact that some of your siblings seem to enjoy kidnapping, robbing and killing my brothers and sisters down south. I know that all of you aren't radicals or violent people just as not all Christians are into torturing heretics and burning witches. But you see, the problem lies with the fact that your unscrupulous fellows are all we see and none of you seem to be doing anything about them. It's like you're deliberately allowing them to run rampant like a bunch of mad dogs.
I know you guys have families too and I know you love your kids just as we love ours but come on, I'm not going to gamble with the lives of my siblings. You have a Golden Rule too, right? So, if you continue to just allow your hate-maddened brothers and sisters terrorize us, my siblings might soon have to resort to unpleasant methods just to bring those troubles to an end. C'mon, this has been going on for decades now and a lot of my siblings are getting tired of this stupidity.
I don't want trouble. I don't want more people to get hurt if it can at all be helped. I don't want things to escalate to the point that we're all going to have to start carrying guns. I'm not very good with one and on my first try at the shooting range, the recoil sent my 9mm pistol hurtling into my face and almost broke my nose.
So please, I am begging you, help us help you. Please work with us so maybe we can finally do something about our government and finally bring peace to our beloved homeland. The thing is, we keep trying to reach a helping hand to you guys but your rebellious fellows try taking potshots at it. This isn't working so I was thinking maybe you guys have a better idea on how to put an end to all this mess.
Let's work together for the future of our country. Work with us and our country will be a glorious nation that will make its former glories seem like an after thought. C'mon guys, help us end the nightmare so that all our children can live in peace and prosperity.
Regards,
Grimwald
P.S.: I am more than a little baffled by the naming conventions of your rowdy siblings. Are they really that crazy? I mean "MILF"? I find it really hard to take them seriously with such imaginative names. Do they do that deliberately? If they're going to continue antagonizing us they should at least come up with less humorous names…
I HAVE RETURNED TO LAY WASTE TO OUR ENEMIES!