The recent wedding of celebrities Marian Rivera and Dingdong Dantes was a topic of the town, especially with how roads were blocked off to "exclusivize" traffic routes for guests and no less than the president of the Philippines' presence at the affair. While the wedding was criticized by some for the inconvenience caused to others and how it reflected mixed-up priorities, there was another aspect seen that may reflect the country's dysfunctions.
As fellow blogger FallenAngel raised, if it's a government official's wedding, they'll be slammed even if they spent their own money. But if it's a private citizen, many come to the defense. Perhaps even if the private citizen might be an embezzler or crime lord. As long as it's someone famous.
SUPPORT INDEPENDENT SOCIAL COMMENTARY!
Subscribe to our Substack community GRP Insider to receive by email our in-depth free weekly newsletter. Opt into a paid subscription and you'll get premium insider briefs and insights from us daily.
Subscribe to our Substack newsletter, GRP Insider!
Learn more
Another part of the Filipino mindset is revealed once again, that Filipinos seem to be willing fantards for celebrities and "elite." What's the derogatory term? Starstruck ignoramuses. It's a funny irony, too. Many Filipinos seem to hate the "elite" for the problems of the country, but other Filipinos seem to admire this same "elite," or the actors and singers associated with or are part of them. They fawn over the romance stories of these celebrities as if this directly affects their lives, further demonstrating the tsismis dysfunction that is a stubborn part of Filipino communities.
I remember seeing a video before the wedding wherein Dingdong and Marian appeared at a long line for voter registration. People looked peeved and bored before they arrived. Once the celebrities did, people were so excited and fawned over the stars. Never mind that the starts seemed to be given special priority and were allowed to register without lining up. People were so "kilig," so starstruck that they decided to forget the situation they were in… even if it never helped them out of that situation.
It's the mentality of escapism playing here. Filipinos love to be distracted by the "kilig" or starstruckness as a way of forgetting their problems. Then they get back to reality and find that their problems as still there, having wasted time in their escapism.
It's also the same old sickness of focusing on personalities rather than principles or platforms. And it also demonstrates the same thing that appears when Manny Pacquiao is in the limelight again. Filipinos shout "proud to be Pinoy!" They look for the temporary high that comes with identifying with a celebrity, rather than look for a long-term solution that helps them achieve the same status as that celebrity. They feel good when Pacquiao wins a fight or when a Filipina beauty wins a crowns or even comes close. But they're not the ones winning. They're trying to escape from life trough this "kilig."
It thus proves that showbiz kilig is dumb – as a study in 2021 posits.
It all demonstrates what former American First Lady Eleanor Roosevelt said: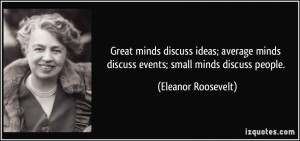 The smallness of Filipino attitudes, like what I described above, this fantard drunkenness of showbiz kilig is what helps keep Filipino society dysfunctional. As Benign0 said, this showbiz kilig helps keep people "in their place."
Also, because of showbiz fantardness, many children these days want nothing more than to be famous actors or singers instead of useful scientists and mathematicians, while their alienated parents work feverishly in other countries to try and give them that life. Another part of the problem is that the people who are supposed to be "intellectuals" and "educated," or are even "activists" or "reformists" are actually themselves taken by this attitude of fantardism and showbiz kilig.
Thank goodness there are people with sane, civilized and great-minded attitudes who would have nothing of showbiz kilig. They know that showbiz is the worst place to look for people to admire and look up to, since it is nothing but entertainment. They are the real intellectuals, movers, doers and shakers. In other words, these people are not blinded by celebrities or "heroes." They realize that Filipinos are better off idolizing themselves rather than living stage props. Problem is, the small-minded Filipinos castigate them for being "mayabang."
Of course, intellectuals can admire people too, like Gandhi, Martin Luther King Jr and Rosa Parks, or others like Stephen Covey, Peter Drucker, Stephen Hawking, Steve Jobs, Bill Gates and Warren Buffet. But what we should admire in these people, as I reemphasize, is not their personality traits but the ideas that they come up with, represent or practice. If we focus on the ideas, the platforms, and not the person, that can break us out of the trap of smallness and bring us to the level of great-mindedness.
Getting out of our showbiz fixation is perhaps one of the major steps to take in actually making the Philippines into a great country.
I believe, as my cohorts here do, that what Filipinos embrace as their culture is what actually pulls the country down. And those who seem to be anti-dictators, who may also believe themselves to be "heroes," are the real dictators.