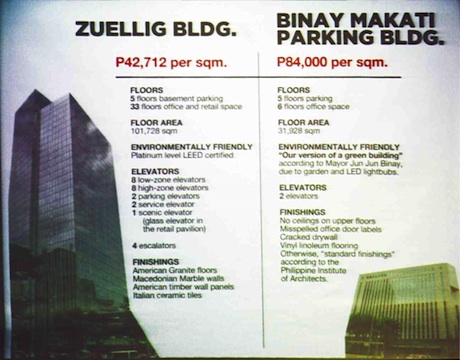 What are we waiting for? The above illustration says it all. Assuming the quality of the Makati Parking Building is anywhere close to the quality of the Zuellig Building, which is NOT the case, then the kickback of Binay is more than 100% of the true cost of the building. And there were many Makati government buildings built during the time of Binay as Mayor of Makati (the old man and his wife, not even including the son). Go do the math and this one adds-up to a terrific act of plunder right under our noses.
The old man says the Makati building should not be compared to private buildings. And why not? The comparison of the Makati building to other government buildings merely reinforces the consistency of kickbacks enjoyed by government officials in government construction projects, perversely known as "Standard Operating Procedure" or "SOP". It's the old blasé explanation, "everyone in government is doing it and this is just another case of selective political persecution." By comparing the Makati building to private buildings, the scam is exposed, as clear as the light of day.
I don't understand why Binay (unlike Tanda, Pogi and Sexy) is not yet locked-up in jail being tried for plunder, when the evidence is so overwhelming and definitive. Do we really have to abduct Gerry Limlingan and torture him to confess that he acted as a dummy of Binay for an offshore private bank account with a portfolio value in the millions of US dollars (excluded, of course, from the SALN of Binay)?
And yet, the old man is not content plundering the coffers of the wealthiest city of the country. He wants to dip his dirty hands into the national coffers. He has the gall . . . the temerity to aspire to be the next President of the Philippines. Ang KUPAL mo, Binay!