A photo showing gunmen seemingly attacking an SUV along EDSA is making the rounds on social media. The Philippine Star reports…
The photos showed three vehicles and a motorcycle surrounding the SUV, and men supposedly pointing guns at it.

The witness, who was not identified by Yahoo News, reported that the incident happened at 2:45 p.m. near a Shell station on EDSA in San Juan near Ortigas Ave.

She said "all the other vehicles just passed by, probably for fear of being involved" in the incident.

"I thought it was just traffic and I went a little bit out… I wasn't sure what was happening but I went on ahead," the woman said in a phone interview with Yahoo Philippines.

"I'm honestly not sure what happened. But I know there are guns and they cornered one car. There was also a man riding a motorcycle," she said.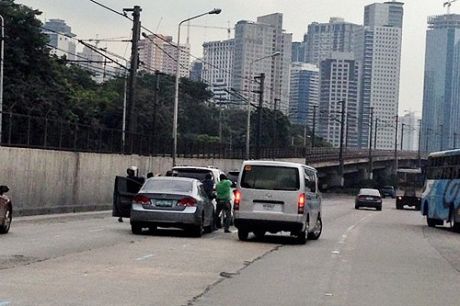 Several Twitter users including Senator JV Ejercito monitored the Twitter chatter surrounding this incident and have put on notice various Philippine law enforcement agencies via mentions and hashtags. Most of these agencies have responded by saying that they are "investigating" the incident, but so far any further detail on the incident is yet to emerge.
The photo seems to have orginated from a certain [
name deleted on request @ 1333H AEST
] who tweeted at 2:46 pm on the 01st Sep 2014 Manila time, "People with guns in EDSA. [emoticons depicting distress] @MMDA" along with a link to the photo. Both the link to the photo and Twitter post as well as the author's Twitter account seem to be now inaccessible as of this writing (the latter seemingly having been set to "protected" status). The links and screenshots shown were captured at the time when these were still publicly accessible via a
retweet
posted by Twitter user
@philippinebeat
.
Metro Manila is suffering a raft of crimes many of which involve gunmen riding in tandem on motorbikes. Most if not all these cases have not been solved. In a recent case involving the gunning down of race car driver Enzo Pastor by such assassins, the alleged perpetrator was a police officer.
benign0 is the Webmaster of GetRealPhilippines.com.