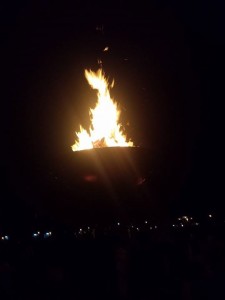 As team manager Dan Palami had promised, the University of the Philippines (UP) basketball team held a "bonfire celebration" last Saturday, August 9, because the Fighting Maroons won against Adamson University (AdU) in a game from this year's University Athletics Association of the Philippines (UAAP) season.
Now, this is an especially big thing to the UP community, considering that its basketball team was on a 27-game losing streak, one that has spanned at least two seasons. Their last win was supposedly back in 2012 against the University of the East (UE).
As expected, UP's win sparked sentiments of something I call "university pride" – one wherein members of a community scream "proud to be from this university" whenever a team of theirs wins any competition. They are quick to latch on to a victory of their colleagues as one of their own, and more often than not they personally don't have much of anything to do with it. University pride is but a mere subset of the Pinoy Pride which Filipinos are notorious for, and which the authors of GRP have extensively written about.
Reaction to the win and the bonfire was mostly positive – why wouldn't it be? And yet there was also some questioning and dissenting opinion, an example of which is "why would UP throw a bonfire for the basketball team? How about for the other sports where we do better at and win more?" Even JR Gallarza, one of the members of the basketball team, felt "disrespected" and "insulted" by the hype that surrounded that game with AdU. Nonetheless, he was thankful for the support from the fans.
As expected of university pride – a subset of Pinoy Pride like I mentioned above – reception to such kind of differing/dissenting opinion was along the lines of "walang basagan ng trip" (don't be a spoilsport), or "napaka-nega naman ng taong ganyan" (a person who says things like that is so negative-minded). Well, you get the idea; Filipinos will not let anything get in the way of their good vibes and feel-good moments; the UP community, being a subset of the Filipino community, is no different.
As a friend of mine pointed out, the bonfire celebration itself was awesome – who can complain about a night of free food and acts – but the occasion seemed a bit sad. Not a few comments I've seen on social media indicated that UP is so desperate for a win in UAAP basketball that a win like this is a very big thing for them. Note that bonfires are normally reserved when a team wins the overall championship, much like what fellow UAAP members Ateneo de Manila (AdMU) and De La Salle University (DLSU) are used to doing for the past years.
What this bonfire has shed light on, it seems, is a nagging insecurity. Even if UP students are among the best and brightest in the country, it will, quite simply, not matter to the bigger Filipino community, just because their basketball team is not as successful. It is indeed sad to observe that despite the success that the UP community has had in other sports and in other fields of endeavor, it has seemingly fallen into the trap of disregarding such, just because it does not measure up in basketball. Frankly, as the premier state university, I expected UP to adhere to its own standards of excellence and self-worth, instead of allowing itself to be judged on that which is set and dominated by others. I would have wanted to hear the UP community say, "Who cares about basketball anyway?" Too late for that now.
I never really quite latched onto the inordinate obsession that Filipinos have with basketball. It is a tall man's game; Filipinos, compared to most other countries who play it, are anything but. Despite the claims of Filipinos that they have heart (puso) and fighting spirit (laban) that make up for their lack of height, it quite simply does not. But I digress…
A comment I read on social media said the following:
Big hope comes with little wins. UP won one game today. Next year, it might win two. The year after that, it might just win three.
…which brings us back to the question: hope in what exactly?
The UP community, as a next step, must do things to substantiate such hope. Once the good vibes from this basketball victory have passed, it can do either one of two things, or both:
a) They can focus on the things that really matter, like looking for even more ways to improve the education they give their students in spite of lackluster government funding and support, or;
b) They can throw a lot more organized support behind their basketball team so that they can get what they need to win more games.
As a friend of mine has said, perhaps it would have been a real victory for the entire UP system and community if they had contributed to that victory. Sadly, what is apparent is that the team fought "alone" for the most part of the time leading up to this recent occasion. The second point above is all the more poignant given stories of how the UP basketball players reportedly go to games hungry, and how they play without proper nutrition. Both the current student body and the alumni need to work together if they want to make the UP basketball team more successful. As cringe-worthy as it sounds, they can take pointers from AdMU and DLSU with regard to alumni support.
So, what does the UP community plan to do, and where does it plan to go after this victory and bonfire celebration? That is the more interesting question that aches for a resolution. I hope the answer is not bahala-na, and/or pwede-na-yan; it would be extremely disappointing.
А вы, друзья, как ни садитесь, все в музыканты не годитесь. – But you, my friends, however you sit, not all as musicians fit.