Amending the Philippine Constitution is one thing. Amending it for the wrong reasons is another. If there had always been a compelling case to modify the provisions in the current charter that limit the term of the president to just a single six-year term, then the 'debate' around that will likely have resonated and endured for many years since 1987 when the current Constitution was ratified. However, the "debate" around term extensions have traditionally been around the small-minded and around specific administrations.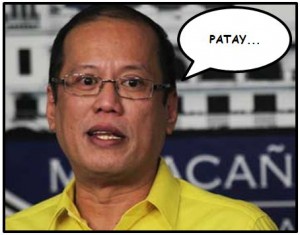 Former Presidents Fidel Ramos and Gloria Macapagal-Arroyo in their respective times had their versions of that "debate" centred around their specific agendas as their terms drew to a close. Now current Philippine President Benigno Simeon 'BS' Aquino III has succumbed in sad desperation to the same temptation.
The Constitution is a document that transcends administrations. As such, arguments around the need to amend it should be around the broader systemic implications of such and a mere component among others (such as issues surrounding foreign ownership of capital and property, form of government, etc.). President BS Aquino and his henchmen, however, have framed the argument for term extension on the moronic (but traditional) question of sustaining work specific to his administration. That, of course, is a challenge for all Presidents nervously waiting out the twilight years of their regimes. But it is not an issue at the constitutional level.
SUPPORT INDEPENDENT SOCIAL COMMENTARY!
Subscribe to our Substack community GRP Insider to receive by email our in-depth free weekly newsletter. Opt into a paid subscription and you'll get premium insider briefs and insights from us daily.
Subscribe to our Substack newsletter, GRP Insider!
Learn more
The trouble with President BS Aquino is that he is reactive and not proactive. And that is what ultimately proved fatal to his charter change dreams. The timing of and manner with which he revealed his musings about such an initiative made them suspect — because the context surrounding it all point to desperation rather than vision. The elements of this context are pretty primal:
(1) The desperation of time running out (2 years to go and hardly any achievement)
(2) The prospect of being thrown in jail by the next president (the next one has enough to work with along those lines)
(3) Hacienda Luisita (that perenial elpehantine piece of unfinished business)
President BS Aquino made a lot of enemies as President, notable of all no less than the Philippine Supreme Court. Before his handlers could put a sock in his yapper, Aquino let loose a threat to "clip" the powers of the Philippines' High Court if he is left to his devices and given a shot at changeing his mother's single biggest legacy. That single act of idiocy alone is enough to doom him.
Pretty irresponsible considering he is under pressure to save Hacienda Luisita within the remaining two years of his presidency. Needless to say Uncle Peping won't be happy. President BS Aquino had reportedly been chastised by the Cojuangco patriarch once for antagonising the Supreme Court. Back in 2011, an "exclusive" report by Charlie V. Manalo and Virgilio J Bugaoisan in The Daily Tribune article Noynoy out to reclaim Luisita through CJ's impeach who Noynoy's real bosses are — the "elders" of the Cojuangco feudal clan — and the true implications to them of Noynoy's epic failure to manage Malacañang's relationship with the Philippine High Court even back then…
The Tribune source said that the plot to oust Corona was hatched at the Bahay Matanda, the ancestral house of the Cojuangcos after elderly members of the Cojuangco clan reportedy [sic] berated President Aquino for attacking members of the High Court which they believe was the reason the SC justices revoked the stock distribution option and ordered the distribution of the [Hacienda Luisita] sugar estate to its tenants.

"From the time of (President Ramon) Magsasay, the hacienda land was never lost. When Martial Law came, we still did not lose our land. GMA (Gloria Arroyo) and Cory had a fight during GMA's presidency, we Cojuangcos still did not lose our land. Now that that you (Noynoy) are president, we lose the hacienda!", the Tribune source quoted an elderly Cojuangco as he berated Aquino in the vernacular.

"You are the reason for our loss of the hacienda, because even the Supreme Court you had to fight with!," the elderly Cojuangco was further quoted as telling the President.
[Refer to my article Aquino-Cojuangco feudal clan: Too wealthy to fail?! for a background on the financial position of the Cojuangcos' Hacienda Luisita estate.]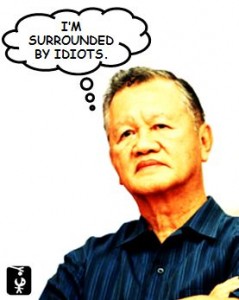 Like some dumb kid who doesn't learn even after copping a good spanking from his elders, President BS Aquino did it again. This time he has no excuse for such profound stupidity. The Philippine Supreme Court is headed by someone he had personally handpicked. The trouble with friends, however, is that they make the worst enemies.
So should President BS Aquino be given a chance at ruling this sad country for a second term? Perhaps. He's, certainly got all his pork-hungry lapdogs lined up in Congress. And with 500 billion pesos in mutant still-to-be-named pork sneakily baked into the 2015 national budget, he might even pull it off. As Vice President Jejomar Binay say: Anything is possible in Philippine politics. Filipinos, indeed, deserve their government.
benign0 is the Webmaster of GetRealPhilippines.com.