Sometimes if you want something done right, you gotta do it yourself — or at least get a close member of your family to do it, like your sister.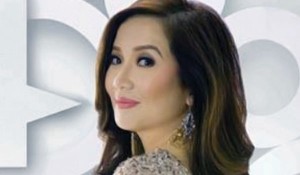 Apparently, the most bloated department in Malacanang simply can't get the job done. The Communications Group of Philippine President Benigno Simeon BS Aquino III is composed of two cabinet-level secretaries and God knows how many undersecretaries (including The Noted Blogger himself, Manuel L Quezon III).
Yet, over the last four years and despite (or perhaps because of) this awesome propaganda arsenal, Malacanang has never gotten on top of the public relations game. Gaffes, snafus, and miscommunications, and the media's (both mainstream and 'new') finely-tuned radar for these big administration bloopers have kept this Baltic-and-Company-esque team of spokespeople and speech writers busy in a never-ending but futile scrounging for convincing comebacks to the sharp wit of the President's critics.
So now it seems Malacanang is bringing out The Big Gun. Again. The First Bunso and mega-celebrity Kris Aquino is seemingly locked-and-loaded for the PR fight of the Aquino-Cojuangco clan's life. Her strategy jumps off from her brother's recently-concluded tele-SONA (State of the Nation Address) delivered last week where tears shed by the President and his sister towards the end of the speech elicited sympathy from their telenovela-addicted audience.
The centrepiece of Malacanang's full-court-press PR campaign being led by Kris is an appeal to President BS Aquino's possible martyrdom…
"He [Noynoy] can't do it on his own. We need to stand by him and give him strength. Please pray with us also that he stays alive," Kris told guests after the Holy Mass held Friday at the Manila Memorial Park in Parañaque City.
In this, Kris was alluding to her brother's mentioning that certain "dark" forces were out to get him. In his 28th July SONA, BS Aquino hinted thus:
Will there be a day when I go onstage, for work, and—will someone manage to plant a bomb? Will the dark schemes of those who want to bring us back to the wrong way of doing things finally succeed?

When that day comes, and my second life comes to an end, will I be able to say things will be ok?
Indeed, much of what makes the Aquino dynasty great today is death. President BS Aquino's father Benigno "Ninoy" Aquino Jr was assassinated in 1983 and has since been regarded as a peer of national hero Jose Rizal. Then BS Aquino's mother, former President Corazon "Cory" Aquino died in 2009, effectively shining the presidentiable light on her son and, at the same time, dashing the presidential hopes of then Liberal Party candidate Mar Roxas.
Unfortunately for President BS Aquino, dying to achieve a PR bonanza is not a practical option as of now. If he dies, then his Vice President Jejomar Binay becomes president — defeating the whole purpose of that death. So enter sister Kris — pitching to her vacuous fans, instead, the notion of potential martyrdom.
You gotta admit. That one is an original.
benign0 is the Webmaster of GetRealPhilippines.com.