Indeed, it is too bad for the administration of Philippine President Benigno Simeon 'BS' Aquino III that their brainchild, the Disbursement Acceleration Program (DAP), has been deemed unconstitutional by the Philippine Supreme Court. The DAP was conceived following a disastrous economic result in 2011 when the Philippine economy grew by only a little bit more than 3 percent after more than 7 percent growth rates in previous years.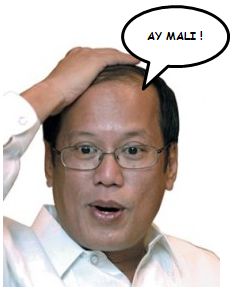 Economic experts have attributed the growth rate crash of 2011 to then presidential newbie BS Aquino's short-sighted and spiteful canning of many public projects initiated during the term of his predecessor former President Gloria Macapagal-Arroyo. The drying up of public funding created a ripple effect across both upstream and downstream economic activity that depressed commercial activity and flattened economic growth almost below annual population growth rates.
As the words in the DAP imply: disbursement acceleration. President BS Aquino was desperate to accelerate government spending after that economic disaster of his own doing. His foolish decisions to drastically cut spending in 2011 was a result of an appallingly uninformed take on the Philippines's fiscal position when he first took office in 2010 when he foolishly failed to differentiate the concept of budget and actual expenditure. Evidence of this infantile grasp of fiscal management was his use of the nonsensical notion of a "depleted budget" in the hysterical first State of the Nation Address (SONA) he delivered to Congress on that year (translated in English from President BS Aquino's Tagalog speech)…
Our budget for 2010 is PhP1.54 trillion. Of this, only PhP100 billion – or 6.5% of the total budget – can be used for the remaining six months of the current year. Roughly 1% of the total budget is left for each of the remaining month.

Where did the funds go?
Hello, anybody in there?? Think McFly, THINK!
In accounting there are many concepts that describe outgoing funds, and just as many words to articulate these concepts: spent, disbursed, appropriated, accrued, allocated, provisioned, etc. Choosing the right word to use among those examples basically comes down to deciding whether funds referred to were set aside or moved to or from one account to another. A "budget" does not necessarily imply the existence of actual money. A budget is planned expenditure, and as such, the concept of a depleted budget does not make sense. We may exceed a budget, but to say it's been "depleted" is to state an oxymoron; which is exactly the way P.Noy stated it in his SONA.
The amount of funds, say cash, in an account, say a bank account, on the other hand, represent something that could be depleted — both in principle, in practice, and in a real sense. Perhaps if the President made specific reference to an actual statement of account and made use of more precise accounting terms, then his 2010 SONA and the decisions he made following it would have made better sense. Following that presidential gaffe, Albay Representative Edcel Lagman did exactly that in a statement challenging P.Noy's accounting acumen (or that of his handlers). Lagman makes use of precise words on the matter, in the way that a more informed person would:
Quoting the Bureau of Treasury, Lagman said the total cash disbursement or the national government expenditures as of June 30, 20010 amounted to close to P789 billion. This means that close the P752 billion pesos or 48 percent of the budget remains unspent, he said.

"The problem in the President's accounting must have been caused by a lack of understanding of the difference between allocation as covered by a Special Allotment Release Order and actual disbursement to pay accrued or matured obligations," Lagman said.
It is therefore important to reiterate again that there are only two issues underlying the whole "debate" over whether or not the DAP, as executed by the Second Aquino Administration, is good or bad, legal or criminal…
(1) Whether or not it was executed in good faith; and now in the context of what we discussed above,
(2) Whether its origins were an outcome of President BS Aquino's appalling gross incompetence and lack of knowledge of national fiscal managment.
To the first, the singular principle at work is quite simple and can be addressed by answering one question:
Why did Senators have to be in the loop in the decision-making process surrounding the execution of the DAP?
To the latter, the question is a lot more confronting:
Why did Filipinos elect an incompetent President to lead them?
In short, the debate about the DAP need not be complicated. It is quite the simple subject. Unfortunately, in the hands of a society easily distracted by circuses, hopelessly dazzled by celebrities, and renowned for its abject inability to flex a critical mind, it remains hopelessly muddled.
benign0 is the Webmaster of GetRealPhilippines.com.