What further use to Filipinos is a president who had all but painted himself into a corner? That is essentially the way Philippine President Benigno Simeon 'BS' Aquino III will come across to the public today when he delivers his State of the Nation Address (SONA) to joint sessions of Philippine Congress. Rather than see a president looking to the future with hopeful eyes, Filipinos will behold before them a shrunken president stammering for words in defense of a hot piece of political coal he is doomed to hold in his painfully blistering hands.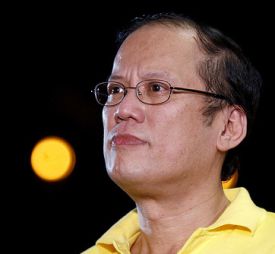 Indeed, the Disbursement Acceleration Program (DAP) — brainchild of Budget Secretary and presidential best-friend-forever Butch Abad — will glow white hot for the remaining two years of President BS Aquino's term. It is not only the people's tax money, the president and his henchmen in Congress had squandered, it is his headstart over karma chasing at his heels for the past four years. Poetic justice, indeed, that it would be none other than a top Kamaganak Inc honcho that would do him in.
The din of karma's jaws chomping away at the president's credibility as he stands before his "bosses" will likely make it difficult for us to listen to his actual message today. Certainly the sight of Senators and House "Representatives" showing up in their SONA best will now be in utter bad taste. The SONA of 2014 after all will go down in history as a an embarrassing blight — when a sitting President baldly cajoles a sheep-like Congress into ganging up on the Supreme Court.
Filipinos may not deserve a better government than this, but they can certainly do without such an astounding display of national schizophrenia.
How else will the Philippines function now that its government's three branches are locked in mortal combat over a billion-peso crock of money whose disposal lacks any semblance of a coherent strategic vision? Indeed, the Philippine economy, today the apple in the starry eyes of the world's investment analysts, is likely to turn into no more than a smelly goat. A Reuters report spells out this glum prognosis following the DAP scandal raining on Aquino's four-year party…
Economists are also concerned the controversy is slowing public spending because officials are more wary about accusations of recklessness and are subjecting decisions to more scrutiny, putting at risk big infrastructure projects.

"If this leads to a slowdown in spending, the risk to growth is on the downside," Shanaka Jayanath Peiris, International Monetary Fund resident representative in the Philippines, said on Friday.

The IMF on Friday cut its Philippine growth forecast to 6.2 percent from 6.5 percent set in March, partly because of slower spending after the stimulus scandal broke. The government has set a target of 6.5 to 7.5 percent gross domestic product growth this year, after 7.2 percent last year.
Secretary Rene Almendras was spot-on: the effect that the DAP fallout had on the markets is nothing short of "chilling", according to the report. The details of the DAP and the scandal surrounding it will be debated to the minutiae for months to come. But to ordinary Filipinos and, more so, investors who tend to be fidgety about parking their dollars in probationary "emerging markets", watching the President explain himself today will be like listening to a blind date cobble together an excuse for a loud fart she let loose while dining in a fancy restaurant. It simply won't fly.
What with the appalling electric power situation, the long-recognised flaccidity of the country's Internet access infrastructure, the convoluted taxation regime, the wall-like red tape business startups face, and the hopelessly-gridlocked traffic in the premier metropolis, the Philippines increasingly finds itself the wallflower in a region of nimble dancing stars. President BS Aquino has all but forgotten that his foremost mission when he became president in 2010 was to whip his country into shape to compete for attention.
To make good on that mission requires vision and eyes focused squarely on the future. Sad to say, it is highly-unlikely that President BS Aquino will be stepping up to that podium today to tell us about that. Instead, he will be in his usual form — making excuses and pinning blame with eyes locked in a furious glare on the past.
benign0 is the Webmaster of GetRealPhilippines.com.