According to Philippine Presidential Communications Operations Office head Herminio Coloma Jr., President Benigno Simeon "BS" Aquino won't apologize for the controversial Disbursement Acceleration Program or DAP after it was ruled unconstitutional by the Supreme Court. He insists that "the executive branch 'exercised good faith and due diligence' in accordance with existing laws and relevant auditing rules and procedures". If my interpretation is correct, Coloma is saying, "Eat my shorts!"
The DAP is a fund created by the Aquino administration that serves as a vehicle for transferring unused appropriations from one project to another. It has since been deemed unconstitutional by the Philippine Supreme Court because it was ruled that the President does not have the authority under the present Constitution to transfer funds out of the jurisdiction of the Executive branch.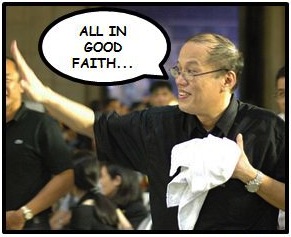 You have to give credit to BS Aquino and his minions. They really know the Filipino people's ability to tolerate oppression. By saying that the Executive branch exercised "good faith" and "due diligence", they are trying to prove that what the courts say doesn't matter as long as BS Aquino has the support of the gullible crowd.
Unfortunately for those who can see through the deception and are calling for accountability from the architects of the DAP (such as Budget Secretary Butch Abad), BS Aquino's allies in Congress are already dismissing such a move. No less than House Speaker Feliciano Belmonte guaranteed that any attempt to impeach Aquino will fail because "it would be killed early on at the committee level." A few senators, those who make no secret of their unfailing support for the President, were quite adamant in their defense of the DAP.
Convicted mutineer, now Senator, Antonio Trillanes IV echoed Malacanang and said, "it is in good faith that President Benigno Aquino III gave DAP to each of them." He added that if it were a bribe, it should have been given before the decision to convict former Chief Justice Renato Corona was handed down by the senators.
"If it was a bribe how come it was given six months after. Sana kung totoong bribe 'yan, bago pa lamang magdesisyon ang mga senador para masigurong may influence sila dahil natanggap na agad so we can say na may control ang Malakanyang. But there is no such thing," Trillanes said.
One can also argue with Trillanes that giving the money after the senators voted to convict Corona six months after the trial was a wiser and safer move on the part of BS Aquino and his minions because they only had to give funds to those who voted to convict and they needed time to move funds around without raising too many eyebrows.
Meanwhile, Senate President Franklin Drilon sent a challenge to "those questioning DAP funds distributed among senators to check where the legislators have allocated the funds."
"They can check the allocation of these funds. Hindi po ito cash amount na ipinagkaloob ng ating Pangulo kundi alokasyon sa mga gagamitin na proyekto ng sinuman sa amin at ito po ay may kaakibat na paliwanag." Drilon clarified.
Drilon should make it easier for everyone by publishing the information before the public. He doesn't have to "challenge" us. The Filipino people are facing enough challenges in their lives. Drilon is also forgetting the fact that the funds given to them through the DAP was not in the budget they supposedly approved for that year. So giving additional funds or pork to the senators just before the year ended in 2012 was quite suspect. And since pork barrel funds were declared unconstitutional as well, Drilon cannot use that as a defense.
Senator Ralph Recto chimed in and said of the DAP "one cannot actually say that it was a stolen money."
"To the credit of this administration, it is no longer doing any and all acts the Supreme Court has struck down as unconstitutional. These practices have long been abandoned. These violations are not in progress but have long been unilaterally terminated by the government," he said.
The Aquino administration may have "abandoned" the practice of illegally allocating "savings" from one department to another. However, they only abandoned it after Senator Jinggoy Estrada ratted about the P50-million "incentive" from Malacanang during a privilege speech in September 2013. In fact, the public uproar that resulted from that immediately compelled BS Aquino to make a televised appeal to the public that the country benefited from DAP. That was only last year. So Senator Recto was wrong when he said the "practice [had] long been abandoned".
On social media, Senator Chiz Escudero defended his P50 million "incentive" by tweeting, "I was not so informed re P50M."
Someone should tell Senator Escudero that senators should not just accept money without asking where it is from. It is part of their job to see to it that the approved budget is allocated properly. It is so convenient for someone like Escudero to plead ignorance of the law. He is probably relying on his celebrity girlfriend to dazzle general public and forget that he doesn't have substance as a senator anyway.
It is quite apparent that public servants who were given funds through the DAP will not support a move to impeach BS Aquino or hold anyone criminaly liable. Doing so would mean that they have to admit they were willing participants in the crime and will have to give back the funds.
Going back to Malacanang, they also insist BS Aquino used the DAP "as [a] stimulus program to achieve economic growth and as an administrative system of prioritizing spending in the execution of the national budget."
The records show that the only reason the administration had to accelerate spending for the sake of "economic growth" was because they didn't have an economic policy in the first two years of office. As mentioned before, President BS Aquino only realized the advantage of spending after the economy only grew by 3.2 percent in the third quarter of 2011. The significant drop in growth the previous year compared to the 7.3% growth in 2010 compelled some of the President's critics and members of the Makati Business Club (MBC) to strongly advise him not to put on hold any public infrastructure projects and, instead, "pump prime the economy" with government funds. Economist Benjamin Diokno even gave BS Aquino some advice that the President would later use but would never acknowledge:
Earlier in his administration, Aquino had been criticised by economists like former budget secretary Benjamin Diokno for adopting austerity measures instead of continuing his successor, Gloria Macapagal-Arroyo's strategy of using stimulus spending to prevent the economy from entering a downturn.
Obviously, after BS Aquino was criticized for the slow economic growth, he had to do something. That something was to get the "savings" from cancelled projects and use it as "stimulus". To the outside world, BS Aquino looked like he was performing an economic miracle when in fact; he was using taxpayers' funds inappropriately in a manner that is unsustainable. To sustain economic growth through spending, the government has to keep spending. His government wasn't really trying to find a permanent solution to the problem.
What BS Aquino was more concerned about was the image of "saving" the country's economy during his term without regard for what happens beyond 2016. The economy won't be his problem by then. Unfortunately, his economic policy does not positively affect the lower classes because "spending" to stimulate the economy does not create a lot of jobs for the unemployed. But it did buy the country a Doppler radar as per Presidential spokesperson Edwin Lacierda. There's no guarantee that will last for decades though.
Let us hope that BS Aquino and his minions have overestimated the Filipino people's tolerance for oppression. Their deception can only take them so far before something gives.
In life, things are not always what they seem.