Craig Nelson introduces his book Rocketmen, with the story of a 1969 United States Senate briefing (shortly after Apollo 11 landed Neil Armstrong and Buzz Aldrin on the moon) where Fermilab physicist Robert Wilson is asked how a $250 million atom smasher he proposes be built will contribute to the security of the United States. Wilson responded by saying that it will contribute nothing, but that the American people's capacity to undertake endeavours like those is what makes the United States of America worth defending.
That was a physicist asking Uncle Sam for 250 million in 1969 US dollars to build a particle accelerator for research purposes. Asked why, he gave a convincing answer in no more than one sentence.
Last Monday, no less than the President of the Philippines Benigno Simeon 'BS' Aquino III stood before the Filipino people and their "representatives" in Congress and let rip a one-and-a-half-hour reason why he should be forgiven for blowing billions of pesos in taxpayers' funds on dubious "development" projects. He closed that speech with this appeal…
As long as your faith remains strong—as long as we continue serving as each other's strength—we will continue proving that "the Filipino is worth dying for," "the Filipino is worth living for," and if I might add: "The Filipino is worth fighting for."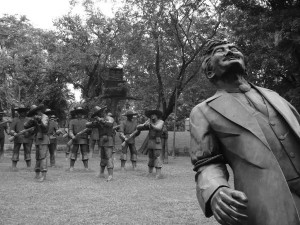 These words were greeted with thunderous applause. Why not? Every Filipino wants to believe that his country is worth dying, living, and fighting for.
But being asked to believe and being shown why to believe are two vastly different things. Wilson showed Congress why investing in a 250 million dollar research project will make America worth defending. President BS Aquino, on the other hand, asked his "bosses" to simply believe.
In a religious country like the Philippines, President BS Aquino's words make perfect sense. This is a country, after all, where the primary basis of living is simply "hope". Hope in what exactly? Simple. The Filipino will simply shrug her shoulders and say that she simply believes there is such. Bahala na.
And so empty platitudes like the ones used by no less than the Chief Executive to close his report to his "bosses" are happily lapped up off the floor by his supporters. That is why America can rocket men up to the moon equipped with less than a hundredth of the computing power of an iPhone and then aspire to put a man on Mars within the next ten years, while Filipinos can only pray that the next burst of electric power will fill their homes' wiring in the next couple of hours before their iPhone batteries run out.
A couple days after that spectacle of a speech, and we haven't heard this simple but confronting question:
Why should we believe President BS Aquino again?
Chief Aquino Apologist Conrado de Quiros was having a good run this month — that is, until he was so taken by all the tearful blubbering that happened after Aquino's State of the Nation Address (SONA) last Monday that he was moved to write, What a difference a tear makes…
Probably remembering that he [President BS Aquino] had been loath to run at the start, he said that shirking that challenge, or demand, would have been like turning his back on his parents, scorning their dreams, betraying his legacy. It was an emotional moment, and P-Noy for the first time in public turned emotional.

He had just stepped back from the precipice, he had just rediscovered roots, he had gone back to the beginning, in a place that resembled home, in a place that felt like home, in a place that was home, and the one person people had accused of lacking empathy, of not feeling the way his people felt, found his voice cracking. Before he was through, he shed a tear.

And that made all the difference.
Of course it did. That is why telenovelas — and Kris Aquino — are such hits amongst Filipinos. Drama junkies that we are, nothing moves Filipinos more than, well, drama. All of a sudden it makes perfect sense to de Quiros — because the President cried.
So, my fellow Filipinos: Is the Philippines worth fighting for?
If the supposed galvanising effect of all the flowing tears in this year's SONA is to be used as basis for answering that question, then every Filipino soldier should be issued a photo of Kris Aquino and her brother crying during the 2014 SONA. Pampalibog before they face the enemy in the battlefield, kung baga.
benign0 is the Webmaster of GetRealPhilippines.com.