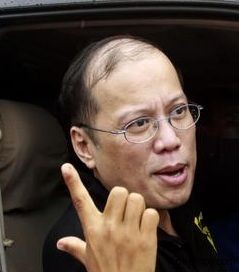 As expected by critics, president Benigno Simeon "BS" Aquino III would defend his government's beloved Disbursement Acceleration Program (DAP) to the death. Back in his televised speech last October 2013, his main message was, "I am not a thief", and it was one of the first times, if not the first, where he defended DAP and stood by its supposed benefits and legality.
Fast forward to July 2014, BS Aquino still stands by that controversial program despite it being recently declared unconstitutional by no less than the Supreme Court (SC). In the face of such kabuwisitan (according to BS Aquino's point of view), he stands by it and insists that the DAP was used in "good faith", and that the SC was wrong to declare it unconstitutional.
BS Aquino fancies himself as a man who can do no wrong in his own eyes, as well as a pious, morally upright, and righteous man to whom laws not of his making do not apply. Because many people are still unflinchingly loyal to the Aquino name for whatever reason – despite history showing that the Aquinos couldn't really care less about the Filipinos in return – they are only too willing to help the Aquino propaganda machine propagate idiotic and downright wrong ideas to reinforce that family's "infallibility".
The following ones below are currently being spread in light of BS Aquino's defiance of the SC ruling:
1) "Have faith in good faith"
The SC has asked that "good faith" in the use of the DAP be proven – to be shown that the DAP was executed with sincere and honest intent.
What has been one of the underlying patterns of Malacañang's response, in general? Ah basta! Have faith in us when we say it was done in good faith. Trust us.
The trouble is, it's kind of hard to trust a leader like BS Aquino, and by extension his government, who has shown overwhelming ineptitude in the face of multiple opportunities it was given to prove itself up to the task. It's kind of hard to trust a leader who addresses his "bosses" as if they're idiots. It's kind of hard to trust a leader who has a hard time keeping his promises, and it's certainly hard to trust someone who will not readily admit to his mistakes.
It was implicit that BS Aquino and his government were trusted that their DAP execution abided by the Constitution. He misses the point when he claimed that the SC presumed the absence of good faith, and that "innocent until proven guilty" should be applied. The SC presumed that DAP was legal and constitutional, until they found it wasn't; what part of that doesn't he understand? Now it is his turn to prove something that he himself asserted AFTER the presumption of constitutionality did not hold.
It is very telling, indeed, that BS Aquino insists that people keep having faith in him and his "good intentions", even though he has shown himself repeatedly to be totally unworthy of it.
In the absence of lasting and tangible accomplishments to show his "bosses", that's all he can do: ask them to have faith in him and his good intentions. Unfortunately, those things in your hands have a dismal track record, Mr. President.
2) Good intentions trump legality
Anybody can claim that he/she is doing something with good intentions. However, to borrow a quip from a friend, good intentions are like assholes; everybody's got one.
Mass murders have been committed and wars started because some bozo thought that he or she was doing the human race a great favor. That is why we have courts and justice systems. You need a coherent framework to provide perspective that third parties can use to objectively evaluate the goodness or badness of your actions. Without that mechanism, everyone would have license to shoot anyone they personally deem not worthy of their place under the sky.
And that is the sort of thing that has been going on in Filipino society. And BS Aquino is, as it stands, yet another instigator and promoter of such self-righteous behavior. When people become either self-righteous or self-important instead of adhering to a greater good, like the law, then that becomes a recipe for disaster.
3) Unconstitutionality does not necessarily mean criminality
Actually, to give BS Aquino's apologists credit, there might actually be some semblance of argument with this one.
The Constitution is a set of by-laws that is the basis for all other laws to be prescribed in a particular land. Criminal laws prescribe punishment for each set of offenses considered as crimes. The challenge, in the aftermath of the SC's ruling, is to find a direct link that will explicitly indicate BS Aquino's criminal liability for the execution of his DAP program. As fellow GRP author Hector Gamboa has pointed out, it is possible that instead of facing impeachment, he may get a fine instead.
But this does not change the fact that BS Aquino's precious DAP was found to have violated the Constitution. And if one happens to violate this set of by-laws – which just happens to be the very basis of all other laws of the land – then at the very least one should face the consequences of doing so.
BS Aquino, upon assuming office as president of the Republic of the Philippines, took an oath to uphold and defend the Constitution. But it's not the Constitution of the Philippines that he's been defending these past few weeks; instead, it is that which keeps him from admitting that he is wrong, his ego.
Because BS Aquino is never wrong in his mind, he has set a bad example for understanding what separation of powers and respect for a co-equal branch of government mean. His defiance has propagated the preposterous notion that:
4) The Supreme Court can be overruled as the ultimate interpreter of the Constitution
"The Supreme Court is not infallible."
And nobody said it wasn't. But as it stands, the Supreme Court IS designated as the final arbiter and interpreter of what abides by the Constitution. BS Aquino and his supporters would like us to believe that anybody can interpret the constitution the way he/she wants to, and that it would be valid.
BS Aquino and his supporters, of course, are no strangers to such kind of thinking. This kind of thinking, of course, assumes that the Constitution is some sort of self-evident edict – one that is above the context provided by human society and the government of institutions created around it. It's the kind of moronic thinking not too different from that of fundamentalist sects of many organized religions in the way they hold up their respective holy scriptures as "ultimate" writs that are open for anyone — even those who hold extremist sentiments — to interpret.
Unfortunately, such emo thinking in an intellectually bankrupt society like the Philippines – especially with a leader at the helm who is both unnecessarily self-righteous and yet so incompetent at the same time – is, at the risk of repeating myself, a recipe for disaster.
***
It's very obvious that BS Aquino and his supporters and apologists – whatever remains of them – still believe in two things:
That BS Aquino IS absolute and supreme, and;
That BS Aquino IS an honest man and is not corrupt.
That is the problem with a society that anchors itself to personalities instead of institutions; instead of going through the hard work of making the latter work for them – which involves thinking, being critical of them, and being vigilant about abuse of power – they prefer to go the easy route of rallying behind calls of those who easily pander to the emotions of the masses.
Keep people emotionally charged, and they are less likely to think. Not only that, invoke some nebulous notion of "the people's will" by propagating a mob mentality, and you've got it made. No laws, no institutions, no thinking, just pure emotion and mob sentiment.
Filipino society is a con man's wet dream, indeed.
А вы, друзья, как ни садитесь, все в музыканты не годитесь. – But you, my friends, however you sit, not all as musicians fit.