I felt like celebrating yesterday afternoon when I found out that the Supreme Court had ruled that the Disbursement Acceleration Program (DAP) was UNCONSTITUTIONAL. It's like the knock out punch in a one-two combination, the first punch being the Supreme Court decision declaring the Priority Development Assistance Fund (PDAF) or pork barrel fund unconstitutional.
Let's not forget what the DAP and PDAF are really used for and let's not mince words: President Noynoy Aquino used DAP and PDAF BRIBE lawmakers. 
In previous administrations, PDAF and other types of funds were used to thwart impeachment attempts and railroad the passage of bills as well as other legislative measures.
The pork barrel and other types of discretionary funds were the main tools in the sort of transactionalism which has come to characterize Philippine politics.
Now, without this tool, perhaps we can now hope that the Philippine congress can function without the sort of mind addling and principle warping effect that millions of pesos have.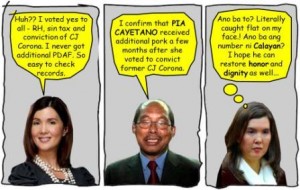 Also, because there's little or no 'other people's money' to be had by being a congressman or senator in the form of pork barrel funds or DAP, perhaps the people running for a seat in congress or the senate will be ones who are less motivated by money.
For all we know, there may not really be anything wrong with the Philippine presidential system and the thing that was really throwing things out of whack was the way pork barrel funds were used to greatly influence the behavior of congressmen and senators.
With the chief means of legal bribery out of the way, perhaps we'll see a legislative branch that is more focused on legislation (crafting the policies that will guide the executive branch) and oversight (making sure that the executive implements policies properly).
Then in instances where national issues have to be debated in the lower house or upper house of the Philippine congress, the executive will have no means of influencing the outcome other than to harp on party or personal loyalties.
Of course, I am not saying that this spells the end to corruption in government. I've been around long enough to actually see one corruption practice end and several new corrupt practices take its place. Or perhaps, what happens is that when one corrupt practice ends, people just shift to another type of corrupt practice.
Perhaps one of the money rackets that will continue in congress will be that of legislators receiving 'generous donations' from organizations to push for the passage of a bill, conduct a formal probe, or deliver a privilege speech — otherwise known as LOBBYING.
Thing is, this will actually be raising the bar for congressmen and senators. Where, before, the only requirement for congressmen and senators to get their loot was to be present and be able to signify their approval for one measure or another, LOBBYING will require a higher level of skill sets like being to speak coherently and being able to display a mastery over a subject matter — something that people like Bong Revilla or Lito Lapid aren't known to do.